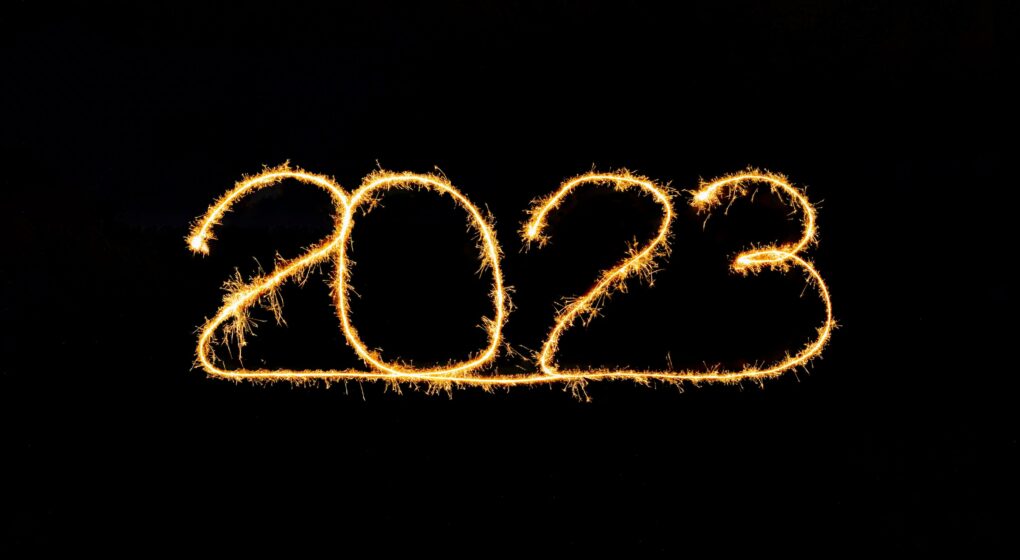 2022… Where did the time go?! As we approach the end of another year, we like to look back and reflect on top trends to see what campaign efforts really worked this year. As marketers, we know this is an ever-changing game, and it's our job as thought leaders to stay on top of current trends and practices so we can put our best foot forward for our clients.
While the past year may have been less chaotic than the one before, we surely witnessed some interesting pop culture trends month after month. Like "the slap heard round the world" at the Academy Awards, or Taylor Swift's ability to break every record including her own, and how Bennifer 2.0 made a comeback after 18 years. But besides these top pop culture moments that will continue to live in the minds of social consumers as the height of 2022's peak content, there are also many marketing trends that marketers started to take note of as the year went on.
So, what did this past year show us that we should look forward to in the new year, and what trends and practices are really worth the investment in 2023? Here's the yearly download.
Short Form Social Content Is Still King
Short form video has continued to dominate the marketing space this year, and we think that 2023 will be no different. But make sure to keep it bite-sized, as the attention spans of users are still fleeting. To help you create video content that's applicable to both TikTok and Instagram Reels, let's take a closer look at the changes to each platform specifically.
#TikTokTaughtMe
If this past year has taught us anything, it's that TikTok's popularity has influenced other popular platforms and it's here to stay. From easy-to-follow dances to relatable short-form content for every possible niche, the pioneering platform is pushing video on its competitors and setting fast-moving trends as its cultural juggernaut status is poised to reach new heights in the new year. With more than an estimated 755 million monthly active users in 2022, the viral giant is on pace to surpass 20% of the social media market by 2024. While viewers continue to scroll the latest Lizzo choreography, TikTok is taking steps to update and innovate for brands and marketers to capitalize on, especially as Gen Z continues to turn to social (as opposed to Google) for info on everything from cooking tips to purchase recommendations – causing some videos to go viral to the point that they sell out a product virtually overnight.
Keeping It Reel
Though 2022 saw prompts to "make Instagram Instagram again," the formerly photo-forward channel continued to prioritize video and is even rolling out a MySpace-like (anyone…? Millennials?) music feature to compete with the popularity and growth of TikTok. That being said, Instagram is an intrepid industry leader with a projected 2.5 billion monthly active users by 2023, and the platform is striving to pivot in order to stay competitive. As a direct response to TikTok, Instagram Reels are now a ubiquitous piece of the platform with content reaching 22% more viewers than still photos. Their gamble to prioritize Reels seems to be paying off as the content reaches their 2 billion users each month – and it's becoming easier and easier to pop Reels into your feed. With changes this past year to Reels including extending the length of videos to 90 seconds, adding the "Add Yours" sticker which was previously only available in IG Story format, and providing a variety of trending audio sounds, the potential to share content and drive authentic engagement is ever-increasing. Though Reels may have started out as a TikTok dupe, it's clear that they've carved out their space on the platform.
Prioritize Ways to Stay Connected with Your Audience
In 2022, consumers moved online faster than ever, and they expect brands to stay ahead of the game by doing the same. So, how can you keep up with consumers in 2023?
Social Expectations & Customer Service
Something we witnessed in 2021 and have continued to stay on top of in 2022 is how consumers are utilizing social media platforms as a customer service tool. We've witnessed this firsthand, as our social content strategists have been spending more time on social media responding to inquiries. Likely influenced by the fact that social platforms are continuously expanding their ecommerce capabilities, or that more and more users want their relationships and interactions with brands to be memorable and experiential – the more people on the platform are talking to or about your brand, the more you need to be on top of their questions and comments to show appreciation and support. Remember that community management is a part of the customer journey, and personalizing the user experience by having real and authentic conversations with your consumers by responding to social inquiries will in turn leave them feeling genuinely heard and more connected to your brand, keeping them coming back for more.
Users Continue to Look to Influencer Marketing
Another social media best practice we saw skyrocket in 2022, which will continue to be favored in the eyes of users in 2023 – Influencer Marketing. With 89% of marketers planning to maintain or increase their investment in next year's influencer marketing spend, and 17% of marketers planning to invest in it for the first time in 2023, this popular social tactic is a proven effective method when it comes to engaging with existing or new potential customers. By taking advantage of the opportunity to collaborate with influencers, content creators, and industry thought leaders, you'll be able to grow and expand brand awareness and credibility.

Looking to get started, but not sure what you should be looking for? Working with Micro Influencers (who can have thousands to tens of thousands of followers) is a great place to start. Though they tend to have a smaller following, those who do follow them highly value the influencers' thoughts and recommendations, allowing them to have a higher engagement rate, and making them a great option for smaller brands who are looking to build that awareness and connect more with their audiences. At Ethos, our clients work with a wide range of influencers, and have seen an uptick in not only their social following, but their own brand engagement as well. Learn more about our Influencer Marketing tactics in our blog, New Year's Resolutions: How to Better Manage Your Influencers.
Inbound Marketing – Providing Value is Key to Keeping Customers Around
Whether it's demonstrating expertise and thought leadership in an area of interest to your customers or customizing their experience with your brand via engaging, curated content, inbound marketing leverages several key tactics to bring new customers to your brand, keeping them curious and engaged, and ultimately converting them. And, because of the continued focus on high-quality, personalized content in the marketing world, inbound marketing isn't a trend that's going away anytime soon.
Blogging Is Still an Effective Tool
Yes, blogging is still a thing. And no, it's not going away – because this resource is still highly valuable to marketers and their curious consumers as a form of communication that allows your brand to truly demonstrate thought leadership in your particular area of expertise. Plus, with well-written blogs that prioritize SEO strategy, like using popular keywords, proper link building, include CTAs, and are written to focus on the user experience, you'll have a better chance at blog success, helping to bring your brand into the line of consumer visibility. This tool is as important as ever to utilize and invest in, for your gain, and for the gain of the readers who look to your expertise. But we won't waste time repeating the importance of blogging here, check it out in its own separate blog, A Blog About Why Blogs Are Still Relevant in 2023.
Leveraging Local SEO
Speaking of SEO, there's more than one way to optimize your search engine strategy. A specific subset of search engine optimization, local SEO, if activated correctly, can help to provide greater visibility for your business in search engine results. When local SEO strategies are implemented and executed precisely, it allows your business to rank higher and appear more often in response to relevant local queries (i.e., someone searching for a specific product/service in their geographic area), specifically in the local map pack (i.e. when a user clicks on one of the listings in or listed next to the map and a detailed business listing opens) and in the local search results.
This past year, Google updated its local search algorithms (e.g., Google's Pigeon Local Search Update and others), to have stronger ties to organic search signals. This was a big deal because it ultimately changed the way local search relevance is parsed for ranking in local search results. Google My Business (GMB) was also rebranded as Google Business Profile (GBP), with the goal of streamlining the administration of GMB features like Google Maps and the Knowledge Panel into a single user admin panel under GBP. This expansion of information and features in the GBP had Google's intended effect of keeping users on the search engine longer than before, potentially decreasing the number of organic clicks through to the website. Knowing these trends, makes it evermore vital to have your GBP profile optimized, and to track phone calls made directly from the profile.
The takeaway here, if you have a brick-and-mortar/physical office location, if geo-qualified, localized search is important to the vitality and health of your business, then make 2023 the year you focus on implementing a strategic local SEO plan. Our digital agency, VONT has compiled a comprehensive list of tactical recommendations that can be customized for your business based on your location and competitiveness of your industry.
Improving the Customer Journey
Inbound marketing has continued to be a prioritized practice in 2022, and as more and more businesses seek new ways to engage with audiences digitally, we know 2023 will be no different. As we've seen more momentum in the digital space thanks to the pandemic making the majority of content digitized, digital practices have continuously proved to be effective and worth the investment. This is something we've witnessed firsthand as our digital teams have seen business spike dramatically over the past two years, as companies continue to hop on digital trends and best practices to stay in front of their audiences.
When done right, Inbound Marketing can be a tremendously valuable asset to help create brand awareness and build trust with your customers, but only if you're producing high-quality content that's tailored towards your target audiences' and buyer personas' needs. By shifting priority and budget to content that we as marketers can control (e.g., content that lives natively on your site), then you'll have a better chance at keeping the right audiences in your company's sight line. Through practices like personalized marketing, users have come to continuously crave that customized experience and are more likely to interact with a brand that meets their needs by creating unique experiences based on their preferences and behaviors.
Some specific Inbound practices we recommend investing in in the new year include persona development, (a fictional representation of an actual user to help you understand their consumer traits, behaviors, and goals) and/or customer journey mapping (a visual storyline of every engagement a customer could have with your brand/product/service). As the line between CX/UX Optimization and Inbound Marketing continues to blur, prioritizing these practices will help to reduce barriers for your consumers and for your brand, when it comes to meeting them where they are in the buying process.
Hyper-Personalization of Email Marketing
Once your brand has a decent understanding of your customer personas and their customer journey, you can incorporate the findings from these strategies into your email marketing efforts. As the hyper-personalization of content continues to hold as a norm for digital marketing, make sure to expand this method into your email practices in 2023. The lack of personalization in email marketing can have severely detrimental effects on the outcome of your campaign, such as losing the user through unsubscribes or being reported junk or spam. By personalizing your email content, those on the receiving end are more likely to stay on your mailing lists. One way to improve your email marketing practices in 2023 is by creating tailored messages by audience segment. We do this with several of our clients who have distinct email audiences. We create customized content for each audience segment list depending on their expectations and needs. You could also structure and create an email nurturing campaign, by sending automated emails to users based on their behavior. This way, they are receiving content that is sure to be of value, since it's information they are seeking out themselves.
Additionally, thanks to Apple's new privacy update, the way marketers measure and track the success of their email campaigns is changing. Open rate has been a long referred to metric for marketers to gauge the success of a campaign, but since Apple updated their mail privacy protection (MPP), marketers can no longer track this metric accurately. There is no replacement for this metric yet, but continue looking at click-through rate (CTR), conversion, and other engagement metrics to gauge campaign success.
Providing Quality Content & Tracking
As you begin to focus on how your content can be served to your target audience, whether that be through organic or paid practices, when you are coming up with your content plan, know that you can ALWAYS repurpose content as part of your strategy. When working with our clients, content development tends to be the most intimidating factor when trying to understand and customize the user experience – because who has the time to create all that new, needed content? Well, we're here to tell you that you don't need a whole slew of new content for this to work – you can still utilize existing or repurposed content in multiple ways that help to tie the whole user experience together. In the new year, it will be necessary to think of content this way. If you have the right strategy and tools, you can make the content stretch further and extend your Inbound footprint.
The best way to be proactive and stay on top of customized content is utilizing a marketing automation tool that can help to keep better track of the user experience. At VONT, we offer a customized strategy for this, and we recommend using automation platforms such as Hubspot or Sharpspring.
What trends do you see growing in 2023? Share this post, tag us on social media, and comment with your suggestions. We'd love to hear your thoughts.
About Ethos|VONT
More than an advertising agency, Ethos is a 100% employee-owned multiplatform branding agency founded in 1999 by a small team of discerning marketing and creative minds who believed in the inherent value of truth. Today, Ethos develops and executes integrated marketing campaigns across multiple channels for clients inside and outside of Maine. The company's guiding principle is to uncover and communicate every client's unique promise and truth and then set a meaningful marketing course design to achieve maximum results. Ethos excels in the fields of food and beverage, agricultural trade commodities, financial services companies, healthcare organizations and Behavior Change. In 2007, to position the agency to meet the emerging digital marketing trend, Ethos launched VONT, a digital performance marketing company dedicated exclusively to web, social media and online marketing channels. Together, Ethos and VONT work hand-in-glove to deliver integrated marketing communications across multiple channels for clients. For more information, visit www.ethos-marketing.com.