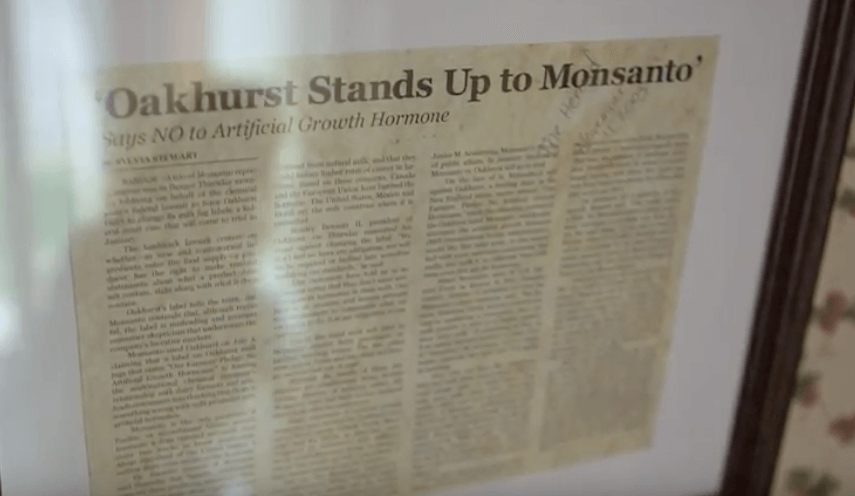 On December 4, while most consumer brands were racing toward Christmas and the end of the calendar year, Patagonia dedicated its homepage to this: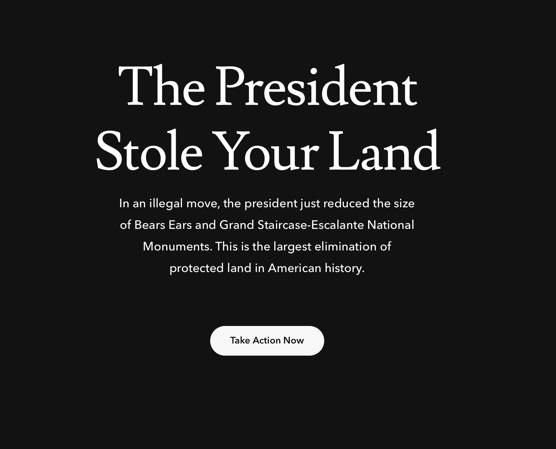 Coming from a clothing company that famously ran the "Don't Buy This Jacket" campaign, the unconventional move was befitting. Still, even for hardcore Patagonia customers, it was somewhat surprising. And it got noticed. The message was placed front and center on the Patagonia.com homepage (approximately 200,000 visitors/day); the Facebook post earned 82K shares and 64K comments (with a fan base of 1.2 million); and the story got picked up around the nation and the world. The company's action was not only provocative, it was divisive. And that was the point.
But does Patagonia's brand of bold activism make sense for every brand?
"This approach isn't appropriate or smart for everyone," says Hannah Richards, Content Marketing Strategist at Ethos. "However, if you're a specialty food brand that markets to consumers who are seeking healthy, sustainable, or values-driven products, then you should, at a minimum, understand exactly what you stand for and develop a plan for imparting those beliefs."
Why? Because specialty food customers are looking for brands that share their values.
"You can't just slap 'natural' or 'organic' on your product anymore and expect the specialty food audience to bite," explains Richards. Companies need to truly understand (and believe in!) their values and then figure out how to articulate them to their consumers.
This isn't just a specialty food strategy anymore, either. Mainstream specialty food consumers are becoming more and more astute, and looking for brands that align with their beliefs. The key is that you need to truly believe in the cause and commit to it, because today's consumers are too smart to fall for a surface-y marketing campaign.
"Marketing can help you articulate your values to the consumer," Richards explains, "but you have to live those values day in and day out, or consumers, especially specialty food consumers, will see your brand as dishonest and gimmicky."
Four reasons to live your values when marketing to specialty food consumers:
They want to know the story behind the story (why you do what you do)
They want to buy from people who share their values
They are loyal to brands that stay true to their mission and promise
They are willing to pay more for brands who share their belief system
Several Ethos clients have found ways to tether their brands to their deeply held beliefs and values. Our goal is to guide them through a discovery process that helps them uncover their core values and then find effective ways to disseminate those values though PR, content, and social media channels.
Oakhurst Dairy. In 2003, Oakhurst made national news by refusing to back down after they were sued by agricultural giant Monsanto for including their First Farmers Pledge (a pledge never to use bovine growth hormone, rBGH, in their milk) on their packaging. Monsanto, who at the time was the only major manufacturer of rBGH, had a history of coming after small dairies for similar claims – but all of the other dairies quickly recanted to avoid a lawsuit. Oakhurst fought back, and refused to back down on their pledge.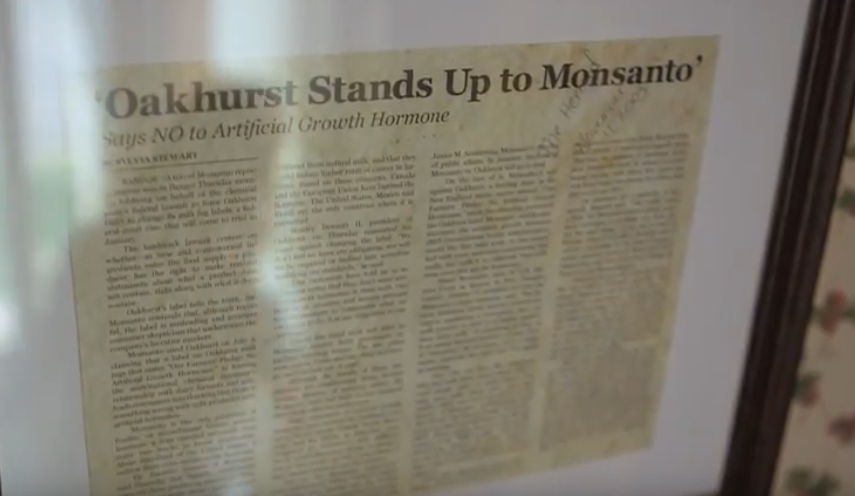 That singular move established Oakhurst as a values-driven brand willing to risk it all by standing up to big ag. The move was not a publicity stunt; it was born out of a deep passion of Oakhurst's then-president, Stanley Bennett. And it worked. Since then, Oakhurst has continued to build upon Bennett's legacy of sustainability, trustworthiness, and honesty.
"Oakhurst took a big financial risk when they stood up to Monsanto," notes Richards. "But in many ways, that stance built their brand. Oakhurst still lives by that pledge, and has built significant brand equity around their commitment to letting families know what is and isn't in the milk they drink. They won't buy milk from a farmer that uses rBHG; they still buy exclusively from Maine farmers; and they still live those values day in and day out."
Jim's Organic Coffee recognized that what set them apart as an organic coffee company was not that they produced coffee without the use of pesticides or other artificial inputs, but that they took the time to do things right and make truly delicious coffee. Things like working with organic farmers who sustainably and responsibly grow the most flavorful beans; making sure that each batch is roasted slowly to perfection; and ensuring that every shipment of coffee is "cup tested" twice — before it ships to the U.S. and once again when it arrives.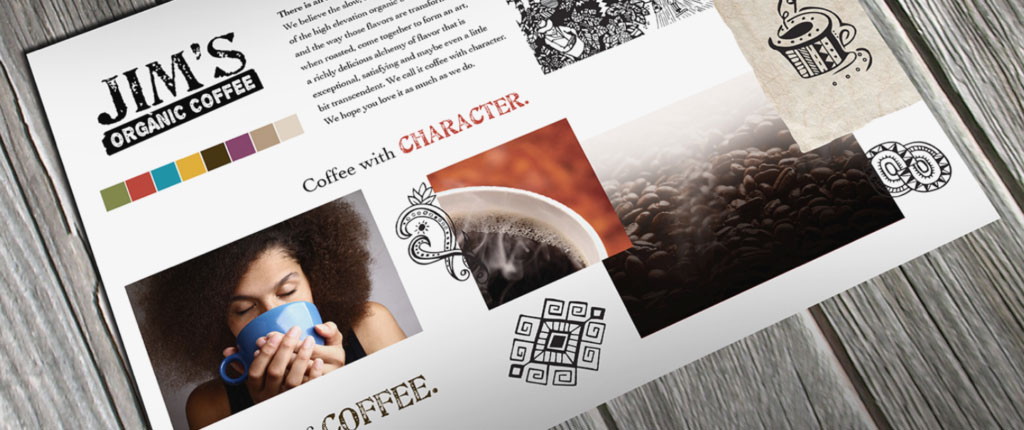 Jim's Organic Coffee owner Jim Cannell doesn't believe in speeding up the process. Great coffee – coffee with character — takes time and patience. So, in addition to Jim's deep commitment to sustainability comes the message around taking it slow, building relationships with coffee growers and coffee communities, paying growers a living wage, and doing the right thing. Ethos helped Jim's Organic with a visual rebrand that reflects these beliefs and the brand's custom approach to delicious, organic coffee.
Are there risks associated with linking your brand to a set of values?
"There's always risk associated with declaring what you believe in," says Richards. Historically, brands have tried to remain neutral to avoid alienating any portion of their base. But times have changed and so has the LOHAS space. Consumers are looking for more than a quality product. They're looking for a brand that they can relate to, believe in, and that stands for something bigger than just sales.
Will some customers walk away if they disagree with your beliefs?
"Absolutely," says Richards. "That's why it is so essential to stand for something you actually believe in (and not just what you think people want to hear.) When the naysayers say, 'I am leaving the brand,' your answer is, 'Don't let the door hit you on the way out.'"
---
About Ethos
Ethos is a multiplatform branding agency that develops and executes integrated marketing campaigns across multiple channels for companies inside and outside of Maine.
At Ethos, we believe that the most effective way to set a company's marketing course is by finding its core truth – its ethos. We know that once we discover and communicate that core truth, we can truly make a difference for each client's unique marketing and business objectives.
With Ethos, you get more than a marketing agency. You get a long-term partner whose goals are your goals.
Learn more about the Ethos approach and the work we've done for our clients. Want to have a conversation about your brand's core truth? Contact us!