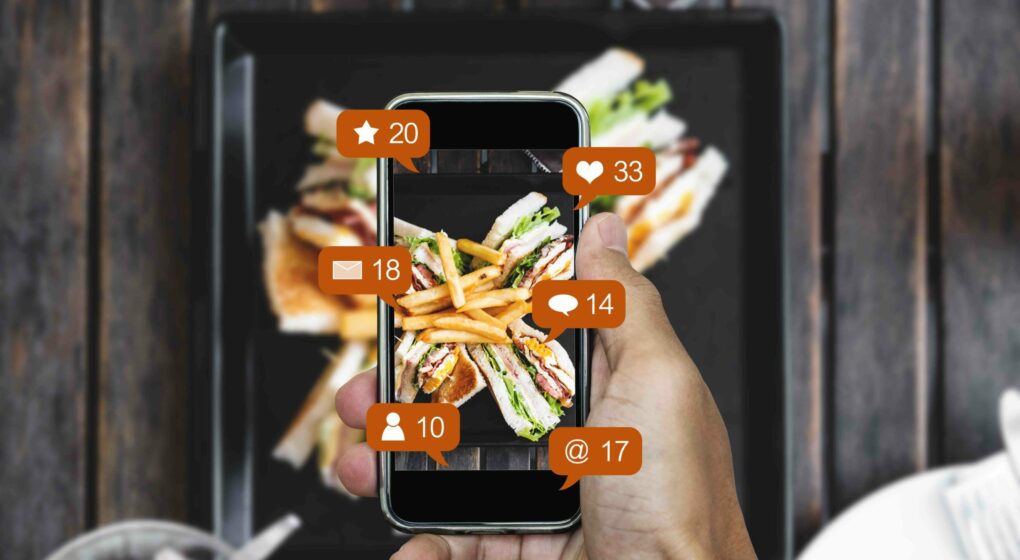 As influencer marketing continues to grow in popularity, more and more food and beverage brands are considering it as an effective way to communicate their unique taste, story, and product value without prospective customers actually trying the product. A 2019 study showed that 49.3% of consumers who actively follow an influencer on social media have made a purchase by that influencer's recommendation. Food and beverage influencers continue to wield a lot of buying power and trust with their followers – and brands are seeing that value translate to items flying off the shelves. With such a buzz around influencers and results that prove their effectiveness, this shift in food and beverage marketing makes perfect sense. However, after you begin to rework your marketing plan to include influencers, you have to consider the most important piece of the puzzle: who will represent your brand and why.
Finding the person to be a face and voice for your company can be a multi-step process that requires some knowledge of the influencer industry, as well as an understanding of costs associated with developing content. While this may seem like a daunting process to undertake, we can help simplify things by outlining some key considerations for choosing the right food marketing influencer for your brand. Here are four things we recommend looking out for when sifting through the pool of food or beverage influencer options.
Reputation – *Insert Taylor Swift Lyrics Here*
Just as reputation is important in our daily lives (e.g., getting a new job, meeting friends of friends, etc.), reputation is also incredibly important in digital and influencer marketing. In your search for the right influencer, you will undoubtedly come across some online personalities that will do anything and partner with anyone to make a buck. You don't want to be lumped in with other brands that chose that influencer just because they had a large following or just because they got a certain number of likes.
Instead, focus on choosing someone that can speak to your followers in an authentic way while still helping you achieve your goals. Take your time, do your research, and figure out how their followers react to the content. Knowing all of this background information will help you make an educated guess about their reputation and whether they would be a good fit for your brand.
Curation – Do You Fit into Their Food or Beverage Niche?
As you start to do research on potential influencers to work with, you can learn a lot about someone by the content they curate on their social media feed. Ask yourself:
What types of posts do they share – selfies, landscapes, fitness videos, travel, recipes?
Who is their primary audience – parents, college students, gym enthusiasts?
What is their reach – local, regional, or national?
What other brands do they work with – beauty, food, health and wellness?
People follow an influencer because of their niche curation, so taking all of this information into consideration will help you determine if you could see your own brand in their content stream.
For example, a local craft beer company that's trying to grow brand recognition across the tri-state area shouldn't choose an influencer that primarily focuses on health and fitness (unless you're promoting your low-sugar wine for fitness enthusiasts like FitVine). Think about how natural the fit is between your brand and the brand they're curating on their page – chances are, it's not hard to tell if you're a match made in heaven, or if it's going to be too forced.
Storytelling Ability – Because We All Love a Good Story
Arguably one of the most important things about an influencer is how good of a storyteller they are, both visually and written. When partnering with a brand, an influencer needs to embody the brand's mission and reasons to believe, while still maintaining their individual authenticity in every post they share. This requires seamless integration of a brand into their daily narrative.
For example, a milk brand chooses to partner with a regional influencer who has a particular niche for parenting tips and interior design. The influencer curates her social media persona by focusing on what parents need recommendations for (e.g., sharing mess-safe furniture covers, creating on-the-go toddler friendly snacks, arts and crafts you can do at home, etc.). To incorporate the milk product into her established brand, she creates a series of posts focused on healthy, easy options for her family's breakfast and the milk seamlessly becomes part of that story. The best part about this process is that consumers get served up an ad without it being too salesy and are shown a way to naturally incorporate milk into their daily routine. So, above all, consider which influencer will tell your brand story in the way you want it to be told.
Costs – Stay on Budget
After you've done your research and learned about what type of food or beverage influencer you want to represent your brand, that's when budget comes into play. Request costs from them upfront to ensure they're not out of your price range and won't blow your budget on just one round of posts. Getting an influencer's cost breakdown will be key to knowing if a regular posting schedule with this individual will be possible within your budget. But remember, if you get costs that are just outside of your budget, ask if you can negotiate. It can't hurt to throw the counter offer out there and see what they come back with.
For example, Oakhurst Dairy, a Maine-based dairy company, was launching a new program called Oakhurst After School and was looking to communicate the value of this program to people across the state of Maine. Ethos was tasked with finding hyper-local influencers that had a parental voice and were able to speak to the issue of child food insecurity across Maine in an understandable and compassionate way. Luckily, Oakhurst had worked with many mom influencers before, so it simply took doing some additional research, expanding the geography of Oakhurst's mom influencers beyond southern Maine, and reaching out to some new contacts to gauge their interest. We now have four influencers that live in different counties across Maine who support the program and are helping spread Oakhurst's messaging in an effective way.
At the end of the day, each influencer is interviewing for the opportunity to work with you just as much as you're interviewing to work with them. Don't be afraid to ask the tough questions, learn about them, and make your decision accordingly. After all, once content with your name attached to it is out for the world to see, there's no turning back. If you're looking for help on how to find the best influencers for your brand, get in touch – we provide influencer marketing assistance for many of our food and beverage clients and would love to help you create an authentic, meaningful influencer marketing strategy that reaches the right people in the right way.
---
About Ethos
Ethos is a multiplatform branding agency that develops and executes integrated marketing campaigns across multiple channels for companies inside and outside of Maine.
At Ethos, we believe that the most effective way to set a company's marketing course is by finding its core truth – its ethos. We know that once we discover and communicate that core truth, we can truly make a difference for each client's unique marketing and business objectives.
With Ethos, you get more than a food and beverage marketing agency. You get a long-term partner whose goals are your goals.
Learn more about the Ethos approach and the work we've done for our clients. Want to have a conversation about your brand's core truth? Contact us!