Borrowing from the tenants of psychology, sociology, and communications theory, behavior change marketing benefits from an integrated approach that makes use of both traditional and digital marketing tactics. Our SNAP-Ed marketing approach centers on the "fun, easy, popular" methodology designed to increase popularity of desired outcomes, reduce barriers to action, and inspire true behavior change – not just for the short term.
Spearheaded by Kim Laramy, a nationally-renowned thought leader in the field, our SNAP-Ed behavior change campaigns are research-driven, results-oriented, and ready to be tested.
63% of households
making $30,000 or less a year use at least one social network.
New parents
use Facebook mobile 1.3 X more often than users without children.
Facebook
is the preferred social platform of supermarket shoppers—89% use it.
In her own words – Kim on Behavior Change Marketing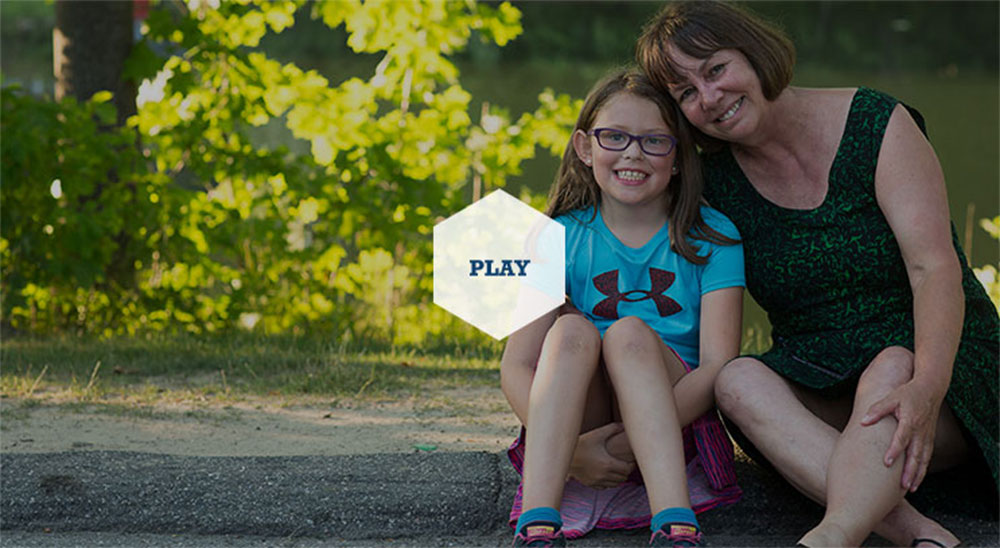 Identify your

target audience
The first, and arguably most important, step in any SNAP-Ed marketing campaign is identifying and understanding the target audience. Different types of people behave in different ways, are influenced in different ways, and can be reached in different ways as well. Understanding who your target audience is, both from a demographic (age, gender, location) and psychographic (attitudes and interests) perspective, as well as uncovering their barriers and motivations to change, is critically important in developing a successful campaign.
The following tactics can be used to segment your audience: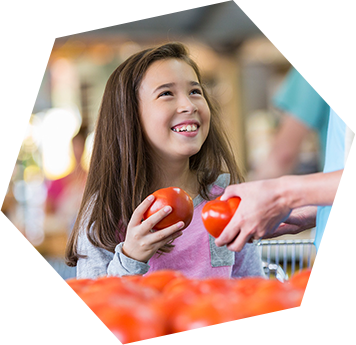 Persona Development
Research (quantitative and qualitative)
Example scenario
Persona Development
---
One of the most widely used strategies for target audience segmentation is called persona development. With persona development, marketers use known or inferenced characteristics about their target audience to segment them into groups, often characterized by a fictional person, or persona. These personas don't represent one specific person, but rather a group of people who have similar attitudes, interests, and characteristics. These personas are then used to help determine which messages are deployed to which audience and via which media for maximum results.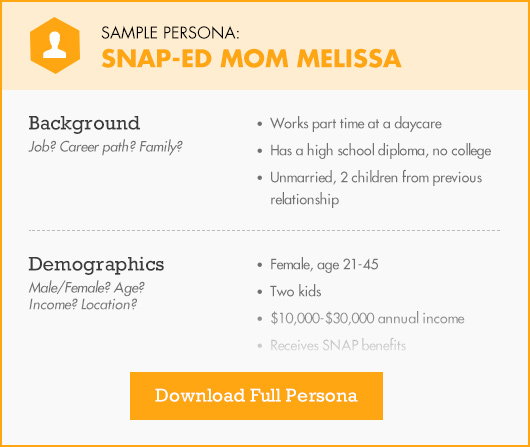 Research (quantitative and qualitative)
---
Qualitative and quantitative research is another way to identify and understand the target audience. Data from IDIs (in depth interviews), focus groups, and quantitative phone and internet research allows marketers to verify (or dispute) their assumptions about a specific audience segment and can be incredibly helpful in narrowing messaging and interventions to only those most effective.
Example scenario
---
Let's talk about how this would work for a SNAP-Ed organization whose goal is to increase consumption of fruits and vegetables among low-income moms. The first thing we recommend is to conduct focus groups and online research to understand the barriers that the moms face – why don't they consume fruits and vegetables? What gets in the way? What is the competition for those food dollars? We then use that information to segment the audience into a number of groups – moms lacking resources, moms unsure of how to prepare the food, and moms who just don't understand the benefits. Then we can create a persona for each of these groups. For example, 'No Cook Natalie' is a young 18- to 34-year old who doesn't cook at all. She typically has a full-time, low-paying job and relies on fast food and/or prepared food to feed her family. The SNAP-Ed organization can then use this information to tailor their messaging to Natalie – and all those like her. Perhaps they create easy recipes complete with simple directions and shopping lists to help build Natalie's pride in being able to make a meal herself.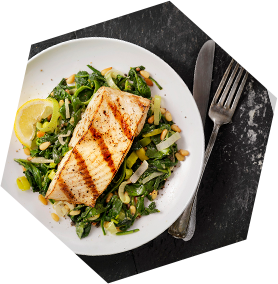 Develop the

message
The second key tenant of SNAP-Ed marketing is crafting the right message for the target audience. Most people cannot be "convinced" to change their behavior – rather, they need to be motivated to change on their own. Simply being aware of or knowing about the preferred behavior is not enough. The key to motivating a target audience is understanding what's in it for them – what matters to them enough to change their eating habits? The next step is figuring out how to make healthy eating appear fun, easy, and popular.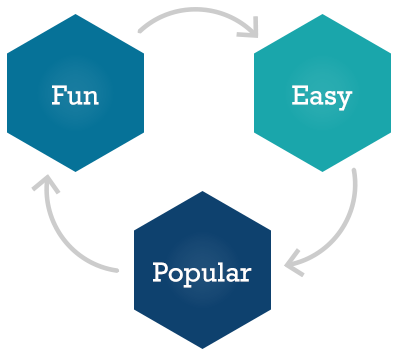 The following tactics can be used to identify the most effective messaging:


Focus Groups
A/B Testing
Example scenario
Focus Groups
---
Two popular methods for identifying the most effective messaging are focus groups and A/B testing. Focus groups are fairly straightforward. A series of messages are developed by the marketer, then, a group of people that fit the target audience description are shown each of the messages and asked for their reaction. The messages that perform the best in the focus groups are then selected for use in the primary campaign.
A/B Testing
---
If focus groups aren't available, another message development tactic is to employ A/B testing. In this method, marketers craft two or more messages and run simultaneous campaigns, one with each message. Campaign performance is then measured and stacked against each other to determine which message set was more effective.
Example scenario
---
In our example scenario of a SNAP-Ed campaign to encourage consumption of fruits and vegetables, the marketers could use A/B testing to figure out which messages resonate best with their persona, No Cook Natalie. Perhaps they run two simultaneous Facebook campaigns targeting people who seek easy recipes as well as those interested in bargain shopping. One campaign ad has a headline that says, "Dinner in just 15 minutes" with an image of a happy mom putting a steaming bowl of pasta in front of two young children. The other ad appeals to a different insight, and has the headline "Want to be a better mom?" The campaigns would run for the same length of time with the same targeting, and at the end of the month, the marketers would compare the campaign performance and determine which message had a higher click-through and conversion rate. The best performing message set would then be used in the rest of the campaign materials.


Find your

audience

where they already are
If only behavior change were as easy as a clever tagline, copywriters would be rich! Unfortunately, it's not so simple. Coming up with the right message is a big part of SNAP-Ed marketing – but it's not the only part. Creating meaningful behavior change requires an integrated approach that includes digital, traditional, and interactive tools – all of which play a part in helping the target audience adopt the desired behavior.
The following tactics can be used to reach your target audience: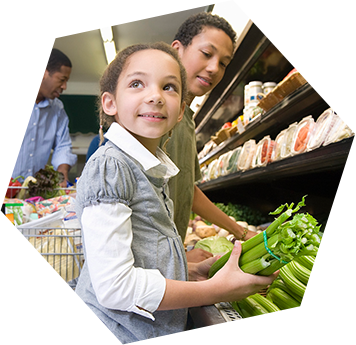 Social Media
Print and Broadcast
Display and Video Advertising
Public Relations
Email/Direct Mail
Events
Example scenario
Social Media
---
Social media is perhaps the most agile and affordable outreach tactic, appropriate for a wide variety of target audiences. Platforms including Facebook, Twitter, Instagram, Snapchat, Pinterest, and others provide both organic and paid opportunities for marketers to engage their target audience with a specific message or continue an ongoing dialogue.
Print and Broadcast
---
Similarly, print and broadcast media provide an excellent way to reach a large audience quickly, however, the targeting capabilities are much more limited, and the cost is typically more expensive.
Display and Video Advertising
---
Placing banner and video ads on specific good-fit websites or running display or programmatic network campaigns to place ads across hundreds of relevant websites in a single buy can expand your reach and drive your SNAP-Ed audience to your educational content.  It is another affordable and highly targeted method of reaching a specific target audience. One major advantage of this type of advertising is its inherent measurability. It's also easier to change out display and video campaign messages than it is with other outreach tactics, such as print or broadcast.
Public Relations
---
A great way to gain additional exposure (earned media) without placement fees is to pitch stories that highlight appropriate SNAP-Ed messaging to news media outlets.
Email/Direct Mail
---
Another step towards an integrated message involves collecting or purchasing email and mailing addresses of target audience members and sending them relevant content that introduces and reinforces messaging. 
Events
---
Create an in-person event in order to provide hands-on support to the target audience in making the desired behavior change (be sure to make it easy, fun and popular!). 
Example scenario
---
In the SNAP-Ed campaign example described above, outreach tactics might include social media ads on Facebook or Snapchat (platforms that are popular among young moms), in person events or programming, or a public relations campaign highlighting the positive changes that occurred for families who have begun eating more fruits and vegetables. Programmatic testimonial ads could target moms, reinforcing that they too can make these positive changes. The type and number of outreach tactics utilized will depend on the target audience, budget, and campaign objectives.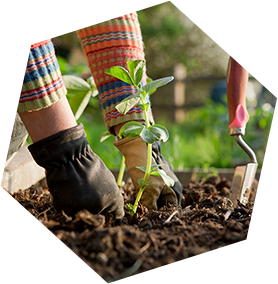 Follow-up and

evaluation
In order to affect real change, messaging needs to remain consistent over time and on every platform, encouraging and reinforcing healthy eating behaviors. Behavior change is not a quick fix, it only happens over time. Specialty tactics such as CRO (conversion rate optimization) and retargeting can be used to keep the message consistent and relevant over time. A conversion rate optimized landing page can help increase results while reducing marketing spend, and retargeting (targeting previous website visitors with display or social ads) can assist in reaching "warm leads" – i.e. those who have shown some interest, but haven't yet signed up for a class, downloaded a recipe, or taken another desired action.
Outreach methods should also be continually evaluated in order to discern which tactics are most effective and should receive the bulk of the resources. Depending on the type of outreach method used, various evaluation tactics may be appropriate, including conversion tracking, qualitative and quantitative research, cost per click, media pickup, social shares, and more.
The following tactics can be used to optimize your message delivery and evaluate performance:


CRO (Conversion Rate Optimization)
Remarketing
Analytics
Example scenario
CRO (Conversion Rate Optimization)
---
Optimize both landing pages and key pages of your website for correct page elements such as headlines, copy, form, graphics, page layout, and call-to-action (CTA). Be sure to explore options for conversion types focusing on the difference between what works in a desktop space and what works in the rapidly growing mobile space.
Remarketing
---
Use digital ads that include calls-to-action (CTAs) to target previous website visitors and encourage them to return to and reengage with your website.
Analytics
---
Daily, weekly, or monthly reviews of marketing performance can be used to inform future decisions that will help achieve optimum reach, engagement, and cost efficiency.
Example scenario
---
For our SNAP-Ed campaign, we might use retargeting to reach people who clicked on a Facebook ad, but didn't sign up for the online newsletter, register for a class or download a recipe. We might also employ conversion rate optimization to increase the likelihood that someone who visits the landing page downloads the recipe and the shopping list.
Later, we could use conversion tracking to determine how many people downloaded our materials – and measure cost per click to figure out which social media ads were most cost-effective in delivering visitors to the landing page.
Bringing it all together
Behavior change is never easy, especially when it comes to making healthy food choices – but with the right tools, and a defined strategy, it is possible. Remember, a successful SNAP-Ed marketing strategy always starts with careful target audience identification and segmentation, followed by message development, outreach, and finally, evaluation.
For more tips about creating successful SNAP-Ed and Behavior Change Marketing campaigns, be sure to check out the Resource section of each step.
Interested in learning how Ethos can help you with SNAP-Ed marketing?
Contact our Behavior Change Marketing specialist to learn more about how Ethos can help.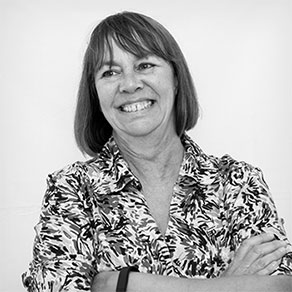 Kim Laramy
Social Marketing Strategist
---
Tell me about Kim
Kim is Ethos' social marketing strategist for Ethos' healthcare and SNAP-Ed clients. She understands the challenges faced by SNAP-Ed administrators and works diligently to help them meet—and often surpass—their goals. With a background in healthcare and a lifetime achievement award from the Advertising Club of Maine, Kim has the skills and creativity needed to advise SNAP-Ed campaigns. She makes her colleagues especially happy when she brings in food from her family's food truck. Email: klaramy@ethos-marketing.com
About Ethos
Ethos is a multiplatform branding agency that specializes in behavior change marketing programs designed to reach specific target audiences across multiple communication channels to encourage measurable change.
At Ethos, we believe that the most effective way to set a company's marketing course is by finding its core truth—its ethos. We know that once we discover and communicate that core truth, we can truly make a difference for each client's unique marketing and business objectives.
With Ethos, you get more than a behavior change marketing agency. You get a long-term partner whose goals are your goals.