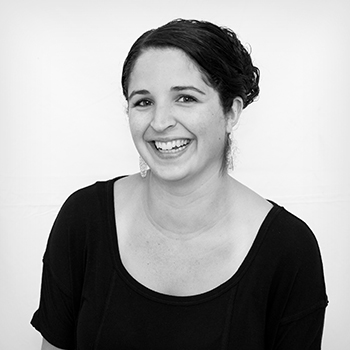 Last month we introduced the "Day in the Life of E|V Team Members" series and we're so excited to share the next one with you. If you didn't read our first blog,
check it out
and then dive into learning about our Brand Content Strategist, Hannah Richards. Enjoy!
Meet Hannah
One thing you'll notice about Ethos|VONT is that many of our team members have been with us for a long time– and that's the case with Hannah, our Brand Content Strategist. Hannah came to Ethos at just 21 years old to work as a Junior Copywriter. While Hannah had gained an initial interest in marketing from her college studies at Clark University, she never formally studied marketing as her major or minor. Nonetheless, with a strong background in writing, Hannah was driven by her passion for strategic, creative thinking, and was determined to integrate her skills and interests in her day-to-day livelihood.
"Since I was only 21, I didn't have any direct experience in marketing (aside from my internships), so I created a portfolio completely out of spec work, " Hannah recalled, "I even hired a graphic designer to bring to life the spec ads I had concepted. To Ethos' credit, they saw past my lack of experience and focused instead on my critical thinking and creativity. I've been carving out new roles for myself in the company ever since."
Hannah Brings a New Team to E|V
Determined to integrate her love of writing with her passion for strategy and creative, Hannah continued to find new roles within the agency to learn and challenge herself. Sometimes that meant creating new positions so she could explore new territories for the company.
"I went from Junior Copywriter to Copywriter, and then after a brief stint as a Junior Account Manager, I convinced the company to allow me to start up a social media 'team.' And by team I mean me – it was just me, supervised by the PR Director, Belinda Donovan. Belinda and I built out the team over time until I eventually took on a leadership role in 2019 as Brand Content Strategist and Social Media Team Lead," continued Hannah.
By creating this new team and service for the agency, Hannah was able to grow the agency's client base and expand the service offerings for existing clients.
"A lot of people look at younger employees in an agency and think of them as 'junior,' or less knowledgeable," says Hannah. "But I think younger generations bring an important perspective and fresh thinking that is incredibly valuable to clients. Ethos saw that in me when I was first starting out and I try to maintain that same curiosity and eagerness to explore new things even as I grow and mature in my career."
A Brand Content Strategists Day-to-Day
Nowadays, Hannah has quite a few responsibilities – her time is split between managing the social team, working directly with clients, and working collaboratively with the E|V creative team on everything from brand development to campaign strategy.
"I start everyday with team meetings – first with the creative team and then with the social media and content team. Then I spend an hour or so responding to emails, monitoring social media pages and solving any scheduling issues or "hot" projects/requests that have come up. I spend a good portion of my day in meetings – sometimes briefs for new projects, strategy discussions, creative brainstorms, or internal reviews of creative work. I also meet with every member of the social and content team monthly to check in on how things are going. Other management tasks include estimating projects, managing capacity, and assisting with new business development."
"When I'm not working on concepting or strategy, I'm typically writing social media ads, creating content calendars, or out and about shooting or directing photo and video content for clients. I also try to reserve at least a few minutes every day to just browse the news and social media to make sure I'm up to date on the latest trends and opportunities for clients."
"Making TikTok videos is definitely the best part of my job," Hannah jokes. "Whenever I'm at work and on TikTok, I feel like I've really made it in life."
Hannah's Recent Work
Recently, Hannah's has been working on multiple projects involving hiring and recruiting campaigns for our clients that were impacted by the pandemic, and these campaigns have really fascinated Hannah from a psychological perspective.
"You have to think about what motivates people to work and why they choose the jobs and companies that they do. It's about money, of course, but for most people it's about a lot more than that and I think it really exemplifies how important branding is –both for customer acquisition as well as talent recruitment and retention."
With a long list of tasks to check off the list every day, and the need to touch multiple projects for multiple clients at a time, Hannah finds herself coming in contact with many different teams at E|V to help these projects come to fruition.
"I work really closely with other members of the social and content team, but I also work very closely with the creative directors, video team, and PR team. Content and social media is such an interesting space to work in because it really touches every part of the agency – you need content for almost everything – websites, ads, email, social media, broadcast, etc. So I get to work with a lot of different people to help bring various projects to life. Seeing it all come together is so rewarding," concluded Hannah.
Want to learn more about agency life? Stay tuned for the next blog post in our E|V Day in the Life Series. Until then,
get in touch
to learn more about our team and how we work.
About Ethos
Ethos is a multiplatform branding agency that develops and executes integrated marketing campaigns across multiple channels for companies inside and outside of Maine. At Ethos, we believe that the most effective way to set a company's marketing course is by finding its core truth – its ethos. We know that once we discover and communicate that core truth, we can truly make a difference for each client's unique marketing and business objectives. With Ethos, you get more than a marketing agency. You get a long-term partner whose goals are your goals. Learn more about the Ethos approach and the work we've done for our clients. Want to have a conversation about your brand's core truth?
Contact us!