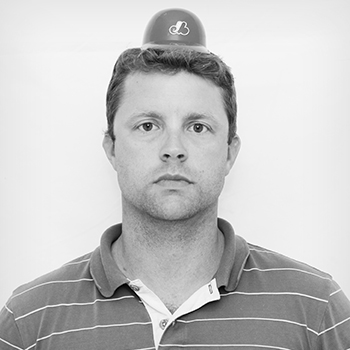 Unique personalities, creative masterminds, and forward thinkers–some terms that come to mind when describing our brilliant team members here at Ethos|VONT. With over 55 employees who have so many unique talents, you'll find that everyone here has a purpose and a place.
From sitting in on creative brainstorms for clients, discussing budgets with account executives, analyzing data with digital advertisers, concepting creative with copywriters, or narrowing media focus with PR, each of those roles intersecting and jiving with one another is what makes the work we do, well, work.
BUT, instead of selling you on the services we offer as an agency, we thought it'd be more fun for you to meet the people that make those services possible. Each and every one of them has a unique story to share–about the role they play in agency and how they found their own individual path to success.
Meet Cory!
When Cory's not making jokes on Zoom calls or chilling on the roof top deck, he's concepting creative ideas and writing copy for projects across multiple teams in the agency.
For the past seven years, Cory has been a Senior Concept Copywriter here at E | V, where he keeps the idea factory fires lit. After graduating from UNC-Greensboro where he majored in film, Cory took his first position in the news industry, where he worked for several years until his interests wandered elsewhere.
"I had been working in news for years and really, really got sick of it," said Cory. "I begged a creative director to join his agency in town. He said no. He also gave me an awards book and told me if I could make something that would appear in this collection he'd consider hiring me. I accepted the challenge, taught myself how to design and write ads, made a book, and presented it to him. He said no, again. I kept at it for about six months until he finally said fine."
Cory was able to set the tone for his creative path, and after a lot of persistence and hard work, he moved on to work for two different agencies and feelanced for multiple employers. However, Cory really struggled to find a position in an agency that understood his work/life balance needs. After pushing through and working overnights and weekends, Cory discovered a concept copywriting position here at Ethos and was immediately attracted to the family-focused work environment.
"In the seven years I've been here, I think I've worked maybe three weekends and zero overnights. So, the life/work balance is huge. The people are fine I guess–only if you are into kind and caring humans who also happen to be very creative."
Cory Finds His Place
With the job secured, and years of creative experience guiding him, Cory found his groove and was ready to let the ideas flow. As a creative copywriter, you'll find Cory's days are pretty booked, touching multiple projects for various clients and collaborating with many coworkers throughout the agency.
"My days are pretty wild. One moment I'll be writing headlines for a campaign to help children dealing with food insecurity. And the next I'll be running logistics for a Maine Wild Blueberry photo shoot. In between that I'll be script writing, concepting, estimating, and who knows what else gets thrown my way. I am also in constant contact with everyone here—project managers and account executives, strategists, media planners, art directors, creative directors, digital ad specialists, billing, PR, social media, web developers…really, everyone. And I'm lucky for it. We have a legit crew.
It can be a lot, but the pace suits me. I think I can thank working behind the line at restaurants for that."
As busy as he can be, Cory's favorite part of his job is coming up with ideas that really break through the noise.
"When you have that moment of people being excited about your work, it definitely gives a bit of a dopamine kick. Being here at Ethos|VONT, I also really like that if I do my job well, the worst thing our audience will do is buy really great milk. Or financially plan for higher education. Or use a simple app to order home heating oil. We have awesome clients who really have great products or provide helpful services."
Cory's Recent Work
A project that Cory's recently been helping get off the ground revolves around the FAFSA, and capturing students' attention to help them sign up early and get a head start.
"We created a character named "Smell, the Sneaker". He's a beat up old sneaker who doles out financial advice. I know it doesn't make perfect sense, but that's kind of the point. Sometimes you need personas and strategies and locked down reasons-to-be. And sometimes you just need something funny that gets people to giggle and think about doing something that ultimately is a really good thing."
Working for a multiplatform branding agency can be fast paced, with multiple projects and clients to juggle. But ideally, everyone here plays a distinct role, and feels like they have a specific purpose. Just like everyone at E|V, Cory knows his work feeds into the bigger picture.
"From concept to execution, I'm ideally involved in all parts of bringing a project to life. I think it's an important part of being a copywriter—to not only write the words but also be able to turn ideas into deliverables."
---
About Ethos
Ethos is a multiplatform branding agency that develops and executes integrated marketing campaigns across multiple channels for companies inside and outside of Maine. At Ethos, we believe that the most effective way to set a company's marketing course is by finding its core truth – its ethos. We know that once we discover and communicate that core truth, we can truly make a difference for each client's unique marketing and business objectives. With Ethos, you get more than a marketing agency. You get a long-term partner whose goals are your goals. Learn more about the Ethos approach and the work we've done for our clients. Want to have a conversation about your brand's core truth?
Contact us!