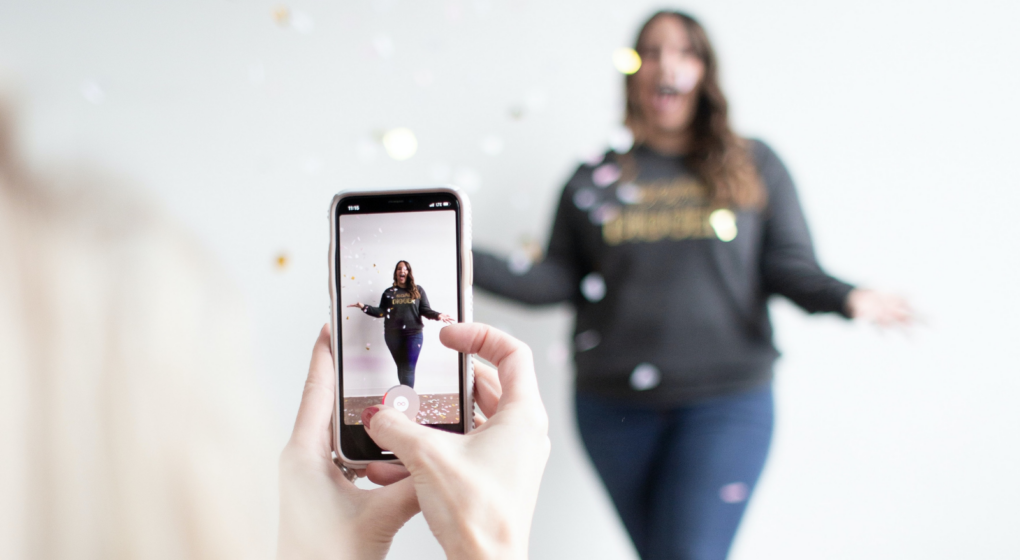 Diving into TikTok for your brand or business? Good call. The fast-growing, youth-driven platform is set to reach more than 750 million monthly active users in 2022. Not too shabby. But if you're planning on simply re-posting your Facebook, Instagram, or broadcast ad content on TikTok, it's unlikely to make much of a splash – or earn very many views. So, how do you create content that's likely to catch on? Here are six tips to make your TikTok ads stand out (while still fitting in).
6 Tips to Create Successful TikToks for Your Brand
1. When in Rome, do as the Romans do. When trying to perform on TikTok, go on TikTok.
The number one mistake brands make on TikTok? Not actually going on TikTok. It's incredibly hard to create successful TikTok ads if you aren't engaging with the platform regularly and seeing firsthand what type of content is trending and why. Even if it's only for a few minutes a day, it's critical that you immerse yourself in the TikTok culture so that you can create ads that stand out, while still fitting in and appearing native to the platform.
2. Go high concept, low production.
Speaking of fitting in… you know that sleek, high production ad you created for broadcast? It's probably not going to fit in very well on TikTok. We know how tempting it is to repurpose content for multiple platforms – and oftentimes, we recommend it! But TikTok really has its own aesthetic, and if you want people to engage with your content, it's important that it looks like other user-generated content shared on the platform.
The good news is that most people creating content on TikTok are doing it from their smartphones – so you can cancel the professional camera crew and use your iPhone instead. Rather than going the highly produced route, focus your resources on clever, witty, and original concepts that make people think, laugh, and/or cry – like this video, promoting the low cost of tuition at Southern Maine Community College.
Remember, high concept, low production content tends to perform the best on TikTok. Anything too polished will stand out as an ad – and can sometimes indicate that a brand is inauthentic, out of touch with the platform, or not engaged with the audience they're trying to reach.
3. Make it short and sweet.
With character counts limiting everything from banner ads to tweets, many brands look to video to tell their longer-form stories – but TikTok is having none of that. While the platform recently expanded to allow videos up to three minutes in length, the top performing content still tends to fall into the 15-seconds-or-less category.
Remember, there's nothing stopping TikTok users from simply swiping past your ad – so you've got to capture their attention quickly. Focus on ONE concise message per video and resist the temptation to cover all your key messages in every spot.
4. Step out of your comfort zone.
Not only are TikTok ads skippable, but your content is unlikely to even make it out of the testing phase if nobody engages with it. Similar to the way Google uses quality scores, TikTok tests ads with a smaller group before releasing them to your full target audience. If the ad performs poorly in the testing phase, they'll recommend a different target audience or going back to the drawing board on your ad before letting it run.
So, even if you have a big budget to promote your content, you still need to come up with something entertaining if you want capture views. Often, this requires stepping out of your comfort zone. Things like low production video, behind-the-scenes content, dancing, lip syncing, making jokes, and embracing sarcasm are examples of content that might not feel on-brand for your other social media channels, but are the breadwinners on TikTok. This MilkBar video is a great example of a brand truly embracing the platform and creating true content vs. advertising.
Remember, people don't go on TikTok to watch ads – they go for the fun videos. So, while it's important to always stay true to your brand values, you might need to push the boundaries of your brand standards to embrace new platforms and engage new audiences.
5. Let the music move you.
If you spend any time on TikTok at all, one of the first things you'll notice is the influence that music has on the platform and vice versa! In fact, TikTok has launched quite a few unknown artists to stardom through viral music clips. The importance of music on TikTok makes sense, given that the platform is an evolution of Music.ly (a lip-syncing video app).
Using popular (viral) music clips is one of the best ways to get your content noticed on TikTok – however, as a brand or business account, you're going to be more restricted in terms of which tracks you can legally use.
But don't let that deter you from creating great musical content. In 2020, TikTok released a library of music that is licensed for commercial use (free for TikTok users!) – and if you don't like what you find there, you can also search dozens of royalty free music sites online to find the sounds you're looking for at a pretty minimal cost. Even though the Promoted Music library doesn't include the most popular artists, it does include a bunch of "sounds" (as TikTok calls them) that have catchy melodies and pronounced beat drops – perfect for putting an exclamation point on important transitions or messages in your video.
In terms of production, the key to making the music in your TikTok spot work is to coordinate the beat drops with transitions in the video. Our brains are trained to appreciate that kind of synchronization, and it will help hold the attention of your audience. You can also use music to set the mood for your content or provide an entertaining contrast of silly video with serious music or vice versa. This GymShark TikTok is a great example of how well-coordinated music can enhance almost any video.
Can't find the perfect track? Remember that you also have the option to upload your own original sounds to TikTok – anything from original music to voiceover tracks to stock music you've purchased the rights to online.
6. If at first you don't succeed…hire someone who already has.
If all these TikTok tips are leaving you feeling more overwhelmed than inspired, you're not alone. Learning a new platform and creating content in a new format is hard! If you're just not into it or don't have the time to devote to it, but still feel it's a necessary to-do for your brand, do what you do with anything else you don't have the capacity to take on: outsource it!
There are millions of TikTok creators who have mastered the art of TikTok videos – and TikTok even did brands the favor of compiling those creators into a searchable database. So, go ahead and find some creators that feel like the right fit for your brand (you can search by location, keyword, audience size, and more) and connect with them to help create and/or amplify your business content. As they say, work smarter not harder!
https://creatormarketplace.tiktok.com/
Curious about getting on TikTok, but looking for some guidance to get started? Get in touch to chat to an Ethos Social Media Strategist today!
About Ethos
Ethos is a multiplatform branding agency that develops and executes integrated marketing campaigns across multiple channels for companies inside and outside of Maine. At Ethos, we believe that the most effective way to set a company's marketing course is by finding its core truth – its ethos. We know that once we discover and communicate that core truth, we can truly make a difference for each client's unique marketing and business objectives. With Ethos, you get more than a marketing agency. You get a long-term partner whose goals are your goals. Learn more about the Ethos approach and the work we've done for our clients. Want to have a conversation about your brand's core truth? Contact us!