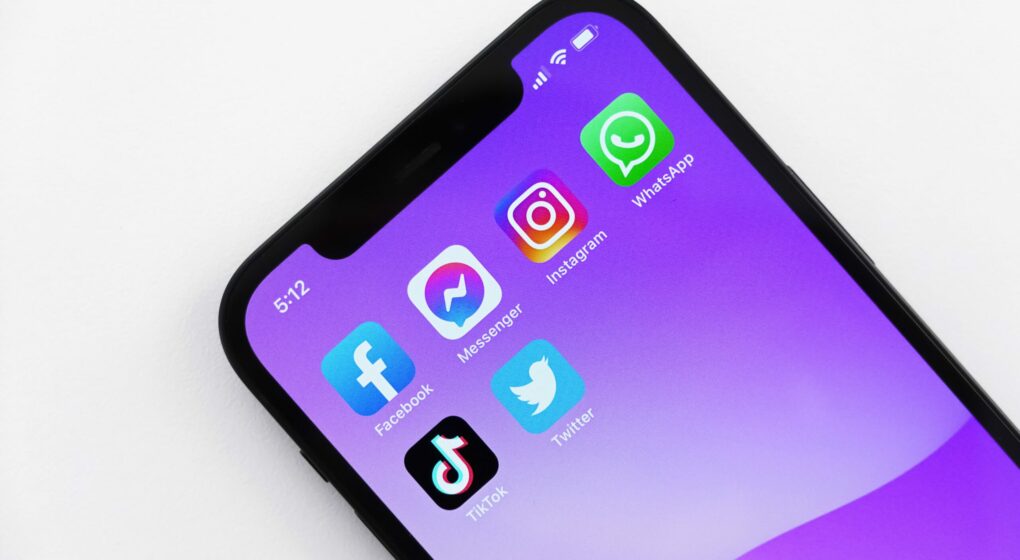 The Age Old Question: Which Social Media Platform(s) Should We Be Using?
As a social media strategist, I spend a lot of time answering the question, "Do I need to be on [insert name of the newest social media platform here]?" The answer is always the same: it depends.
I know, I know – lame. But it's the truth. There is no one (or two or three) social media platform that all businesses should be using. Not even the 800-pound gorilla, also known as Facebook – err – Meta (something like that), is a definite slam dunk. There are so many social media platforms out there that only a few (very large) organizations have the resources to use all of them well. That means the vast majority of marketers have to make choices. So, how do you know which platforms to choose?
Let's Look At The Numbers.
Roughly 82% of Americans between the ages of 18 and 49 use at least one social media site, so if you were on the fence about social media to begin with…don't be. Now, let's take a look at some of the most popular platforms by the numbers.
Facebook (Meta)
The most popular social media platform across all age groups – Facebook – is still considered the big dog in the social media space. It has over 2 billion monthly active users, with the average user spending almost 20 hours a month on the platform. Pretty impressive. That said, not all users are created equal:
Facebook audiences also vary by geography. While there are MORE Facebook users in urban areas (because urban areas have more people), a higher percentage of rural residents use Facebook more than any other platform. Another interesting stat about Facebook geography: only 10% of Facebook users are located in the US and Canada. Forty percent reside in Europe, and the remaining 50% are spread out across the rest of the globe, with India housing the highest number of Facebook users in any one country.
Facebook is also exceedingly popular amongst low-income audiences. A 2019 Pew Research survey revealed that 69% of U.S. adults in the lowest income households use Facebook. For reference, only 35% of people at the same income level use Instagram. The income gap is even wider when it comes to teens. But if you're looking for the high earners, you'll find them on Facebook, too. The only platform with a higher percentage of high earners is YouTube.
Ethos' Take on Facebook
Facebook is a good choice for businesses with a diverse audience base, as they have good penetration in a wide variety of demographics. It's a particularly good choice for those trying to reach rural or low-income audiences. That said, the Facebook brand has taken a bit of a hit lately, especially amongst younger generations. So, if you're looking upstream, you might want to focus on a trendier platform. Perhaps something like…
Instagram
Coming in at just over a billion active users monthly, users spend an average of 10.3 hours a month on Instagram. Once again, men represent the largest demo on the platform, but they're slightly younger (18-24) than the largest male demo on Facebook (25-34). The largest female demo on the platform is between the ages of 18-34 (hi, Millennials!), and seniors (in particular, senior men) represent the smallest demo. That said, in the U.S., a larger percentage of women overall use Instagram (43%) compared to men (31%). Not surprisingly, the younger the Instagram user, the more likely they are to log in multiple times a day.
Ethos' Take on Instagram
Instagram's focus on visual content and integrated shopping features makes it a great choice for e-commerce brands, especially in the beauty, food, fashion, travel, and lifestyle spaces. Even outside of e-commerce, the platform is an excellent space to reach younger audiences and is often the preferred platform for consumers to engage with brand and business content. What's more, a recent poll of users aged 16-64 finds that almost half of Instagram users also use TikTok. Speaking of TikTok…
TikTok
If you're still thinking of TikTok as an up-and-coming platform – think again. TikTok is here, and it's here to stay. With over a billion monthly active users, and an average monthly usage of 13+ hours, it's right up there with industry behemoths, Facebook and Instagram.
Unlike its Meta-owned peers, however, TikTok is all the rage among younger audiences and that means older audiences are likely to follow. Twenty-five percent of TikTok users are between the ages of 10 and 19 years old – and 82% are under 50.
All that Gen Z love comes at a cost, though. You'll need to create video content to gain any traction on TikTok. Simply repurposing content from other platforms is unlikely to earn you many views. On the bright side, you can ditch the professional video equipment (and costs). Fun, creative, witty, and low production smartphone content tends to outperform the professionally filmed variety.
Ethos' Take on TikTok
This fun and engaging platform offers some incredibly powerful interest-based targeting, better opportunities to go viral, increased advertising options, and is just the nudge most businesses need to get in on the "authentic, real-time video" train. It's a great platform for those seeking to reach Gen Z, or even Millennials.
Twitter
Coming in at 320 million users in 2021, Twitter ranks significantly below Facebook, Instagram and TikTok in terms of number of users – but it's certainly not a platform to ignore. In fact, Twitter reaches roughly a quarter of Americans, 65% of which are between 18 and 29 years old. In addition to being on the younger side, Twitter users also skew male and urban and tend to be higher earners, with 34% of U.S. adults earning $75k or more annually.
Ethos' Take on Twitter
Twitter is a great platform for reaching young urbanites and it remains popular among media and journalists as well. It's known for being the "up-to-the-minute" social media platform and is often home to breaking news and vibrant discussions about current events. Success on Twitter requires not only interesting and up-to-date content, but consistent engagement with other users in order to build credibility and clout. It's a powerful platform (especially for PR) but requires a significant time investment in order to gain traction.
YouTube
It's easy to overlook YouTube when it comes to social media because many marketers think of it as a place to house video content rather than a place to engage with audiences, but the opportunity to drive traffic and engagement via YouTube is huge. The platform is the second most visited website in the world (it accounts for more than 25% of mobile traffic by volume) and boasts over 2 billion users. On average, users spend 20+ hours a month on YouTube – more than industry giants, Facebook, Instagram, TikTok, and Twitter. These are impressive numbers, to be sure, but keep in mind that only 15% of YouTube's traffic comes from the U.S.
So, who makes up that 15%? Forty-nine percent of U.S. internet users over the age of 65 say they use YouTube (compared to 13% on Instagram, 7% on Twitter, and 4% of TikTok users). But the platform's largest advertising audience remains millennials (25 – 34-year-olds).
Ethos' Take on YouTube
YouTube is a powerful platform that reaches everyone from Gen Z to Baby Boomers, and engages them for long periods of time. It's an excellent traffic source and lead generator. Keep in mind, however, that to be successful on YouTube, organizations will need the ability to produce regular (episodic) long-form content, so it's not a fit for everyone. If you do decide to go all in on YouTube, make sure you engage with your audience on the platform (optimize videos for search, encourage and engage with comments, give shout-outs, etc.). Otherwise it's easy to fall into the trap of using it as a video hosting site vs. a social media platform.
LinkedIn
Last but not least – we have LinkedIn, the underdog of the social media space. LinkedIn reaches roughly 770 million people (21% of them hailing from the U.S.) and is considered a space for working professionals. Sixty percent of LinkedIn users are between 25-34 years of age, and fifty percent of U.S. adults making $75k or more use LinkedIn (compared to only 12% of those earning 30k or less). Approximately half of college educated adults in the U.S. use the platform.
While these numbers may not seem stellar compared to industry peers, LinkedIn still holds court when it comes to B2B marketing. The platform is home to the largest share of B2B display advertising in the U.S. and is one of the only social media platforms that still offers meaningful job title-based ad targeting.
Ethos' Take on LinkedIn
While LinkedIn lags behind its peers in terms of day-to-day usage, it remains a powerful platform for B2B marketers, and it offers some unique targeting opportunities for those either selling or recruiting based on job title. Advertising on the platform tends to be more expensive than other social media networks, but for the right businesses, it can be a useful tool. While company pages and advertising are available on LinkedIn, the platform is at its most powerful when those pages are supported by employees and executives engaging in groups and discussions via their personal accounts.
Our Last Word On Social Media Platform Usage
In the end, the numbers only tell part of the story when it comes to which social media platforms are likely to be most successful for any particular organization. Every organization (and their audience) is unique – and social media platforms are constantly changing and evolving. Keeping a regular pulse on your specific target audience and where they spend time online – as well as considering your organization's ability to create specific types of content – is likely the best strategy for finding the right social media "home."
Still have questions and want to talk to an expert? Contact an Ethos Social Media Strategist today to get started.
About Ethos
Ethos is a multiplatform branding agency that develops and executes integrated marketing campaigns across multiple channels for companies inside and outside of Maine. At Ethos, we believe that the most effective way to set a company's marketing course is by finding its core truth – its ethos. We know that once we discover and communicate that core truth, we can truly make a difference for each client's unique marketing and business objectives. With Ethos, you get more than a marketing agency. You get a long-term partner whose goals are your goals. Learn more about the Ethos approach and the work we've done for our clients. Want to have a conversation about your brand's core truth? Contact us!