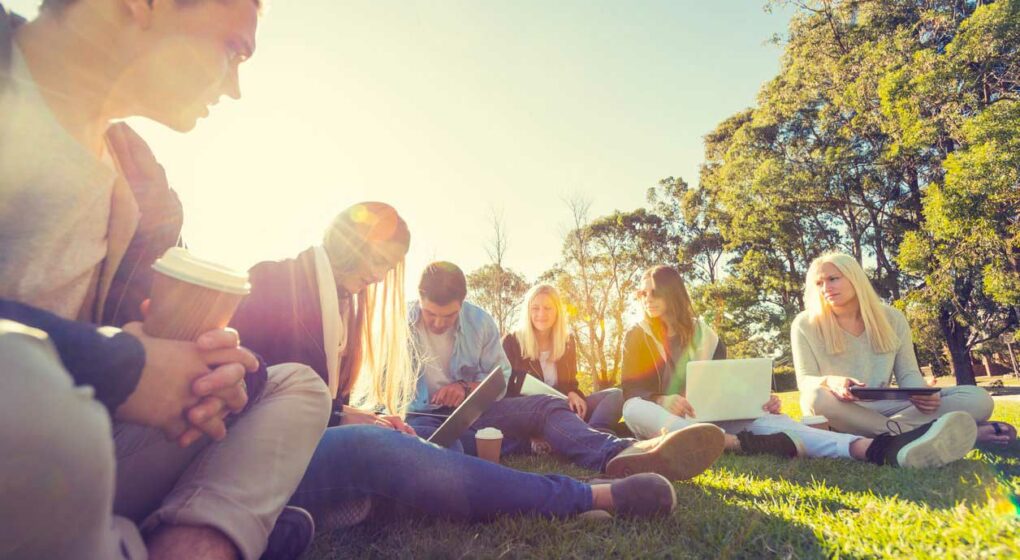 Transform Your Social Media into a Digital Gateway to Campus
If you work in admissions for a college or university, you probably already know that social media is a key tool in your recruiting toolbox – or at least it should be. However, admissions marketers need to do more than create and "maintain" a social media infrastructure in order to reap the platforms' (plentiful) rewards. They need to provide an insider's view to college life and make it authentic, engaging, and entertaining in order to pique prospective students' interest.
Assuming you've already got the basics under control (No? Check out our Digital Marketing for Higher Education Basic Plan), and you're ready to transform your social media into a powerful student recruitment tool, here are 4 tips sure to and attract those finicky Gen Z prospects to your institution.
Snap to It
If you don't already have Snapchat, download it now. Never mind the commotion about its IPO flop or failure to turn a profit, or the fact that most people older than 30 aren't interested in wearing a digital flower crown (even though it's probably the world's most flattering filter). Shareholders can worry about that. What you should care about is that almost 80% of Gen Z respondents say they're on Snapchat every single day. More than 50% admit they're using the app at least 11 times in a 24-hour period. For those of you who may be math challenged, that's pretty much every other hour.
Snapchat is basically the perfect app for colleges and universities, thanks to its creative geo-tagging feature. For just a few dollars a day, you can actually "tag" a geographical area (i.e. campus) and create a Geofilter that identifies the school – for example, a logo and illustration of the mascot. Then, when students or prospective students are on campus, they can tag their snaps with that Geofilter, essentially advertising the university (free of cost) to all their friends and family.
The Snapchat stories feature is also a cool way to engage prospective students in campus life. Rachel Marco, a Digital and Social Media Marketing Manager for Boston University Admissions wrote a guest post recently for Medium that details the University's #TerrierTakeover program in which current students "takeover" the Snapchat account for a day and snap pictures of their real life on campus. Marco writes that the program was an enormous success, with approximately two thirds of Boston University's 4,000 Snapchat followers viewing every single one of the University's snaps. Every. Single. One. That kind of engagement is worthy of a standing ovation, and ALL THE MARKETING DOLLARS.
Ok, not all. But for real, download Snapchat now.
Get Real
If you're not sure what to post on Snapchat, the answer is simple: turn it over to the students. Nobody knows how to use Snapchat better than they do. And there's nobody better at engaging Gen Z than other Gen Z-ers. While curated, professional photos of well-landscaped dorms and gothic architecture may have attracted students in the past, today's high school juniors and seniors want to know what they're really getting into. What does a dorm room look like with actual stuff in it? What kind of people will be in my classes? Do students really eat in the cafeteria?
Numbers, ratios, and graduation statistics might help push a prospective student (and their parents) across the finish line – but what they're looking for on social media is real life. They want to know if they would fit in, have fun, and feel at home on campus. There's no better way to give them that inside access than a student-hosted Snapchat or Instagram takeover.
I know, I know – the thought of handing over the keys to your institution's social media accounts sounds terrifying. What if they swear? What if they showcase that dark, horrible science lab in the basement? What if they're drinking underage or – or – or –
First of all, you don't have to hand your accounts over to just any student. Pick the ones you know will be good ambassadors. If you can trust students to lead campus tours, you can trust them to post Snapchat and Instagram stories. Then, set the ground rules. No swearing, no sharing the password (always a good idea to change the password after each takeover is complete), no posting anything you wouldn't want your mom to see – you get the idea. Then just take a breath, stick to the plan, and watch the engagement go through the roof.
Go Live
Video content gets 135% more engagement on Facebook than photos. But what about live video?
Turns out, live video is pretty much the holy grail of content. It gets as much as 10x more engagement than pre-recorded video – and about a bazillion times more than text and static photos. But prospective students probably aren't super interested in seeing a day in the life of an admissions officer (or, maybe they are? Who knows? Try it out!). Once you've exhausted your "day in the life" Facebook live sessions, think about other ways you can bring campus life into the cloud.
Consider hosting a Facebook Live campus tour, or a Q+A with existing students. Go live during information sessions, popular classes or lectures, or sporting events. Think of live video as a digital gateway to campus.
Become a Groupie
No band t-shirts are required for this tactic. Just a computer (or mobile phone), a Facebook account and a little creativity will do.
You're probably already on top of the Facebook Group trend when it comes to incoming students. You create a new group for each of the incoming classes, and they get to "meet" each other online before arriving on campus. But Facebook groups are an excellent tool for engaging prospective and admitted students, too.
Creating a group (vs. using your regular university Facebook page) has a number of advertising advantages. First, you can tailor the content specifically to the audience you're trying to reach (prospective students, admitted students, parents, athletes, etc.). Second, once you get people to join the group, you have their undivided attention – they'll see everything you post. The Facebook algorithm doesn't apply to groups like it does to the newsfeed, so there's no need to pay to promote the things you post inside your groups.
Lastly, Facebook groups are also a great way to qualify leads. By joining a prospective or admitted student Facebook group, the user is showing significant interest in your institution. And once they start interacting, you can begin to track their activity within the group. Are they asking a lot of questions? Do they seem particularly interested in campus life? Academics? Athletics? Using this information, you can tailor your marketing and communication efforts for that particular lead, and consequently up your conversion rates.
Keep in mind – Facebook groups are a great way for you to talk to prospects, but primarily they should be for prospects to talk to each other! Be sure to monitor group posts and answer questions as needed, but let the conversation flow. Hearing from you is great, but hearing from other students is even better.
Build it Right and They Will Come
Most of our higher education clients tell us the best way to convert students is to get them to visit campus – but for some students, particularly those who live across the country (or the ocean) – a campus visit can be tough, and it is reserved for just a select few finalists in their higher education search. Bring them to campus digitally through Facebook, Shapchat, and Instagram that give them the opportunity to watch, converse, and interact with students, faculty, and admission officers in real time.
If you build it – and make it awesome, engaging, and entertaining – they will come.
---
About Ethos
Ethos is a multiplatform branding agency that develops and executes integrated marketing campaigns across multiple channels for companies inside and outside of Maine.
At Ethos, we believe that the most effective way to set a company's marketing course is by finding its core truth – its ethos. We know that once we discover and communicate that core truth, we can truly make a difference for each client's unique marketing and business objectives.
With Ethos, you get more than a marketing agency. You get a long-term partner whose goals are your goals.
Learn more about the Ethos approach and the work we've done for our clients. Want to have a conversation about your brand's core truth? Contact us!