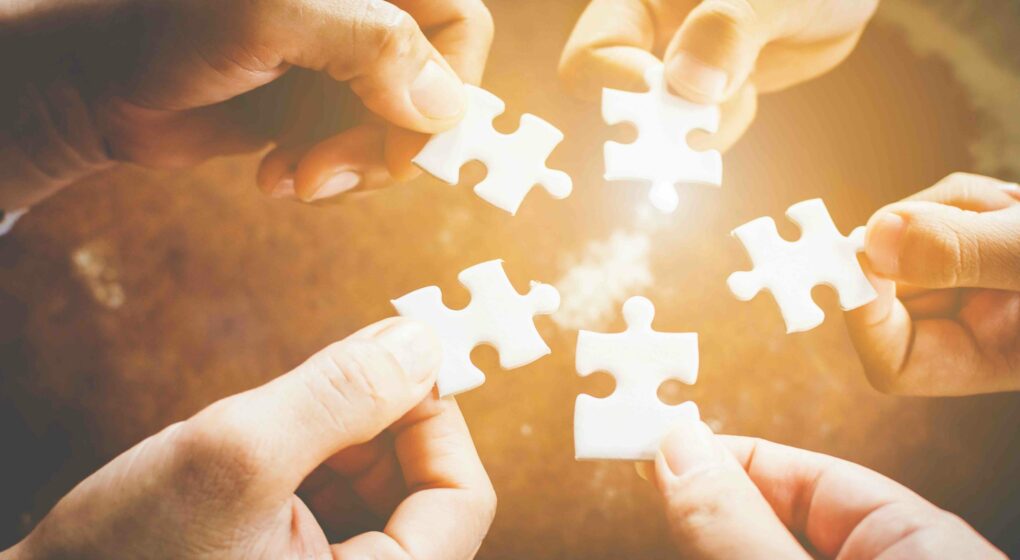 Marketing is both an art and a science. When it comes to coordination and consistent messaging, marketing is also another thing: challenging.
It's one thing to come up with a great campaign (read: super hard!) – but once the campaign is approved, that's only the beginning. The next phase is where you create or update all the touchpoints that need to reflect the new campaign. That could mean anything and everything from print and digital ads, to in-store signage, to on-hold messages, social media images, website landing pages, and more.
If you're working with multiple agencies – for example, a web design agency, a social media agency, a digital agency – you've got a pretty hefty job on your hands making sure all of the agencies are briefed on the new campaign, their role, and how their piece needs to integrate with all the others. If the social media agency recommends a change, now the digital and website agencies need to adjust their work as well in order to remain consistent – but they won't know to do that unless you're playing quarterback. Or, unless they're all already working together.
Enter: integrated marketing agencies.
What is an integrated marketing agency?
An integrated agency is an agency that can satisfy all of a client's marketing needs, soup to nuts, including branding, creative, design, strategy, digital, web development, and communications.
Integrated agencies are capable of managing multiplatform marketing campaigns from start (branding and campaign concepting) to finish (execution). Integrated marketing agencies commonly have departments/teams that specialize in key services such as SEM/PPC, social media, inbound marketing, public relations, and more. Basically, it's like a bunch of specialty agencies under one roof. But because they're all part of one team, they do the quarterbacking for you. The whole team ebbs and flows together so that the campaign remains tightly integrated and easily adaptable. Additionally, an integrated agency can easily evaluate, recommend, and execute a broader mix of tactics based on a client's need than a specialized agency.
Why does it matter?
Put yourself in your customer's shoes for a second. When they first see your product's package, they might be curious to learn more. So, they pick up their smartphone and visit your website. Except, they get confused because your website doesn't look anything like the packaging. Did they go to the wrong site? Did they order the wrong thing? Is this company legit? This creates a disjointed online and offline experience for your prospective customer, and this confusion can lead to them selecting another product in its place.
Marketing campaigns are no longer a single channel
Consumers today consume information on multiple platforms – often all at the same time. These touchpoints serve as important milestones in the customer journey helping to communicate your brand's various benefits and convince customers that your product is the right solution. If your organization doesn't have an integrated marketing plan, then you are missing opportunities to engage with and convert a prospective customer.
Consistency is key
Managing a multiplatform, integrated marketing campaign can be done without an integrated agency, but that introduces unnecessary challenges. Collaboration and consistency becomes more difficult when it needs to occur across internal stakeholders and a handful of specialized agencies or teams. Like a game of telephone, this opens up the opportunity for disjointed messaging or miscommunications about the proper look-and-feel. It also adds time (and time is money) whenever changes or adaptations are required.
Don't pass on a great idea
Speaking of time — time is often the enemy of great ideas. Sometimes a new campaign idea can emerge unexpectedly and get squashed just as quickly due to lack of capacity or resources. This is especially true for organizations that are managing some of their marketing functions in-house (such as social or web development). Working with an integrated agency doesn't mean you need to use all of their services at all times. Knowing your agency has the capabilities to execute a campaign from start to finish, regardless of the medium, means you can tap into them for ideation (two heads – or four, or five – are better than one) and execution. Added expertise and capacity when you need it can ensure no great ideas get passed over.
Sure, there might be challenges, too
On the flipside, integrated agencies can sometimes get a bad rap for being slow or more expensive than specialty shops. Initially, these concerns are often true due to internal dependencies that cause scheduling challenges – but you are spending less time communicating and reviewing for consistency across agencies. An integrated agency might appear more expensive on the surface, but often proves more efficient in the end as they are able to share institutional knowledge and data across departments that leads to a better understanding of your brand and end consumer – in other words, delivering value for you.
How to tell if your marketing agency is truly integrated
Not sure if the agency you're working with is "integrated"? Here are 3 ways you can tell:
Ask them! Ask about all the specialty services you need. Can they handle web design? Packaging? Social media? SEM? If a change is made – who is responsible for communicating it to all the other teams – you or the agency?
Take a look at who comes to planning meetings. Is it just an account manager or are there representatives from various departments all coming together?
Give 'em a test. Communicate a change to one person or department and evaluate how well that information is disseminated across related teams.
While specialized agencies might be the right fit for some projects, especially for one-off assignments like designing a single brochure or promoting a singular event, integrated marketing agencies truly shine when it comes to integrated campaign and brand communications work – where multiple specialties need to work together to deliver a cohesive message across multiple platforms.
Curious to learn more? Check out some of the integrated campaigns we've delivered for clients here.
---
About Ethos
Ethos is a multiplatform branding agency that develops and executes integrated marketing campaigns across multiple channels for companies inside and outside of Maine.
At Ethos, we believe that the most effective way to set a company's marketing course is by finding its core truth – its ethos. We know that once we discover and communicate that core truth, we can truly make a difference for each client's unique marketing and business objectives.
With Ethos, you get more than a marketing agency. You get a long-term partner whose goals are your goals.
Learn more about the Ethos approach and the work we've done for our clients. Want to have a conversation about your brand's core truth? Contact us!