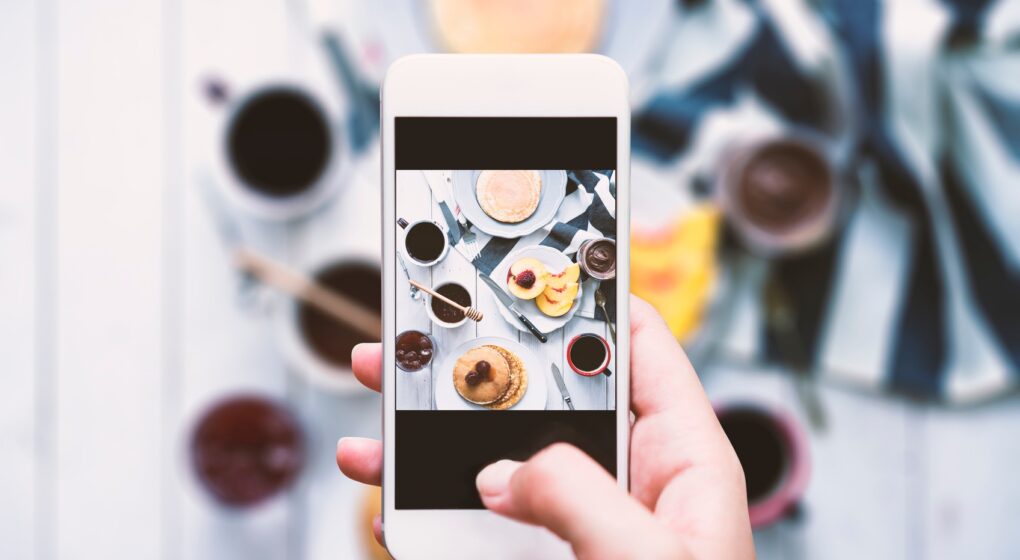 The days of Instagram as a nice add-on to your social media (read: Facebook) strategy are officially over – especially for consumer packaged goods (CPG) companies. As much as it might pain brand managers to have one more platform to manage, the 500+ million monthly active users that frequent the photo-sharing app are just too rich of a target to ignore any longer. This is especially true for CPG brands with a strong digital presence or e-commerce availability.
7 tips that will get you creating great CPG content
But before you go cropping your Facebook photos to square (pssst: Instagram now accepts landscape and portrait images) and loading them onto your iPhone, check out these 7 tips for creating an efficient, engaging, and cost-effective Instagram content plan.
Getting the Right Content
The trickiest part of Instagram is figuring out what (and how often) to post. Coming up with a dozen or so share-worthy images a week is intimidating for any brand manager – especially one with a product that isn't particularly photogenic (like, for example, tuna fish – or paper towels). But with a little creativity and a couple of camera tricks, you'll find you have more content than you think. The key is to think beyond the package. Nobody really wants to see that anyway.
Instead of posting pictures of your packaging (which will get lost in the stunning landscapes and delicious #foodporn snapshots that Instagrammers are used to), try to capture your product in context. Tuna fish slathered on thick, delicious looking bread in a rustic picnic basket on the edge of the ocean is bound to outperform a cat-food-looking can on the kitchen table. Paper towels being used to wipe the sugar-high-happy face of a toddler devouring an ice cream cone will tug at parents' heartstrings much quicker than a close-up of your signature basket-weave texture. Don't worry about your logo – they'll get that from your profile image (which accompanies every photo). Think instead about the ways that consumers use your product, and highlight those actions in the most visually interesting way possible. Even toothpaste looks cool from an interesting angle! (Instagram photo by Toms of Maine)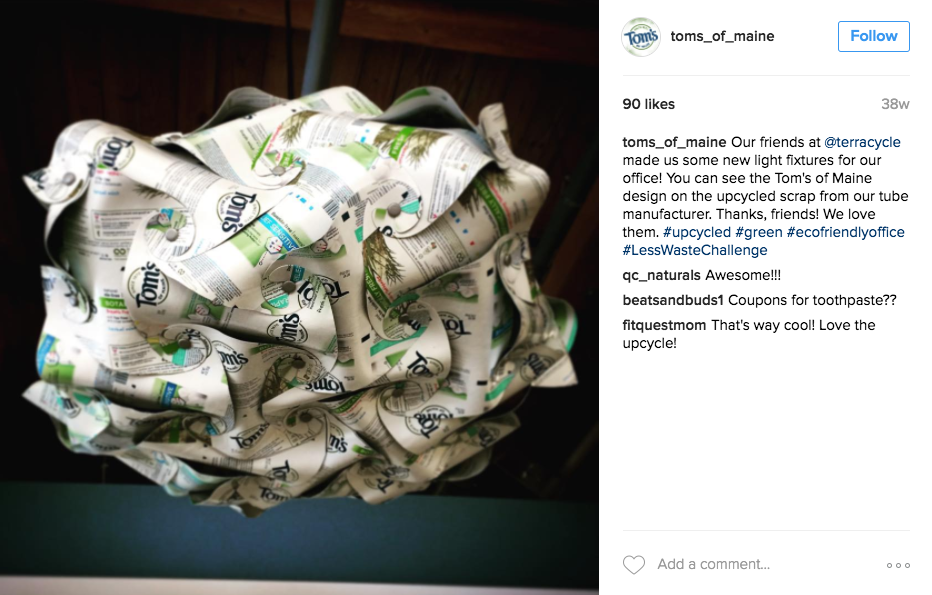 Other content that works well on Instagram is behind-the-scenes photo/video of your team, your office, and your travels. Sneak peaks of new products or packaging, giveaways, and customer photos also tend to get great reactions.
P.S. You don't even need an image a day to make an impact on Instagram. Three to five images a week are a great start. From there you'll find what works and what doesn't. Then, fall into a posting cadence that fits your brand.
Posts vs. Stories
If you've updated to the latest version of Instagram, you'll notice that in addition to the regular and more glamorous newsfeed, Instagram has also added a stories feature to the top of your feed – which basically a complete rip off of Snapchat, minus the fun filters. But in the end, it's beneficial to brands, especially those who don't already use Snapchat. It's an easy way to give fans a fun, in-the-moment, and un-edited behind-the-scenes look without having to manage yet another social media platform. It's much easier to create "stories" content than traditional Instagram content, as the bar is much lower in terms of photo quality and composition. When you're deciding what to post where, think of stories as sketches, and traditional posts as gallery pieces.
Writing Catchy Captions
While stunning photos are key for a successful Instagram strategy, it's important not to ignore captions. Since (non-promoted) Instagram posts can't link anywhere, the caption is the only place you have to sneak in a brand or website mention – as well as show off your brand voice. Captions don't always have to be catchy, but make sure the tone is consistent. Some brands distinguish themselves by writing captions entirely in emojis…or haikus…or puns. You don't have to pick one "thing" but each caption you write should feel true to your brand voice and add interest to the image. Make sure people know what they're looking at and why they should care. A great caption can take an average photo from boring to alluring (see what I did there?).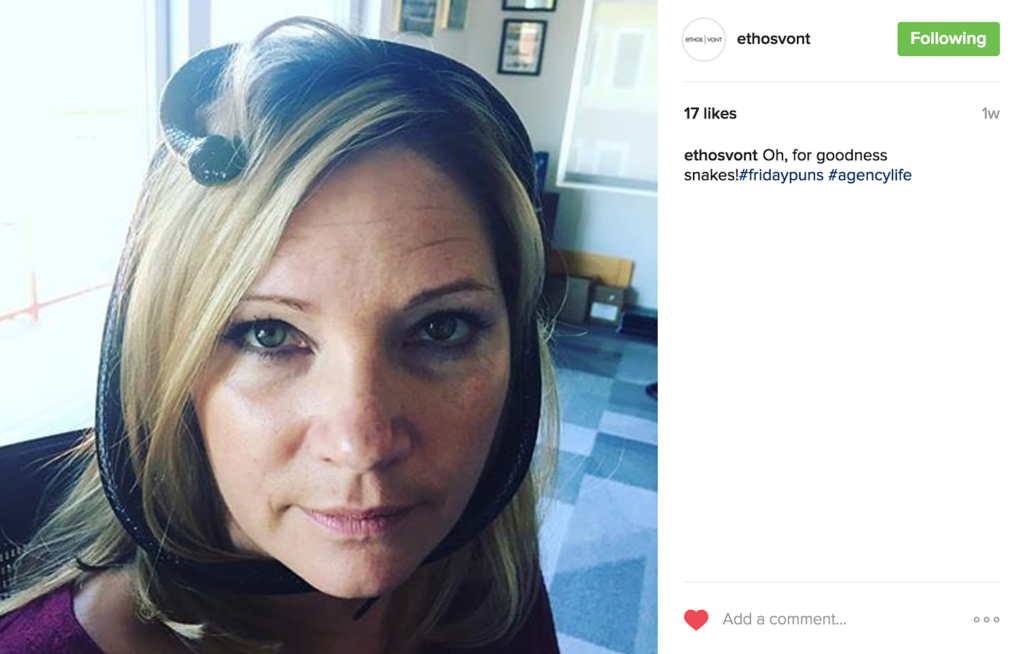 Sorting Out Hashtags
While hashtags on Facebook are largely irrelevant (not to mention counterproductive – posts without hashtags actually perform better on Facebook) due to user privacy settings and behavior, they are bread and butter on Instagram. Not only do Instagram users search hashtags regularly, but they are also much more likely to leave their profiles public – which makes hashtag searches infinitely more fruitful. Using appropriate hashtags on Instagram is one of the quickest ways to increase engagement with your posts.
That said, don't be annoying about it. Even though research shows that the more hashtags the better on Instagram (posts with 11+ hashtags get the most engagement) you still don't want to go using hashtags that aren't relevant to your post. Also try not to use the same hashtags every time, and don't just go for the biggest, most popular hashtags – those are the ones where your posts get buried minutes later. Instead, try to find hashtags that are specific to your image, and popular among your specific target audience.
BONUS TIP: If you're adding a long string of hashtags to the end of your post, insert a couple lines in-between your caption and your hashtags to make the caption copy less cluttered and easier to read. You'll also want to check all your hashtags before you hit post, to make sure they're not being used for anything…err…illicit, or, irrelevant to your brand. Instagrammers beware – hashtags aren't always what they seem!
Making the Most of your Posts
Creating great content is foundation of any good Instagram strategy, but there are other little tricks of the trade that can help maximize reach and engagement, too. Some of the more common ways to maximize post reach include collaborating with other complimentary brands (for example, a peanut butter brand working with a jelly brand), giveaways and promotions, tagging other brands in your image, and working with influencers who have large followings within your target audience. Cross promoting content across social media platforms is also helpful (e.g., for example, saving your Instagram stories as a video and posting to Youtube). Just make sure you are resizing and formatting content for each app.
E-Commerce Integration
Now that you've got great content, a killer strategy and have built a following on Instagram, the question most brand managers are asking is how do I cash in? Where do I find my ROI? ROI is a tricky topic when it comes to CPG brands on social media, as the primary goal is often brand awareness and loyalty – something that's difficult to measure in likes and comments, much less dollars and cents. However, for CPG brands that have an e-commerce site, the path to ROI is a little bit clearer – especially with the help of an app or two.
The simplest way to convert Instagram followers to customers is to use Instagram's ad platform, which allows advertisers to include a "Shop Now" button on their promoted post that links directly to their website. However, if you want to offer users a way to shop your non-promoted posts – there's an app for that, too. Like2Buy is a service that brands can purchase to make their regular Instagram posts shoppable. How it works is brands insert a Like2Buy link in their Instagram profile, and when users click on it, they're taken to a page that includes links to all of the shoppable items featured in recent posts. Other apps such as LiketoKnow.it provide a similar service in which Instagrammers sign up for an account, and when they like a photo with the LiketoKnow.it link in the description, the app sends them an email with a shoppable link.
NOTE: Instagram recently announced that a select group of retailers will be piloting "shoppable" Instagram posts (i.e. non-promoted posts that users can click to shop specific items in the image) but the feature hasn't yet been released to the gerneal public. Fingers crossed!
Whether you're able to integrate e-commerce sales into your Instagram strategy or not, the app still has a lot to offer to consumer packaged goods brands looking to build awareness and enhance brand positioning. With limited text and steep visual competition, Instagram forces brands to dig deep for the best, most engaging and most visually stunning content they have to offer – and that's a good thing for everyone.
---
About Ethos
Ethos is a multiplatform branding agency that develops and executes integrated marketing campaigns across multiple channels for companies inside and outside Maine.
At Ethos, we believe that the most effective way to set a company's marketing course is by finding its core truth – it's ethos. We know that once we discover and communicate that core truth, we can truly make a difference to each client's unique marketing and business objectives.
With Ethos, you get more than a Maine branding agency. You get a long-term partner whose goals are your goals.
Learn more about the Ethos approach and the work we've done for our clients. Want to have a conversation about your brand's core truth? Contact us!