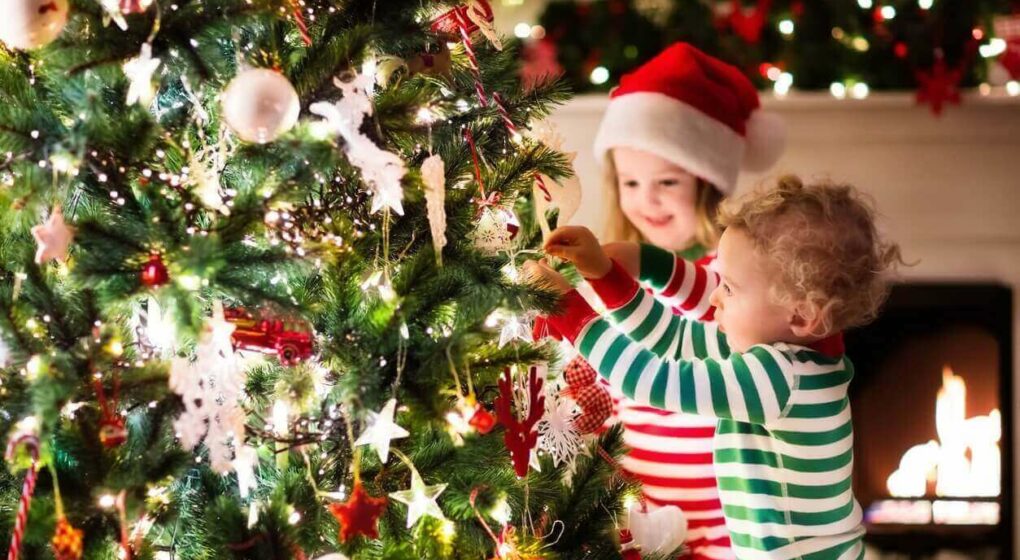 The holiday season is like the winter Olympics of advertising – and not just because everyone is constantly racing around trying to beat deadlines (although that, too). The real reason the holidays are like the winter Olympics is because advertisers are amped up and ready to go – bringing their absolute best ads to the table to compete for a piece of the $117 billion in Christmas cash that consumers will offer up over the next few weeks.
The hard part about the holidays is that the competition is fierce, but the upside is that consumers are ready and willing to spend – and emotions are on high – opening the door for quality, thoughtful, witty campaigns that inspire sharing as well as spending.
Here are a few that have taken home gold in the past – and the strategies that made them shine:
This might actually be my favorite ad of all time. In 2013 WestJet (a Canadian-based international airline) pulled off a stunt unlike any other. During the middle of the night, they secretly installed a special "Santa Cam" in the middle of one of their airport terminals. As passengers began to arrive in the morning, they invited them to virtually sit on Santa's lap and tell him what they wanted for Christmas. Sounds cute, right? Well, it gets better.
As the passengers took flight, West Jet "elves" (read: employees) scrambled to gather up every single one of the gifts requested and delivered them (via the baggage carousel) to the passengers' final destination. Complete with fake snow, hot cocoa, and cookies – you can imagine the passengers surprise and delight. WestJet (of course) caught the whole thing on camera and uploaded the video to their YouTube channel. Three years and 45 million views later, the holiday ad is still paying dividends, both emotional and financial.
So why did this campaign go viral? For one, it played to the viewers emotions, not their wallet. Instead of offering crazy deals or promising fancier airplanes, the ad appealed to a much more powerful human emotion – gratitude. The ad also succeeded because of how ambitious the stunt was. I can't imagine the logistics required to pull-off such an amazing surprise, but hey, if it were easy it wouldn't have been a miracle, right?
Lastly, this ad succeeded because it focused on the people, not the product. Airplanes are airplanes are airplanes – almost all of them have small seats and bad food. But this ad differentiated WestJet by highlighting their employees – the hardworking and caring elves committed to creating a Christmas miracle for their customers. And that's an impression no holiday discount could ever buy.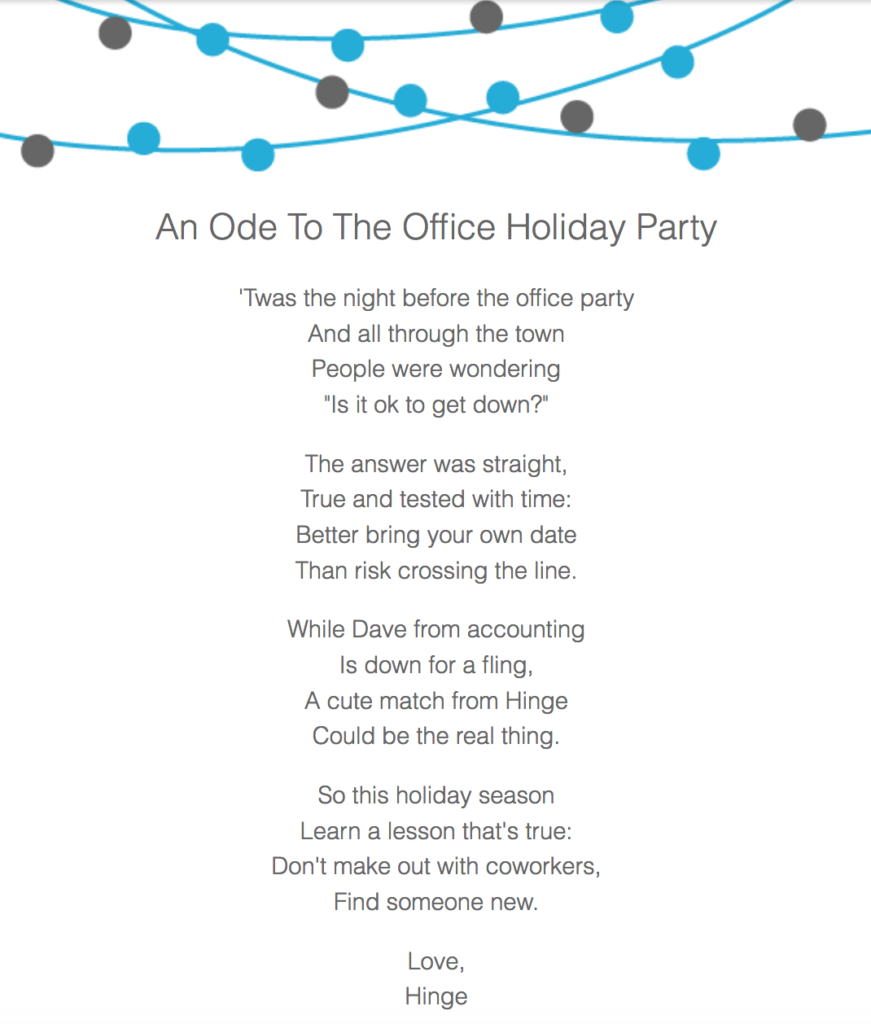 Unlike the WestJet ad, the Ode to the Office Holiday Party does nothing to warm your heart. Instead, this holiday email campaign for the dating (ahem – relationship) app, Hinge, relied on humor (and good timing) to capture their audience's attention. The sarcastic, rhyming email went out mid-December, right in the thick of office holiday party season. It suggested that employees bring a date from Hinge to their office Christmas party, instead of drunkenly hooking up with a coworker. Because that's just way too much awkward for a Monday. The email worked because it gave Hinge users a good laugh, while subtly reminding them to log on and – hey – maybe find a date for that upcoming holiday soiree. By being willing to step out of the traditional "business comfort zone" and taking a swing at customers' funny bones, Hinge hit a holiday home run.
12 Days of HBO by HBO NOWForget the partridge in a pear tree, last year HBO NOW offered fans an even better deal – 12 days of free episodes. The email, which was sent to current subscribers (but promoted elsewhere as well) invited customers to gift their friends and family free HBO episodes – whether they were subscribed or not. The campaign was genius not because anyone would ever give someone a free TV episode as a Christmas gift (can you say cheap?) but because it was a Trojan horse to get people to give themselves free episodes and get hooked on some of HBO's most popular shows, all while subtly reminding them that HBO is more than cable, it's a streaming service, too! The campaign worked, not surprisingly, because we all know once you start Game of Thrones you're not going stop just because the 12 days of Christmas are up, right? Subscription service here we come…
It's too soon to know whether this ad will pay off or not, because it just came out last month, but if anyone is measuring video views this Polish auction site ad has already hit 285,000 in less than two weeks. The ad features an older gentleman who orders an English for Beginners kit from the Polish auction site, Allegro. He spends the majority of the ad practicing new words and labeling everything in his house with sticky notes. Viewers grow attached to the sweet old man and his humorous quest to learn English over the ambitious 3-minute spot. The ad concludes with the man ordering a suitcase and traveling to Argentina, where he uses his new English skills to introduce himself to his granddaughter that he has never before met.
The tear-jerker ad works for so many reasons, most especially because of its high-end cinematography and expert portrayal of the human experience. In three surprisingly short minutes the video makes you laugh, cry and feel connected to a fictional person you've never met. It then relays those feelings of connection to a website that one may previously have seen as detached – and subtly reminds users that even an online auction site is a form of connectedness with the world, and the things people are buying and selling are more than things – they are experiences. Heart = warmed.
The Allegro ad went viral this year because it is awesome, but also because it's lucky. Every season there's that ONE ad that everyone's talking about because it's so funny, sweet, sad, or beautiful. So far it seems as if Allegro is going to take gold in the 2016 winter Olympics, thanks to a lot of hard work and just enough luck to get them over the finish line.
Who's ready to start training for next year?
---
About Ethos
Ethos is a multiplatform branding agency that develops and executes integrated marketing campaigns across multiple channels for companies inside and outside of Maine.
At Ethos, we believe that the most effective way to set a company's marketing course is by finding its core truth – its ethos. We know that once we discover and communicate that core truth, we can truly make a difference for each client's unique marketing and business objectives.
With Ethos, you get more than a Maine advertising agency. You get a long-term partner whose goals are your goals.
Learn more about the Ethos approach and the work we've done for our clients. Want to have a conversation about your brand's core truth? Contact us!