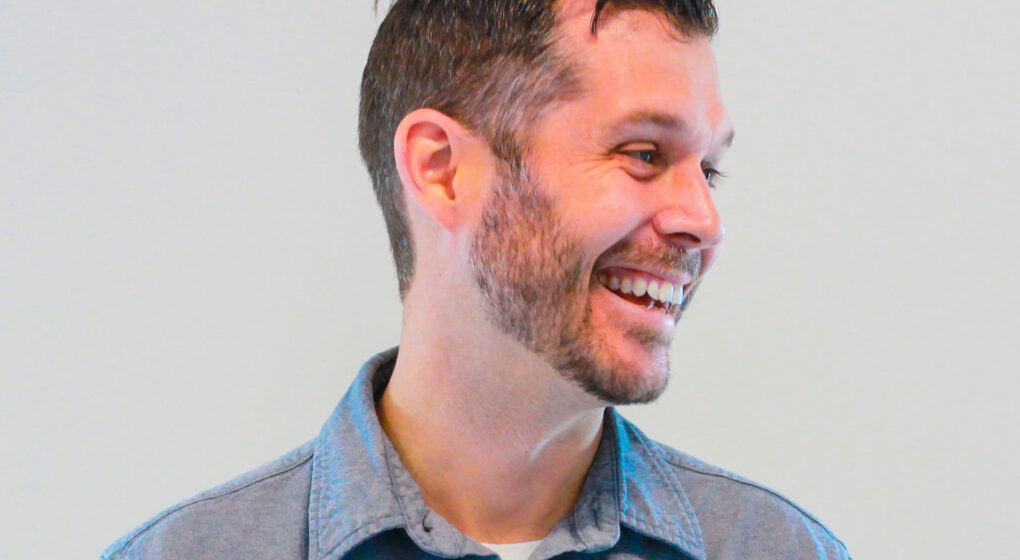 Meet Chris
Chris Bonacci is a true innovator and hardworking leader, who has dedicated years of his talent to mastering the craft of marketing and advertising. Since joining Ethos|VONT four years ago, he's made a significant impact, helping to vitalize our work as an agency and strengthen our client relationships. We're thrilled to announce that as of January 2023, Chris has been appointed as the new Vice President of Marketing for our multiplatform branding agency. Despite facing numerous challenges along the way, Chris' passion and drive for the craft has never wavered. Join us in getting to know Chris Bonacci and learning more about his journey to becoming the VP of Marketing at Ethos|VONT.
The Winding Road to Advertising
After graduating from Brown University with a BA in political science in 2000, Chris took his degree to pursue a career in law. He landed a job in the Human Resources department of a law firm where he worked for just over a year, and while at the firm, was presented with the opportunity to rediscover some of his earlier interests outside of his degree. Chris volunteered at a local public radio station, where he began to explore his interest in advertising through the side door. Chris eventually left the firm, and went on to work a variety of side jobs — including a local sandwich shop and funeral parlor — while applying to other companies and industries he was interested in. In 2002, he landed an entry-level position with the Boston-based craft beer company, Harpoon.
Starting as a sales assistant, Chris spent the first nine years of his career working in sales, having the opportunity to see new places and travel all over the East Coast and Midwest. During Chris' time at Harpoon, the craft beer industry was experiencing a tremendous boom in growth, and competition was quickly becoming fierce. Chris was presented with the opportunity to be on the ground in the high-touch Boston market, where he worked to create and better the relationships between Harpoon and its customers. "That (situation) forced some tough conversations, and an introspective look into what our brand stood for," Chris explained. "I had always loved branding in a general sense, and that experience convinced me that it was what I wanted to do for a living."
While at Mass. Bay Brewing Company (MBBC), Harpoon's parent company, Chris went back to school for his MBA with a concentration in marketing, and eventually left MBBC as their Vice President of Marketing — with a focus on the core beer brands in the portfolio.
Chris' Love for Branding is Born
After the birth of their first son, Chris and his wife decided Maine was the next market to explore. To get ahead of the game, Chris reached out to everyone he knew in marketing and advertising who was familiar with the Maine market, eventually networking his way into a conversation with Glenn Rudberg — one of the co-founders and the Chief Marketing Officer of Ethos|VONT.
"Coming from the client side, I hadn't expected to land at an agency," Chris recalled, "but the more I learned about Ethos|VONT's approach to branding, partnerships, and culture, the more excited I became." Chris accepted the role of Brand Marketing Strategist and Account Director with the agency, working in the role for the past 4 years. As of January 2023, Chris was named Ethos|VONT's new Vice President of Marketing.
What does Chris love most about his new role? The ability to learn about and contribute to a diverse group of organizations in a variety of ways. "My background aligns well with folks in food and beverage," Chris explained, "and I understand the challenges of working through and selling within a three-tier system. But my interests are in branding, brand strategy, and marketing, and those disciplines are just as exciting for a banking client as they are for a museum or an event planning business. By no means do I mean to imply that every business is the same; it's actually quite the opposite. But it all begins with understanding the brand."
Today, Chris spends the majority of his time meeting with our clients and trying to understand both the what and why of their underlying goals. He is responsible for leading the team in developing and executing successful marketing campaigns and strategies, and works closely with client partners and internal stakeholders to ensure that the strategies align with the brand and its goals. "We use words like client, strategy, creative, and account services – but the reality is that the best work comes when we put titles aside and focus on the work, together." Chris looks forward to making a splash in his new role, and is excited about the ability to collaborate and integrate within the agency.
Want to learn more about agency life? Stay tuned for our next employee spotlight feature. Until then, get in touch to learn more about our team and how we work.
About Ethos
Ethos is a multiplatform branding agency that develops and executes integrated marketing campaigns across multiple channels for companies inside and outside of Maine. At Ethos, we believe that the most effective way to set a company's marketing course is by finding its core truth – its ethos. We know that once we discover and communicate that core truth, we can truly make a difference for each client's unique marketing and business objectives. With Ethos, you get more than a marketing agency. You get a long-term partner whose goals are your goals. Learn more about the Ethos approach and the work we've done for our clients. Want to have a conversation about your brand's core truth? Contact us today!