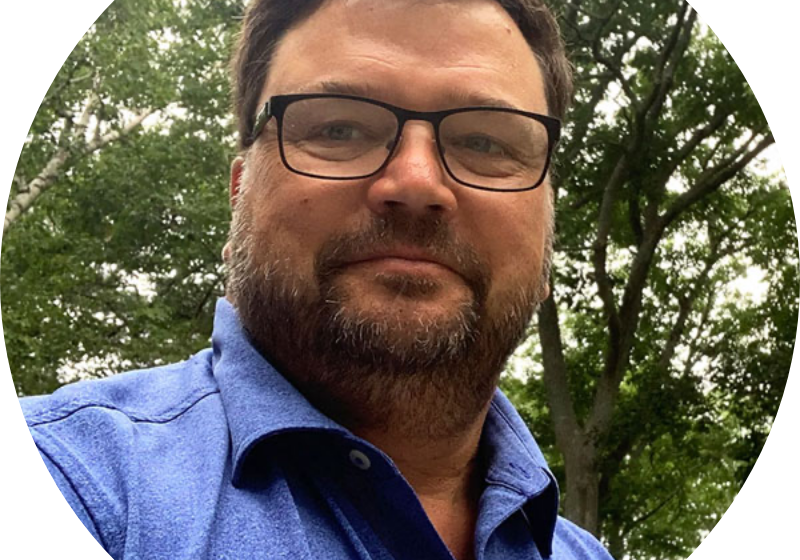 The origin story for Ethos was about breaking the marketing mold and building a different type of agency – a multiplatform branding agency that could deliver authentic results and stay true to a brand's values. In 1985, Glenn Rudberg walked off the Syracuse University campus with a Bachelor's degree in Business in hand. He had a vision to do something different with his degree, but little did he know that his experiences would lead him to co-found Ethos.
Glenn's journey to become Co-Founder
After graduation, Glenn started his career working in packaged goods and pharmaceutical sales, and quickly moved into the home office of Marion Merrell Dow in Cincinnati to become a brand marketer. After watching his grandfather work in sales and marketing for Gillette, Glenn had an understanding and comfort level with the industry. "I like to meet people's needs and build trust," Glenn explained. "And that's what marketing is all about." Glenn began climbing the professional ladder, as he moved into a brand management position with Cepacol MouthWash and Citrucel Fiber, and eventually became the VP of Consumer and Trade Marketing at Tom's of Maine where he led international sales and marketing for the company.
As Glenn grew his market resume, he started to notice idiosyncrasies about the way marketing businesses were run. "I personally found the industry to be driven by some very talented people that also came with a tremendous ego, and at times, questionable motivations." Glenn recalled, "Sometimes it was more about the 'work' and being 'different'. It seemed important for some to get noticed as an agency, and less focused on whether the work had integrity or drove results for the client."
When Glenn was approached years later by friends who expressed interest in buying a small marketing and design company, he immediately knew they had the ability to create something that could do better. He and his team wanted to create an agency that not only addressed these structural gaps in the market, but something that was grounded in truth. It really came down to creating:
An agency based on integrity (truth tellers vs. spin masters)
A collaborative team approach vs. ego driven agency
A "brand first" agency vs. just another "ad agency" (e.g., a strategy driven shop instead of just another catchy ad campaign)
An accountable agency committed to results, not awards or accolades
And that's what the partners set out to do.
Fixing the broken agency request for proposal pitch paradigm
Glenn knew from experience that the agency selection paradigm was broken. So many clients (including himself) didn't know how to choose a good-fit agency. It was no longer about the alignment of values and competency, it was about a pitch process that sold the newly found relationship on salesmanship over a true partnership. Client's were essentially saying, "Here's our problem, sell me on your idea, and we will hire you if we like it!" The ad agency would then go off and point-blank come up with some idea that was built off of limited strategy and truth.
"It was an art contest," Glenn explained. "Accordingly, true strategic relationships were hard to build because the initial decision was based on the agency "pitching or selling an idea" rather than ensuring the agency was aligned on values and core competencies of the business. Long before 'Brand Authenticity' graced the headlines of Adweek, we wanted to be truth tellers, not 'spin masters'."
The other part of the paradigm that was broken was the lack of collaboration, which occurred both internally and externally with the client.
"Many of these very talented writers and artists often miss the collaborative gene and struggle to engage their teams and their clients in a meaningful and productive way." said Glenn, "Rather than manage and pitch clients to buy the ads we sell, we hoped to engage the client in the process each step of the way. We wanted an agency that better understood their client and believed in the simple idea that if a brand is a promise, then the most compelling message starts and ends with the truth. We wanted to be an agency that really worked harder than most to discover and articulate the true ethos of our client. Hence the name."
Creating an agency with client truth, collaboration, and trust at the core
Ethos (n) = the distinguishing character, sentiment, or guiding beliefs of a person, group, or entity.
Enter: Ethos, a multiplatform branding agency which was intentionally founded with the goal of breaking the agency mold, by communicating a brand promise across multiple platforms. ​​
"It was a team effort, no doubt," Glenn recalled. "But as for my role, I was responsible for bringing in the first organic and natural food clients and helping to sell the agency's new brand position, as well as build trust with the initial client immersions."
*Note: In 2007, Ethos later launched VONT, a performance digital marketing company dedicated exclusively to web, social media, and online marketing channels.
Glenn's day-to-day (today)
Fast forward to 2022, and Glenn still does all of that today. However, as Chief Marketing Officer (CMO), his role has varied, which he loves.
"I get bored doing the same thing. My job is about developing the initial strategy and promise, but it's also evolved to include evaluating the work to see if it delivers the strategy. Then I'm involved in rationalizing the work to our clients."
To accomplish this, Glenn finds that the majority of his days include a lot of time spent in meetings. This includes everything from meeting externally with clients to communicate new challenges and truths, to being involved in presentations showcasing the incredible work created by our teams, meeting internally with our teams to review work in progress, contributing ideas to campaigns, and reviewing creative work to ensure it's on brand and on strategy. In the rare moments that Glenn finds himself not in meetings, he's writing creative briefs for various internal teams, or writing and reviewing marketing plans. He also gets called in to have "fit" conversations with potential new clients, or as he described it, the "pitch".
"I go into these meetings listening and trying to articulate our values and approach in a compelling way. One thing I learned from one of my partners (but knew intuitively) was to NOT assume we are right for every client. The purpose of the meeting is not to sell the client on why we are right, but to understand if their needs and pains align with our gifts and approach. We decide together if we are a good fit. And we tell them that up front."
Lastly, as CMO, Glenn also plays a big role on the leadership team, in which they evaluate and plan for the long term growth of the agency. This includes mentoring employees, breaking down barriers, and evaluating work and processes.
For the majority of the projects he works on, Glenn communicates daily with multiple departments within our agency, including Account Managers, the creative team, and the clients themselves. Recently, Glenn has had his hands in multiple projects, but one that sticks out is the work he's done in helping the Maine CDC get the word out about the importance of vaccinations for people of all ages.
Glenn's contribution to Ethos
What is Glenn's favorite part of his job? Creating valuable work that not only has a strong and positive impact, but also moves the needle for E|V clients.
"I love the passion and the what if part of my job. I thoroughly enjoy immersion meetings and trying to get to the essence of a client's value. I also enjoy working on various projects and accounts instead of just one project all day long. No question, I'm competitive, and I like winning new accounts if we are the right fit. But I also truly enjoy learning about what makes our clients tick and understanding how they either make a buck or change the world."
Want to learn more about agency life? Stay tuned for the next blog post in our E|V Day in the Life Series. Until then, get in touch to learn more about our team and how we work.
About Ethos
Ethos is a multiplatform branding agency that develops and executes integrated marketing campaigns across multiple channels for companies inside and outside of Maine. At Ethos, we believe that the most effective way to set a company's marketing course is by finding its core truth – its "ethos." We know that once we discover and communicate that core truth, we can truly make a difference for each client's unique marketing and business objectives. With Ethos, you get more than a marketing agency. You get a long-term partner whose goals are your goals. Learn more about the Ethos approach and the work we've done for our clients. Want to have a conversation about your brand's core truth? Contact us!