Our Public Relations Team Made Gifford's Famous Ice Cream a Scoop.
Today's marketers need more than a catchy ad campaign. Which is why we've worked hard to tell the family-run company's unique and timeless story through public relations approaches that seamlessly integrate with Gifford's overall marketing initiatives. Our aim was to increase earned media coverage—because when a story is a core truth it deserves to be heard.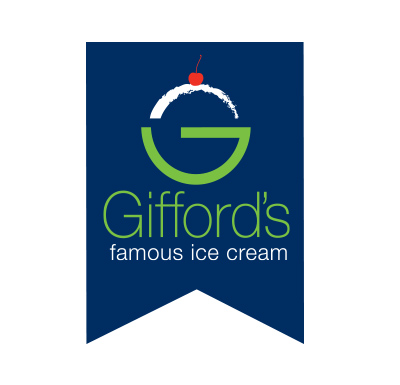 So, where does the story of Gifford's Famous Ice Cream appear?
Our PR team has worked to build deep and lasting relationships with journalists and editors both inside and outside Maine. When we send a story idea out, it gets attention–this is the kind of news our clients like to hear. Below is a sampling of some of the earned media successes we've had for Gifford's.
Getting the Scoop
We threw tradition aside and created unique, fun ideas and concepts that would draw crowds – and Maine news crews to the family's five ice cream stands. We hosted the game warden stars of North Woods Law for a meet and greet at the Bangor stand, invited comedian Bob Marley for a mini golf challenge with JC Gifford and local teachers at the Waterville stand, and invited local TV anchors to taste new and award-winning flavors on "Ice Cream Stand Opening Day."
Cool, but did anybody see it?
Since our PR team began working with Gifford's in 2014, we have increased earned media coverage three-fold over previous years. In a recent year, Ethos secured 88 earned media hits with a total reach of more than 105 million impressions–an equivalent to almost $1 million in advertising spend. High quality placements included The Boston Globe, Down East Magazine, and Maine Magazine, as well as a variety of statewide broadcast, print and online outlets. Not bad for an ice cream from a small town in Maine. Ayuh!