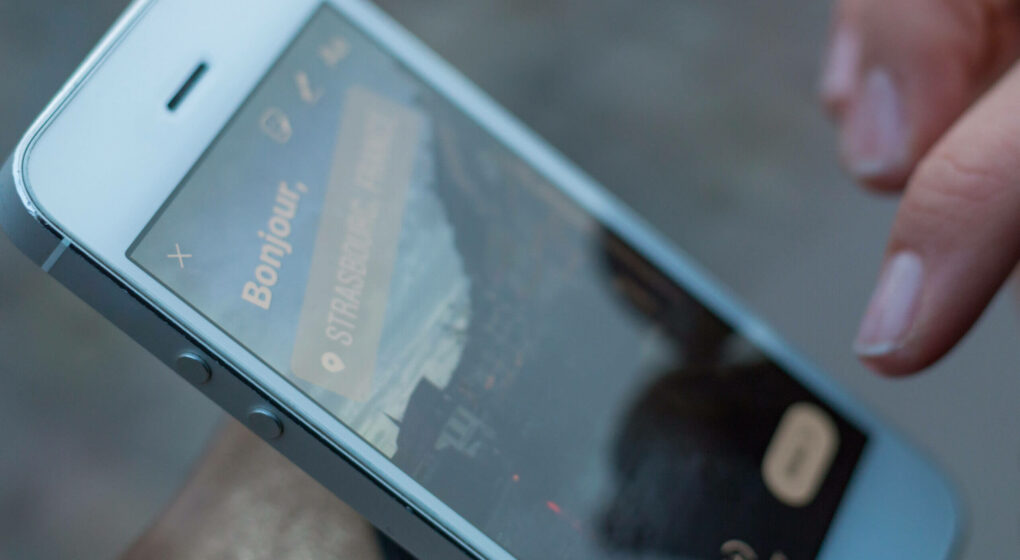 Somewhere in between the scripted, polished, and carefully edited content of the Instagram feed, and the off-the-cuff, baby-crying-in-the-background video content of Facebook LIVE, there lies a third, immensely popular and quickly growing category of content – stories.
Introduced by Snapchat back in 2013, stories are series of short videos and photos strung together into a longer-form piece of content that lives online for 24 hours, before disappearing into the social media abyss for good.
While Snapchat was the first to introduce "impermanent content" to social media, it was Instagram that truly brought it to the forefront with Instagram Stories. Today, Instagram Stories are created by 500 million users every day, and if current trends continue, sharing with Instagram stories will surpass sharing via the traditional Instagram feed sometime in the middle of 2019.
That's a big deal.
In case you missed it, the number one way people view and share content on Instagram is about to change. Marketers, take note.
This surge to stories can be attributed to two primary factors: impermanence and authenticity.
Impermanence
Mark Zuckerberg himself stated in his most recent blog post about the future of Facebook that "we already see that private messaging, ephemeral stories, and small groups are by far the fastest growing areas of online communication." People like the idea of sharing day-to-day moments with their friends, without the fear of that content living on their social media "record" forever. Anyone who attended high school or college in the Facebook era can attest to this. Stories provide an attractive way to share those day-to-day moments without having to worry about what people might think of those images 10 years from now.
For marketers, too, impermanence can be freeing. Stories create an environment where brands can share quickly and frequently, without the constraints of stringent brand standards or Instagram "aesthetics." Where traditional Instagram images are fine art, stories are the sketches: easy, authentic, and ephemeral.
Authenticity
The second factor in the rise of stories is authenticity. Over the past couple years, we've already seen a distinct shift toward authenticity in content – but stories, with its "snap and send" publishing method (i.e. minimal editing), adds another layer to this desire for real-time, behind the scenes views. Additional features like real-time polling, "swipe-up" links, and "ask me anything" boxes also add to the appeal by making the content more interactive and engaging.
So how can brands incorporate stories into their social media strategy successfully?
The answer lies in letting go. What makes stories so appealing to consumers is also what makes them so challenging for brands. The best stories are frequent, raw and short-lived. They aren't scripted or heavily edited, and they appear in near real-time. This can be scary for brands that are accustomed to lengthy approval processes and multiple rounds of editing and review before publication. It can also be challenging for brands that outsource their content development, as boots on the ground are required to get the behind-the-scenes footage consumers are looking for.
A successful stories strategy starts with changing your process. It requires empowering social media managers to capture their own content and publish on demand. It requires strategy, of course, what types of content to create and when, as well as guidelines for publishing, but when it comes to content that lives for only 24 hours, expediency and authenticity are key. As we social media strategists like to say, published is better than perfect.
The rewards for this exercise in leniency are plentiful, from lower cost per view to higher engagement rates to increased likelihood of making a purchase. More than 40% of Instagram's user base is loyal to stories. That's double the number of Snapchat users, and according to MediaKix.com, as many as a third of Instagrammers report becoming interested in a product they saw on stories. In fact, 1 in 3 of the most viewed stories every day are from business accounts – highlighting the fact that consumers are seeking real-time content from brands through the stories medium – and they're ready to engage.
When it comes to Instagram stories – do it quickly, do it frequently, and do it authentically. You won't be disappointed.
---
About Ethos
Ethos is a multiplatform branding agency that develops and executes integrated marketing campaigns across multiple channels for companies inside and outside of Maine.
At Ethos, we believe that the most effective way to set a company's marketing course is by finding its core truth – its ethos. We know that once we discover and communicate that core truth, we can truly make a difference for each client's unique marketing and business objectives.
With Ethos, you get more than a marketing agency. You get a long-term partner whose goals are your goals.
Learn more about the Ethos approach and the work we've done for our clients. Want to have a conversation about your brand's core truth? Contact us!