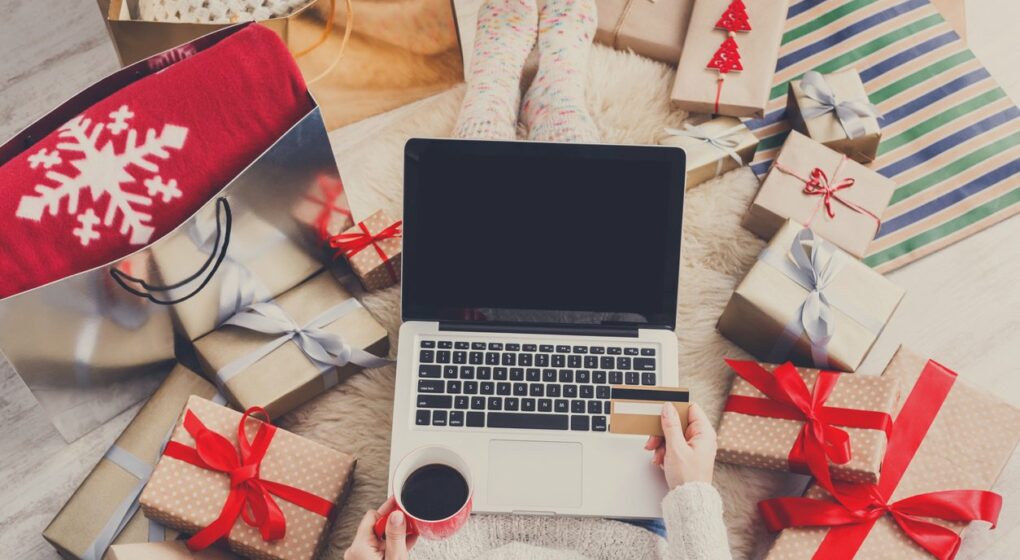 Stop. Are you about to overindulge?
Holiday overindulgence leaves many of us feeling mildly toxic from an over-abundance of alcohol, carbs, and sugar. Thankfully, there's a ton of great information about how to recover from – and curb – impulsive eating over the holidays. Even the fitness fanatics at Ironman have some creative tactics for surviving the eating season.
But what about over-shopping?
Often, the overindulgence of spending and shopping leaves us feeling as toxic and guilty as the compulsive eating does. So how does a health-conscious consumer navigate the holidays?
Start with the tenants of behavior change marketing.
Trying to change behavior is a tricky task, but research shows that reframing the desired actions to be fun, easy and popular positively impacts behavior adoption.
So how can we use this philosophy to curb holiday shopping?
Start by making it fun and create something. The act of making things (crafts, baked goos, etc), either with kids or with friends, is a joyful, mindful way to celebrate the holidays. Buy a plain wreath and decorate it yourself, try making your own holiday cards this year, make some holiday decorations using recycled items.
Then, make it easier by drafting a budget. According to Coinstar's 2017 Holiday Survey, 65% of Americans will set a holiday budget this year, but more than 75% of them expect to exceed it, and only 37% will create a post-holiday recovery plan. Ease the guilt of overindulgence (and hassle of cleaning up a financial mess) by building a realistic budget and sticking to it. Get real about your financial reality and take pleasure in the feelings that come with being modest and responsible.
Finally, making responsible choices is easier when it's popular, and others are doing it, too. Prevent the guilt that comes with overindulgence by jumping on responsible holiday shopping trends like buying from conscious companies. There's a growing list of companies that are employing a "buy one, give one" model of philanthropy, invented by Tom's shoes. (For every shoe sold, Tom's donates a pair of shoes to someone in need). This type of giving spreads more love.
Still need some extra motivation to shop smart (and healthy)?
Give hand-made gifts. Shop at local arts & crafts fairs this holidays season, spend dollars while enjoying and supporting your arts community. These events are more than shopping occasions, they're a way to see friends and the amazing artwork being created by your local artists. (Incidentally, according to Coinstar, 35% of millennials will give a hand-crafted item, compared to 23% baby boomers).
Get outside. Devote a portion of your holiday season to enjoying the outdoors. Bundle up, take walks with neighbors, friends, and loved ones. Spending time in the outdoors with friends is free, healthy, and connects us to our world.
Throw more potlucks. After gift giving, entertaining is the next highest spending category during the holidays. Instead of cooking for everyone, try throwing (and encouraging) more potlucks. Ask members of the family who don't usually cook to try their hand at meal. While you're at it, keep restaurant visits to a minimum.
Bottom line. The toxic feelings that come with overeating and overspending are preventable. When approached thoughtfully, and with the tenants of behavior change in mind, the holidays can and should be a time for reflection, joy, and love. But overindulgence can put a strain on the holiday season and cause angst. Free yourself from angst by seizing the holidays with mindful abundance.
---
About Ethos
Ethos is a multiplatform branding agency that develops and executes integrated marketing campaigns across multiple channels for companies inside and outside of Maine.
At Ethos, we believe that the most effective way to set a company's marketing course is by finding its core truth – its ethos. We know that once we discover and communicate that core truth, we can truly make a difference for each client's unique marketing and business objectives.
With Ethos, you get more than a marketing agency. You get a long-term partner whose goals are your goals.
Learn more about the Ethos approach and the work we've done for our clients. Want to have a conversation about your brand's core truth? Contact us!