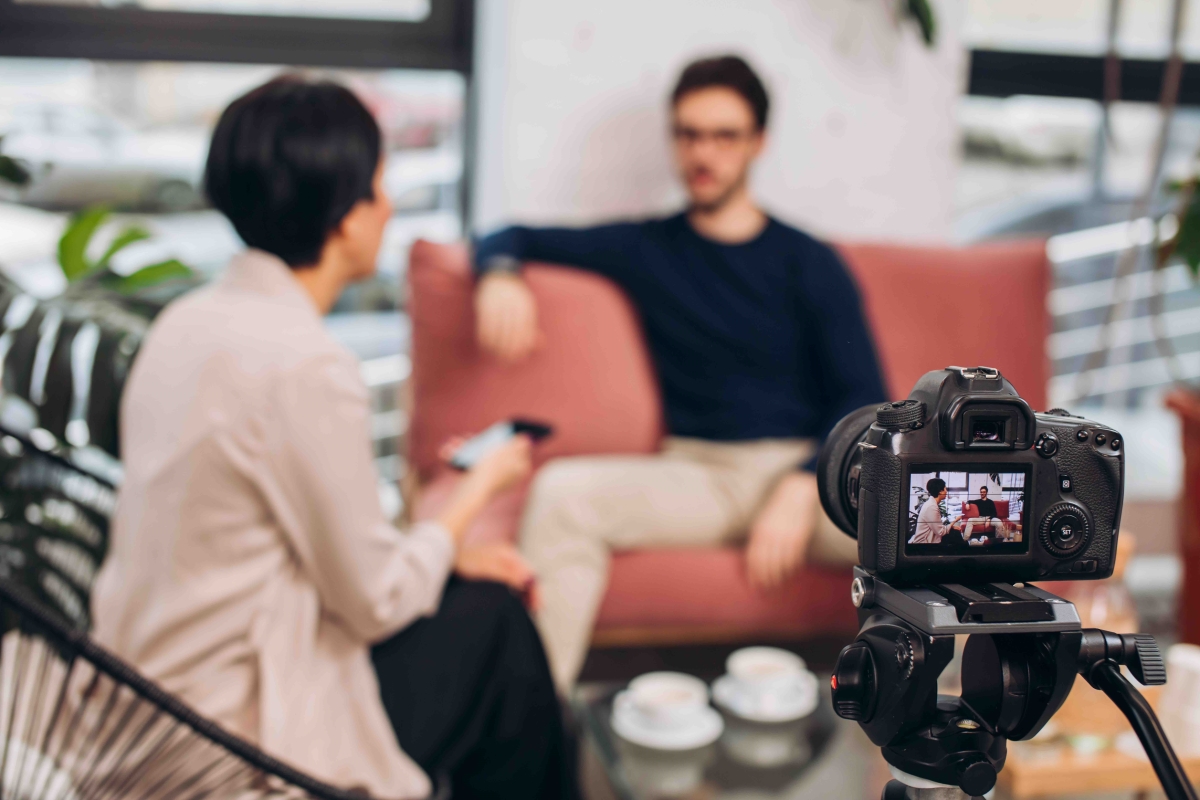 4 Tips for Creating Cost-effective Content [INFOGRAPHIC]
Let's face it – content creation is hard. There are many reasons why developing fresh content can be difficult for marketers – be it the constant push for new and unique topics, the time it takes to produce high quality content, or the fear that it won't perform to your expectations. All of these reasons can hold a content marketer back, which results in a barren blog, an empty social feed, or a skipped email newsletter.
So, how do some content marketers make content creation easier, better, and cheaper? The secret is repurposing your content. For example, take a recent blog article you wrote that performed well. Just because that topic has been published doesn't mean it can't be covered ever again. On the contrary, there are actually benefits to publishing content on a single topic or theme to your site or blog many times.
What does "repurposing content" really mean?
Well, we all know duplicate content is bad for SEO, so when we say "repurpose" we don't mean re-post the exact article again. Instead, look to repurpose your content into many more formats that can be leveraged across various channels and for a range of marketing objectives. Below, we break down our key tips on how to repurpose your best content into additional formats that extend your content strategy and maximize your budget.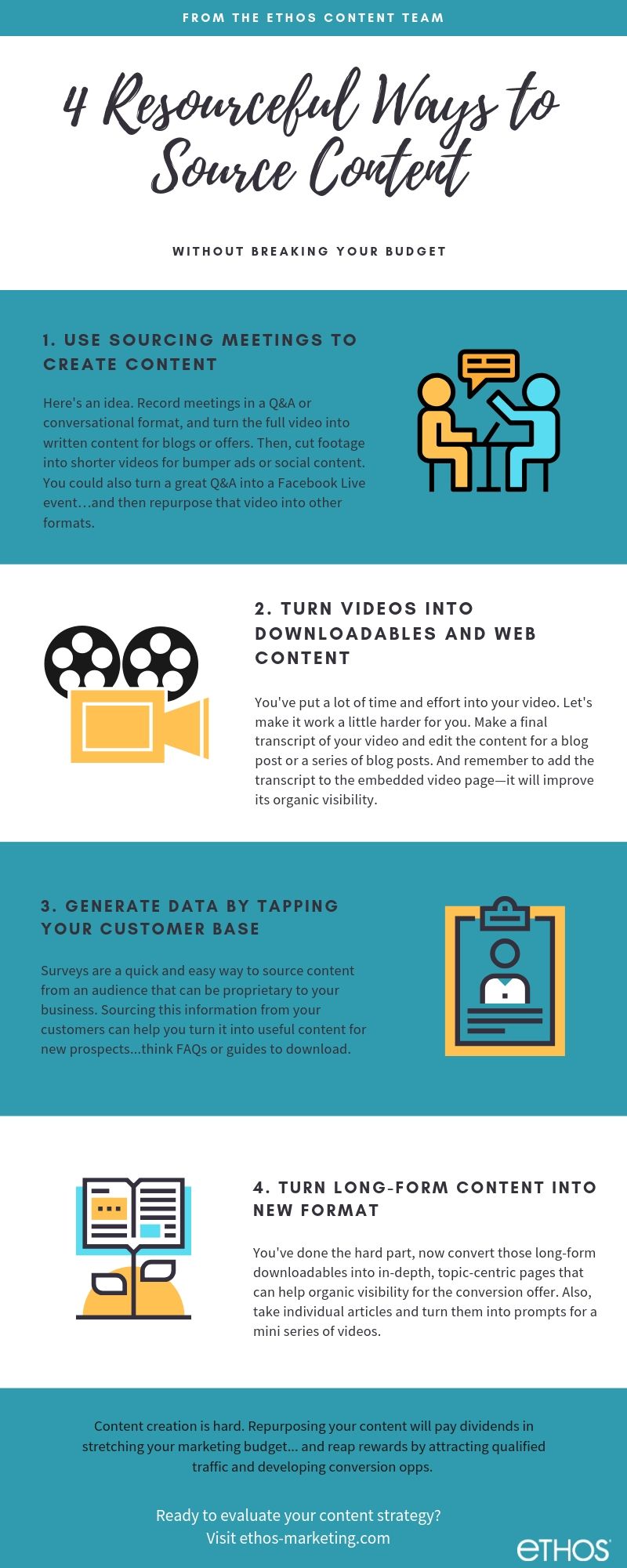 1. Use your sourcing meetings to create the content for you
Sourcing unique and authoritative content can sometimes be the major hurdle to generate quality content. Oftentimes that information lives in the brains of the experts within your organization, and they have busy schedules, just like yourself.
In order to kill two birds with one stone, test out hosting the sourcing sessions in a Q&A or conversational format and recording it at the same time. Recording interviews will not only allow you to turn the full video into written content for your blog or content offers, but the footage could be cut into shorter videos for bumper ads or social content as well.
If you have an exceptionally polished subject matter expert, the Q&A session could even be hosted as a Facebook Live event, and then the recording and questions from users could be added to the written format for your blog later on. Running a Facebook Live event tends to be cheaper than developing a fully produced video, and the additional benefit of being able to repurpose the video into other formats provides even more value.
2. Turn videos into downloadables and web content
A lot of marketers are investing in video because consumers engage with it, and actually want more of it in their feeds and on the sites they visit. What does that mean for marketing budgets? Typically, high quality videos are expensive to produce, and sometimes other content formats, such as a blogging, can suffer as a result.
Video, although critical for engagement, is not-so-great for organic visibility and lead generation. Generating a final transcript of your video allows you to edit the content for a unique blog post (or series of blog posts) or content offer. Additionally, adding the video transcript to the page alongside the embedded video can also improve the organic visibility of a single article.
3. Generate your own data by tapping into your customer base
Surveys are another quick and easy way to source content from an audience that can be proprietary to your business. Sourcing this information from your customers can help you easily turn it into useful content for your ideal audience: prospects.
Sending out a customer survey with questions around their research and consideration process can help you put together FAQs or guides on "The Questions You Should Be Asking" for your prospects, all sourced and curated from an authoritative audience such as your customers.
4. Turn your long-form content into a new format
Lots of content marketers see the value in long-form authoritative content formatted as white papers or reports because they drive strong conversion. But, how many have repurposed this into on-site content for SEO purposes? Converting your long-form downloadables into in-depth, topic-centric pages that cover the same subject can help to achieve organic visibility for the conversion offer. This also can provide the opportunity to break each section topic into its own blown-out article, for sections like your blog or FAQs, that directs back to the long-form page through links.
Additionally, you could take those individual articles and turn them into prompts for a series of videos…and as you can see, the list for how you can repurpose your content goes on and on.
The Takeaway:
Content should never be viewed as one and done, and it doesn't need to break your marketing budget to expand upon it. Repurposing content will pay dividends in stretching your marketing budget, and it can also reap rewards in terms of attracting qualified traffic and developing conversion opportunities for those audiences. Give it a try on your next campaign and get creative by repurposing each piece of content into at least 3 different pieces.
Ready to evaluate your content strategy? Contact us!
---
About Ethos
Ethos is a multiplatform branding agency that develops and executes integrated marketing campaigns across multiple channels for companies inside and outside of Maine.
At Ethos, we believe that the most effective way to set a company's marketing course is by finding its core truth – its ethos. We know that once we discover and communicate that core truth, we can truly make a difference for each client's unique marketing and business objectives.
With Ethos, you get more than a marketing agency. You get a long-term partner whose goals are your goals.
Learn more about the Ethos approach and the work we've done for our clients. Want to have a conversation about your brand's core truth? Contact us!