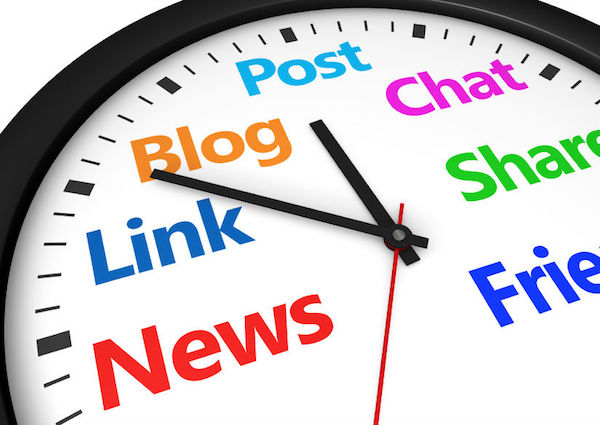 3 Things to Consider When Outsourcing Social Media
Social media has come a long way since the days of asking your receptionist to post on Facebook every once in a while. It's now a full time job (at least!) and many companies are feeling the squeeze in terms of how to get it done efficiently, effectively and at a reasonable (read: worthwhile) cost.
While larger companies often have their own social media managers, teams and even departments – small to midsize companies are more likely to turn to outside vendors for help managing their social media profiles and strategy.
Outsourcing social media can be an excellent way to add scale while managing costs, but there are some important considerations to think about – and ask your agency or freelancer before you make the move.
What type of content will you be using and where will you source it?
"Managing" social media is a broad term. The definition can range from monitoring profiles, to posting content, to actually creating the content to be posted. Before you sign a contract with an outside vendor, make sure you understand exactly what their responsibilities will be, and what they will need from you. If they aren't going to be creating content, who is and how often?
Keep in mind that the most engaging social media players are those that post unique, interesting content, plenty of photos, and personal anecdotes. To be successful outsourcing social media, it is important that you remain involved and supply your vendor with the content they need to make your brand successful.
Remember, creating content isn't free – or even cheap. Before selecting the lowest bidder, be sure to understand how much content your vendor intends to provide and whether it is unique (or shared among multiple clients). You should also be sure to ask for samples so that you have an understanding of the depth and quality of content to be shared.
How often will the social media profiles be monitored, and what is the process for drafting a response?
Monitoring and responding to inquiries on social media is perhaps the most difficult obstacle in terms of outsourcing – because you have to find a vendor with whom you feel comfortable allowing them to assume the voice of your brand. Outsourcing social media monitoring, however, can also be a major cost-saver.
For example, if you were to hire a single, in-house employee to manage your social media, that person would only be able to monitor social media 40-50 hours per week, depending on their contract. If you want them to be "on call" overnight or on weekends, in most cases you'll need to offer significant overtime or increased pay.
When you hire an outside social media manager (particularly if they work for an agency), you're likely to get a team of managers who work together to monitor your page around the clock – typically for much less than the cost of a full-time employee. Agencies providing social media services add economies of scale that can mean major cost savings for brands needing consistent monitoring.
That said, it is incredibly important that you find a vendor you can trust to respond appropriately to social media inquiries. Make sure that before you hand over any of your accounts, you have a written plan in place that outlines the process for responding to questions or comments on any and all of your pages.
For example, when an inquiry is received, should the social media manager respond right away using their best judgment? If not, to whom should they send their proposed response? Or, does it make more sense for them to simply alert an internal employee and have that person compose and send a response?
Each company's needs are different in terms of monitoring, response and crisis management – but the important part is that you have a solid plan in place, and that responses are sent in a timely manner.

How will you measure progress? What constitutes success?
Whether you decide to outsource social media or not, it's incredibly important to outline a set of KPIs (key performance indicators) with which to measure the progress and success of your efforts – as well as the return on your investment. While not all benefits of social media are measureable in an Excel spreadsheet or in dollars and cents (think qualitative benefits of social media such as brand awareness), there are a number of indicators you can measure including impressions, engagements, link clicks, video views, and more.
A good social media manager will know how and what to measure – and offer a strategy for tracking them over time. Keep in mind that it can take some time to start seeing results/improvements, but within the first 6 months to a year, expect to see at least some movement, or a really good explanation from your vendor.
Before you launch a social media program with an outside vendor – ask them how they plan to track your brand's progress (which metrics they will use) and what type of improvement they would consider a success. Also, ask how they plan to report on those metrics. One of the benefits of hiring an outside resource is they often have access to high level analytics tracking tools (that would be too expensive for a small to midsize company alone) that can provide in depth reporting.
Have you outsourced your social media to an outside vendor? What have been the best or most challenging aspects of your vendor relationship?
About Ethos
Ethos is a multiplatform branding agency that develops and executes integrated marketing campaigns across multiple channels for companies inside and outside Maine.
At Ethos, we believe that the most effective way to set a company's marketing course is by finding its core truth – its ethos. We know that once we discover and communicate that core truth, we can truly make a difference to each client's unique marketing and business objectives.
With Ethos, you get more than a Maine marketing agency. You get a long-term partner whose goals are your goals.
Learn more about the Ethos approach and the work we've done for our clients. Want to have a conversation about your brand's core truth? Contact us!