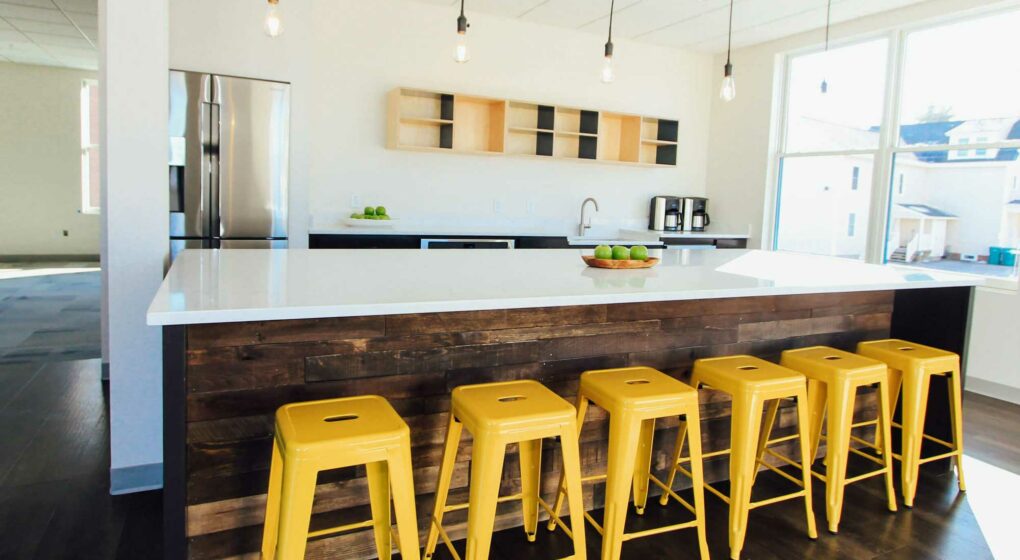 It's been a big week here at Ethos and VONT. Last Friday, we packed up our existing offices and moved a few blocks down the street to a newly constructed state-of-the-art building located at 17 Ash Street – right on the riverfront here in Westbrook.
This move has been in the works for more than a year, and the lead up required considerable planning. Early on, we entertained renovating our existing space – an historic building off Main Street in Westbrook that once served as an old foundry. But when we discovered 17 Ash Street, a new building right on the riverfront and just a few blocks away, we knew it was the right space for us.
Being able to create a new space – one that fit our agency culture of collaboration, integration and creative idea generation – was an opportunity we just didn't want to let pass.
Here's what our new digs look like from the outside: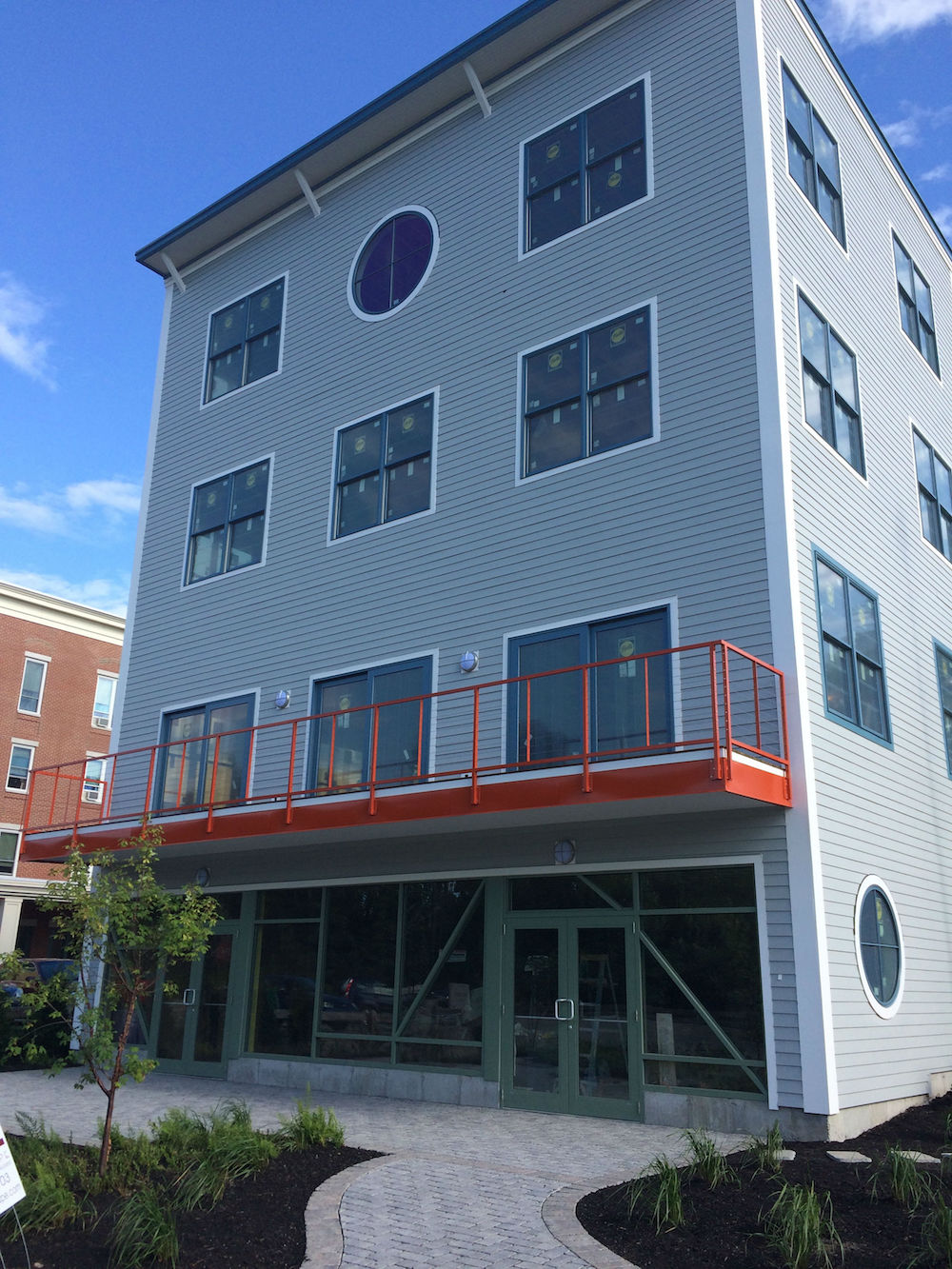 Photo Credit: Lauren Sawyer Photography, Westbrook, Maine
Employee Engagement Propels Intelligent Space Design
Moving a company with about 50 employees is no simple task, but we really needed more space to keep pace with our steady growth as a company. As we considered creating the internal space, we knew that engaging all the people who work here in the process would be crucial to its success.
We found two great partners to help us turn this wonderful space into something really special – Falmouth-based architecture and commercial interior design firm TLA, and Portland-based furniture dealership, Red Thread. Through an employee survey and several workshops, Red Thread pinpointed what would suit our culture and the employees best, and then TLA helped us realize the vision.
Here's what we learned: our employees (across all generations and experience levels) wanted more informal space to gather and connect, and they wanted different types of environments to work in versus being tied to a single desk. Our employees also wanted more opportunities to augment the sharing of experience and knowledge in the workplace between our two companies.
According to TLA Director of Design Laura Zoulamis, "Not a lot of organizations listen to their employees when it comes to the work environment, and in this case, it's what propelled the design. It's wonderful to see companies like Ethos and VONT at the forefront of the trend that utilizes employee engagement to create intelligent design and smart space planning. Now the two companies have a truly unique space that offers a palette of settings employees can utilize throughout the day to work, collaborate, learn, focus, and get energized."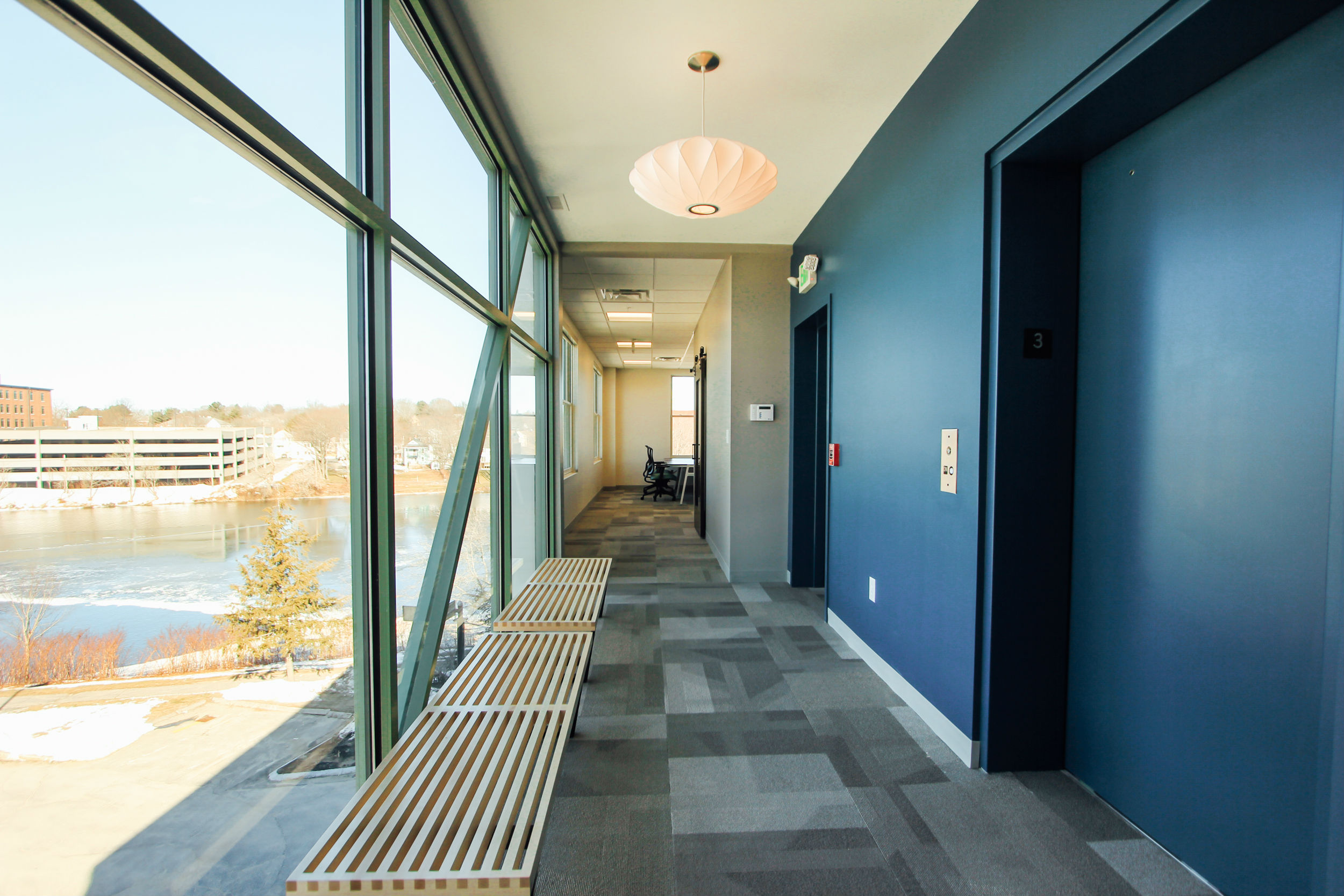 Photo Credit: Lauren Sawyer Photography, Westbrook, Maine
New Space Supports Culture of Collaboration
Ethos Creative Director Judy Trepal sums up the new space wonderfully, "Employees can look at the entire office space as their office, and they are empowered to choose the kind of space they want to work in whether it's social, team-oriented, or individually focused so they can be their happiest and most productive."
"The new space also creates more opportunity for informal exchanges in the hallway, in the kitchen, on the rooftop deck, and in the lounge. It's in these unexpected interactions – small social collisions – where we talk more and throw around different ideas. It allows for higher level of integration and creativity."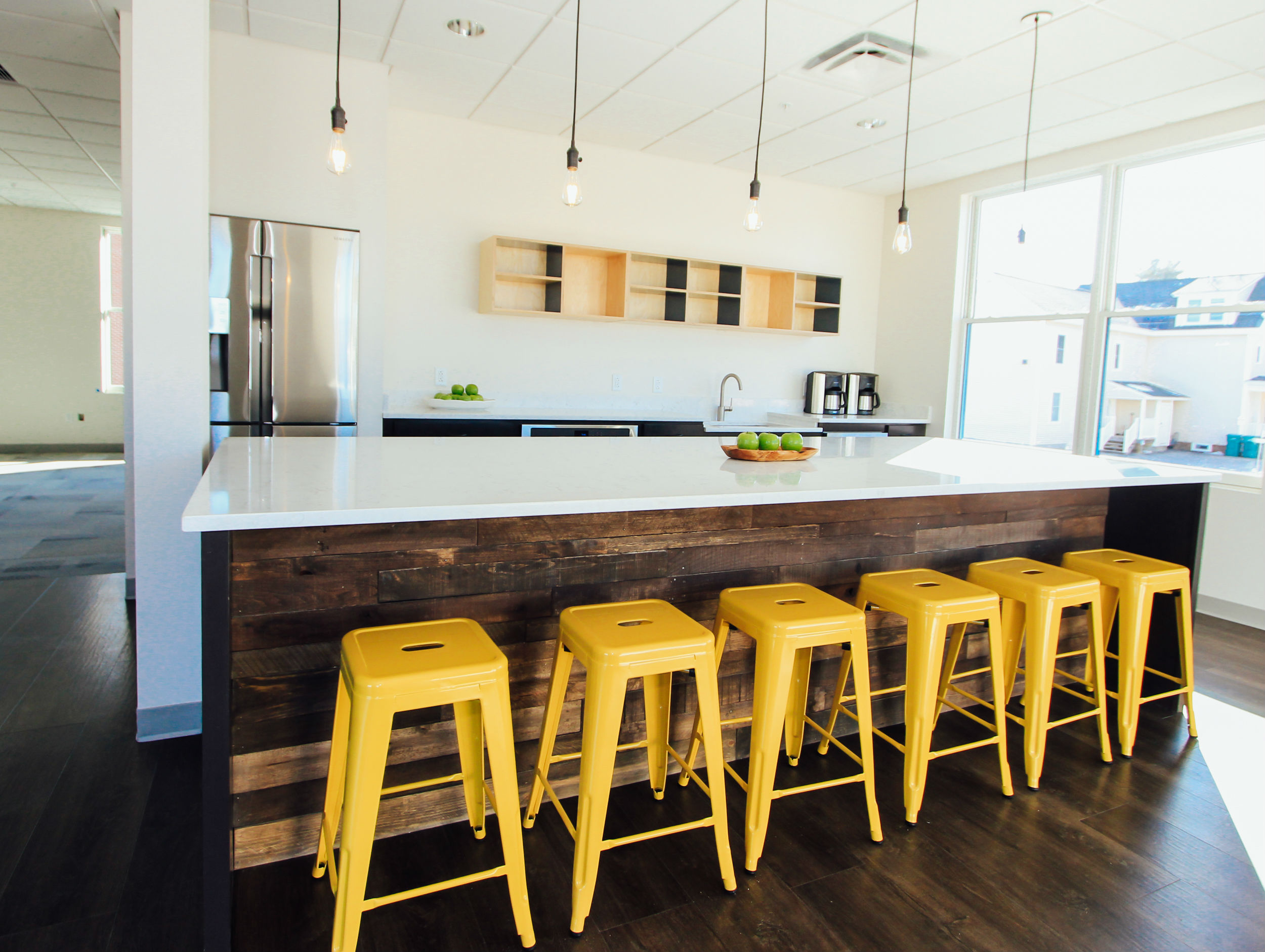 Photo Credit: Lauren Sawyer Photography, Westbrook, Maine
Take a Tour
When you walk into our offices, the rooms are open and filled with lots of natural daylight and plenty of public spaces to encourage collaboration and idea exchange.
They include:
The Plaza – a beautiful lounge/kitchen where employees can casually interact at the oversized island as well as meet at long harvest tables paired with modern classic chairs.
A library designated as a "quiet zone," which allows team members to sit on a large sectional sofa and put up their feet on a wooden coffee table
A rooftop deck overlooking the Presumpscot River that employees plan to enjoy in the warmer months.
Lots of windows that frame views of the River and historic Westbrook from every floor.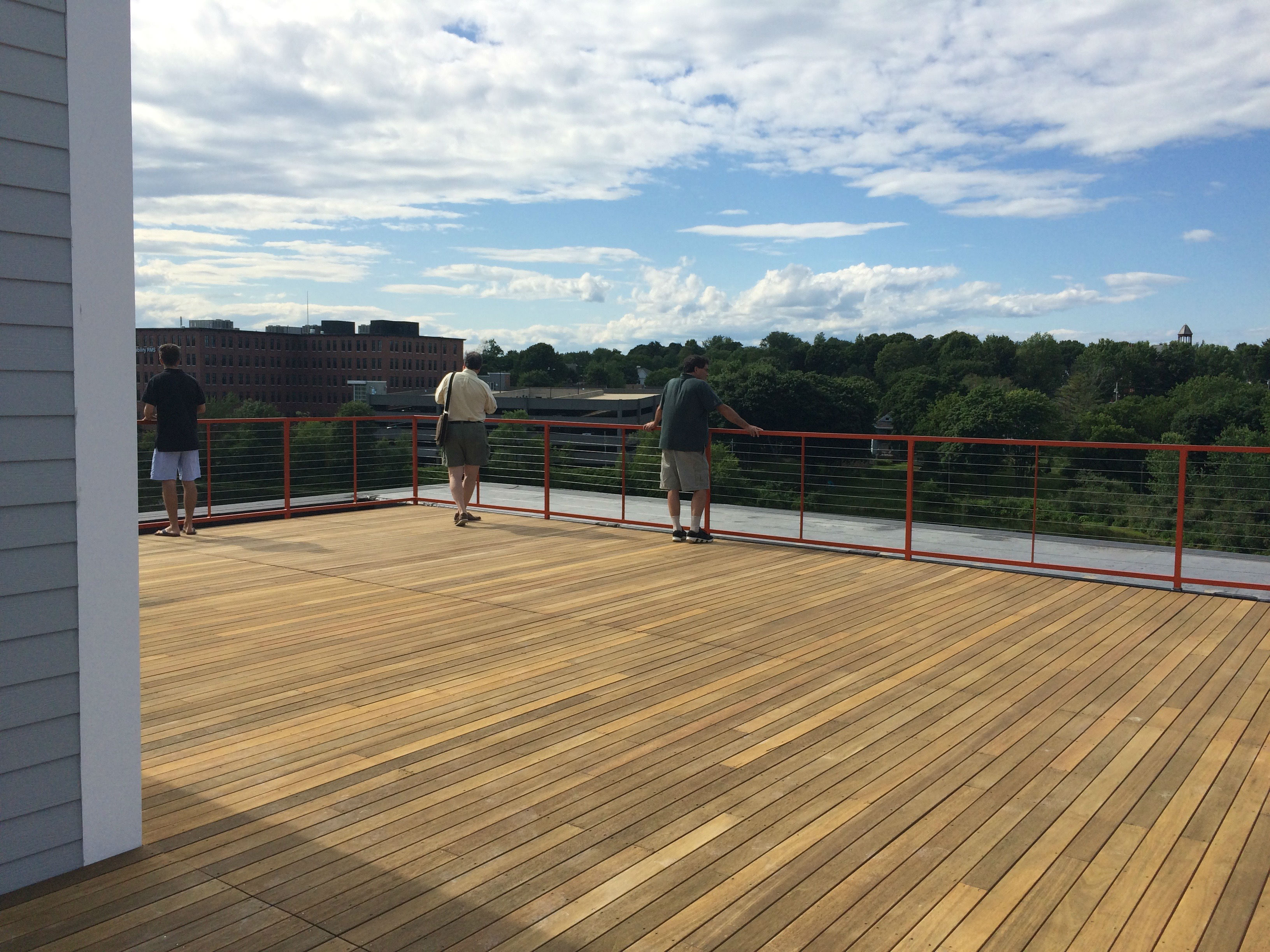 A Palette of Work Space Settings
Conventional offices with doors do not exist, even for the partners. In fact, the only rooms with doors are the eight conference rooms featuring walnut stained glass sliding barn doors – and the four bathrooms. Three of the smaller conference rooms called phone booths are where employees can make private calls or just get away – balancing "me" and "we" spaces. One of the phone booths will serve as a lactation room for new mothers.
TLA was inspired by the architecture of the building with its angled glass façade and steel entrance on the front of the building. This "fractal" inspiration is present in the carpet and fabric selections as well as in the walnut stained dividers, which define spaces, but still evoke transparency between open office benching systems and other spaces. Specialty lighting weaves modern with a mix of industrial chic. Select walls throughout the space prominently feature warm wood from old shipping palettes that employees jointly deconstructed and stained adding their own personal touch to the space.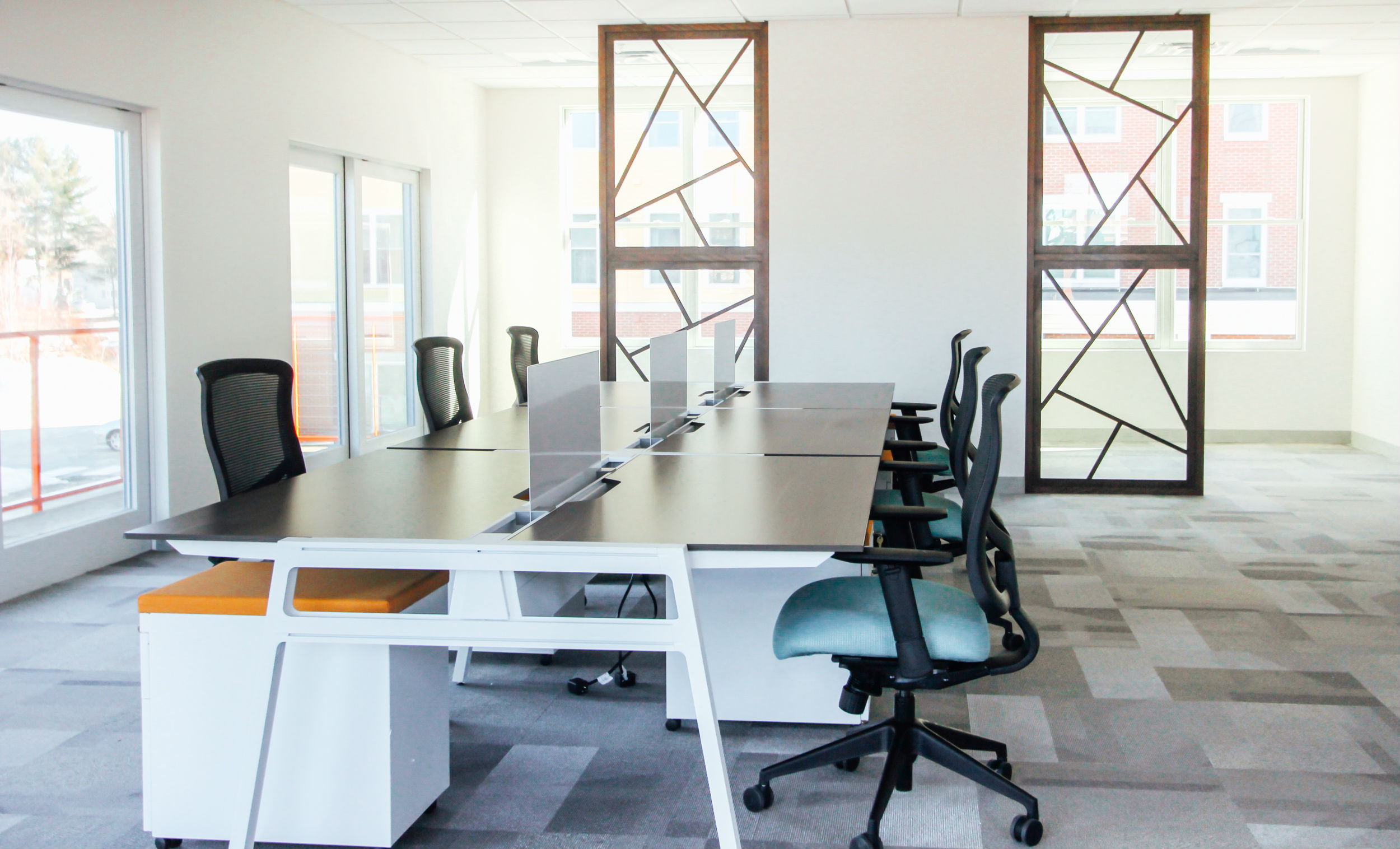 Photo Credit: Lauren Sawyer Photography, Westbrook, Maine
The Bottom Line
We're excited to start this next chapter for our company. It's wonderful to see our employees so jazzed and excited to be at work, and rewarding to know that we created this workspace together.
Interested in seeing our new digs in person? Stop in and say hello!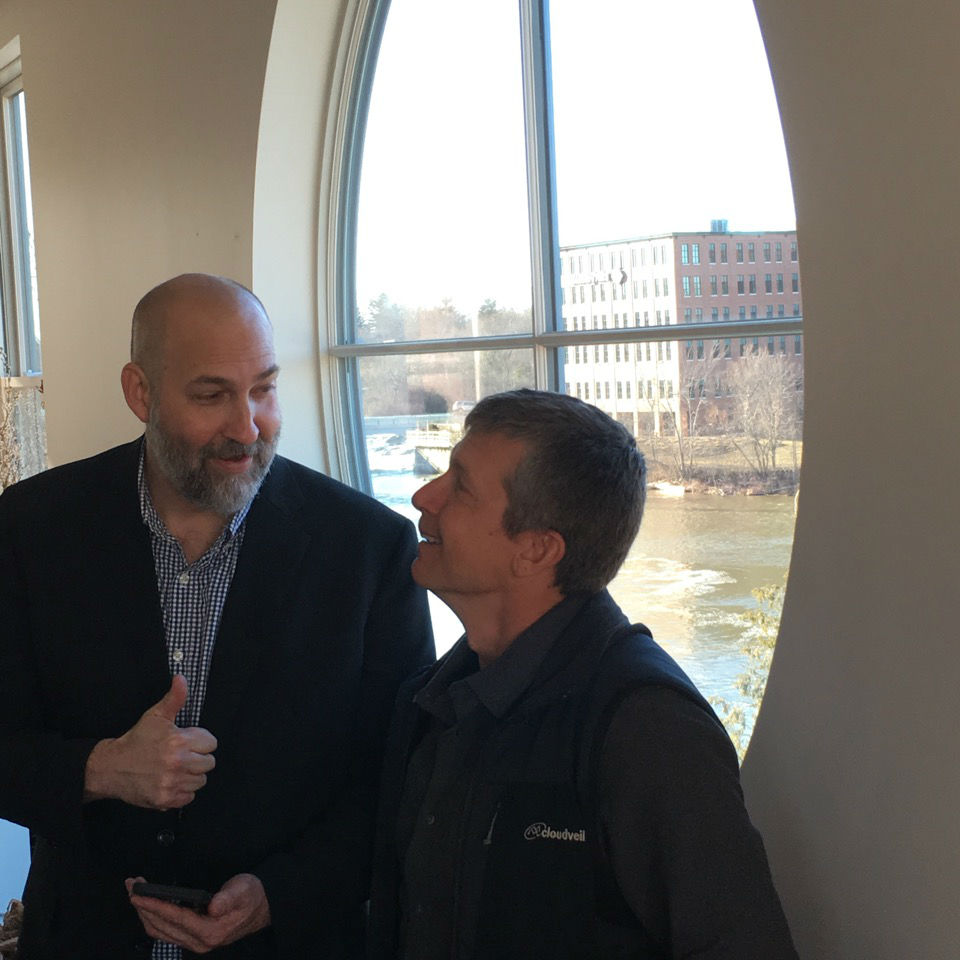 About Ethos
Ethos is a multiplatform branding agency that develops and executes integrated marketing campaigns across multiple channels for companies inside and outside Maine.
At Ethos, we believe that the most effective way to set a company's marketing course is by finding its core truth – its ethos. We know that once we discover and communicate that core truth, we can truly make a difference to each client's unique marketing and business objectives.
With Ethos, you get more than a Maine advertising agency. You get a long-term partner whose goals are your goals.
Learn more about the Ethos approach and the work we've done for our clients. Want to have a conversation about your brand's core truth? Contact us!