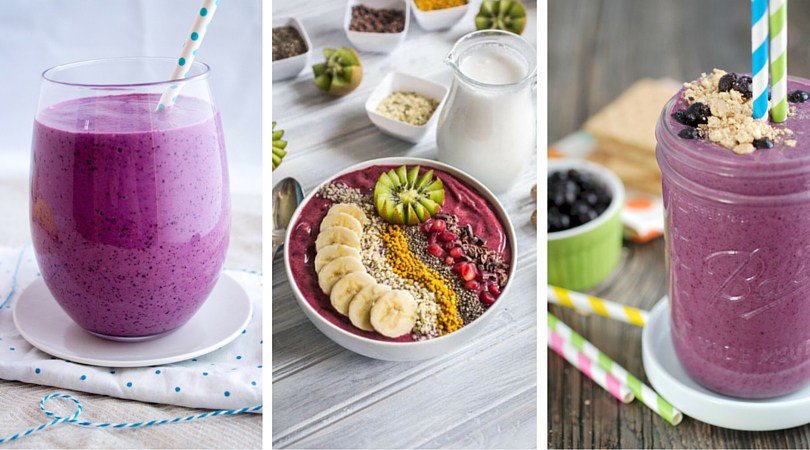 Smoothie Domination: 10 Tactics for Marketing Trade Associations
Sometimes you stumble upon a gemstone in the process of mining for gold. Unlikely, I know, but it happens. Indeed, through the process of conducting nationwide consumer research about the appeal of wild foods, we stumbled upon something else. Our research for the Wild Blueberry Association of North America (WBANA) confirmed that wild foods resonate strongly with consumers because they represent food in its purest, most unadulterated, form. The surprise was that it also revealed that smoothies (yes, those healthy blends you whip up every morning before work or post workout) offer a sizeable marketing opportunity for our client, both on the trade ingredient and consumer side of the aisle.
Admittedly, we already knew that frozen Wild Blueberries make a great smoothie ingredient, but research revealed that smoothie consumers, and particularly LOHAS (lifestyle of health and sustainability) smoothie consumers, were far more likely to purchase and make smoothies made with frozen Wild Blueberries. They also said they would buy more and pay a premium price for store-bought smoothies made with Wild Blueberries.
But here's the clincher: more than 8 out of 10 LOHAS consumers believe Wild Blueberries improve taste and provide better health benefits than regular, cultivated blueberries. In other words, not only would LOHAS consumers buy more and pay more, but they also had deep and compelling reasons to feel great about their decision.
Armed with this commanding knowledge, there was only one thing to do: Launch a campaign that would capitalize on the growing smoothie trend by ensuring that Wild Blueberries were a part of the larger smoothie conversation, and position frozen Wild Blueberries as a staple ingredient for smoothie lovers. To accomplish this goal, we launched an integrated trade marketing campaign, encompassing the following ten tactics, which netted extraordinary results:
We developed a content strategy designed to inspire consumers by providing them with blog posts on highly searched smoothie categories (such as "green" and "kid-friendly" smoothies). We also added more than 100 beautiful recipes to our website, showcasing interesting ingredient trends and tips on how to ramp up smoothie making. 
We partnered with an industry leader– NutriBullet, one of the nation's leading companies in smoothie making equipment, smoothie education, and smoothie recipes to increase our reach and influence.
We built a new "Wild Your Smoothie" website designed to be the ultimate resource for smoothie lovers – complete with recipes, tips, and other smoothie-related content.
We engaged health influencers, Registered Dieticians, and nutritionists in a national smoothie recipe contest that yielded 50+ incredible Wild Blueberry smoothies consumers could make at home.
We created visually stunning smoothie e-recipe books that could be easily be downloaded and shared across the web.
We created a series of time-lapse recipe videos that featured easy-to-make smoothie recipes using unique ingredients, because we knew consumers were interested in watching delicious meals come together in under 60 seconds.
We developed an email marketing campaign to push out monthly smoothie content to interested subscribers.
We developed a social media strategy to engage followers with recipe content, contests and giveaways. 
We hosted a twitter chat with the team at NutriBullet focused on nutrition and the trending back-to-school season. (The conversation was compelling and involved some of the nation's top health influencers.)
We developed a digital advertising campaign that promoted our recipes and our content to targeted audiences most likely to engage.
And the results were impressive.
In just over two months, we increased WBANA's smoothie related content by 38%, and established new relationships with more than 20 prominent health and nutrition influencers.
We grew the email subscriber list by 14%, increased engaged users on social media by 53%, and saw our Facebook post reach go up by almost 30%.
We also increased website page views by 320%, conversions by 229%, and generated an impressive 70,000 video views, 6,000 contest entries, and more than 4,000,000 live Twitter chat impressions.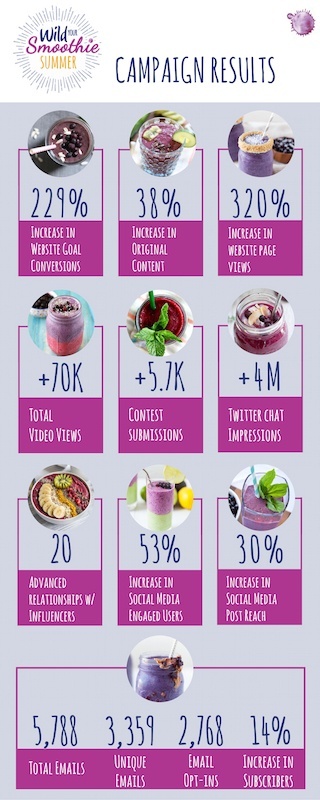 After two months of talking up smoothies all day every day, we concluded the campaign with an incredible influencer event in Bar Harbor, Maine. We invited a wonderful group of top nutrition influencers to see the Wild Blueberry barrens in the wild, and of course, make (and write about) smoothies! You can learn more about the event, the results, and our approach to influencer marketing here. For more about our work with the Wild Blueberry Association of North America, check out the Wild Blueberry case study on our website.
---
About Ethos
Ethos is a multiplatform branding agency that develops and executes integrated marketing campaigns across multiple channels for companies inside and outside Maine.
At Ethos, we believe that the most effective way to set a company's marketing course is by finding its core truth – it's ethos. We know that once we discover and communicate that core truth, we can truly make a difference to each client's unique marketing and business objectives.
With Ethos, you get more than a Maine advertising agency. You get a long-term partner whose goals are your goals.
Learn more about the Ethos approach and the work we've done for our clients. Want to have a conversation about your brand's core truth? Contact us!