Instagram today has over 1 billion monthly active users. Yes, BILLION. And over half of those users visit the app daily. Now you know what your coworkers are doing during Zoom meetings.
Just kidding. Kind of.
The most interesting part about these most recent Instagram stats is that more than 200 million people visit at least one business profile a day, and over 60% of Instagrammers say they use the app to discover new products. That means that unlike Facebook, where many people are simply looking for updates on puppies and babies – Instagram users are also interested in learning about brands and discovering new products. If you sell, well, basically anything, this should pique your interest.
That said, just being on Instagram doesn't mean anyone is going to pay attention. You can't just throw any piece of content up and wait for the engagements to roll in. You also can't expect that the same content you created for Facebook is going to work on Instagram. If you want to be successful on the 'gram, you need to speak their language. And the language of Instagram is visual.
The bottom line on Instagram is that things move quickly. When it comes down to it, you have about 3 seconds to hook a consumer before they scroll on by. And, if a user looking for a product does discover your page, you need to grab their attention immediately – often before they even tap on anything. As they scroll through your feed, they should be able to see what your brand is all about without having to click on a single post. This is what we call a curated Instagram feed. A successfully curated feed tells a story. It adds polish and emphasizes professionalism. It hooks the viewer and reinforces your brand look and feel! Poor curation loses their interest, adds confusion, and usually has people headed for the exit.
So, how do you create a curated Instagram feed? Here are 3 tips to get started.
1. Create a visual strategy
Before you even think about posting anything on Instagram, you need to come up with a visual strategy. Social media isn't just a way to talk to people, it's an extension of your brand. Instagram specifically is where your brand's tone and aesthetic come together. The tone's purpose is to evoke emotion and the aesthetic is the visual representation of your message. Whether your tone is light-hearted, humorous, bold, or anywhere in between, your content on Instagram should reflect that. To give you an example, one of our clients, Dental Herb Company, sells oral care products made with all-natural, organic herbs and pure essential oils. They've even trademarked the phrase, "Truly Natural." So, it makes sense that their imagery should feel natural, simple and bright, — not saturated, dark or heavy. This conveys a clean, simple tone and aesthetic.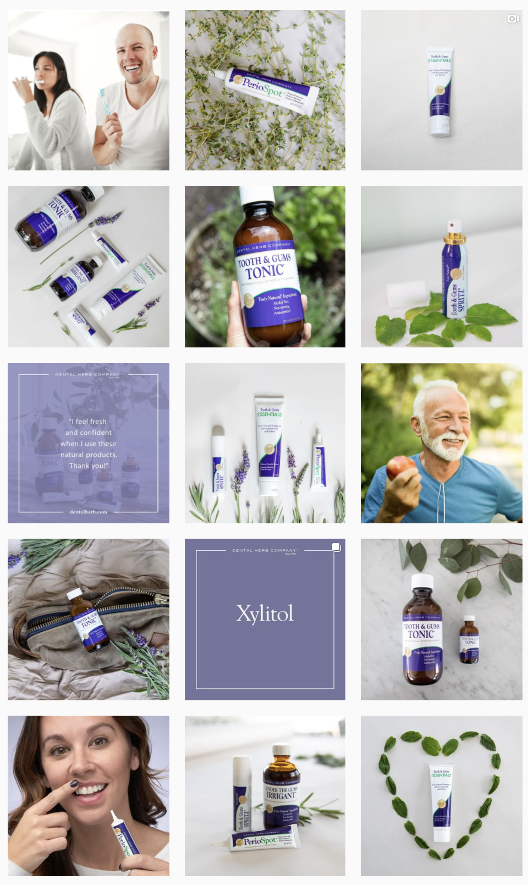 In addition to the visual aesthetic, it's also important to pay attention to which types of imagery best tell your story. For most brands, this doesn't mean choosing only one type of photo (i.e., product shots, lifestyle imagery, memes, user-generated content (UGC), text, or infographics). Often it means establishing the right mix and how to alternate between them. Even if you're using various types of images, it's important to ensure they align with your visual strategy. For example, a text image should feature brand colors and fonts and stay in the brand voice. Similarly, we all love UGC, but if you're focused on creating a professional-looking Instagram feed, you should only repost UGC that falls in line with your visual strategy.
Hot tip: one way to encourage UGC that's on-brand is to send influencers a one-pager of visual examples for guidance. This drastically improves the chances of photos coming back that are aligned with your visual strategy. Plus, influencers generally love receiving help and direction!
In addition to a cohesive visual aesthetic, it's also important to remain consistent with the tone of the copy messages. Try to find a voice that fits your brand's personality and carry it through both your visuals and your captions.
2. Create content with the visual strategy in mind
Once you have mapped out the visual strategy for your Instagram feed, it's time to start creating some content. Instagram strongly prefers aesthetically pleasing images – especially in the feed (Instagram Stories tend to reward quick turn, authentic content instead). But you don't necessarily need a professional photographer to create professional-looking images. Below, we offer a few general guidelines involving composition and lighting that can be helpful to keep in mind while you shoot.
Composition is all about directing the viewer to the subject of your image while trying to evoke emotion or tell a story. In some instances, lone product shots are powerful. In others, you may want to layer in props. But if you do that, remember that the focus should remain on your main subject. You can do this using color, focus, or position in the image.
The rule of thirds is another well-known photography rule. When framing a shot, divide the frame into thirds from top to bottom and side to side with straight lines. Put the focus of your photo where the lines intersect to give your image interest, balance, and variety. Play around with the different intersections to find what you like best. If you're shooting with an iPhone, it already has a grid built into it. Most digital camera grids can be turned on by visiting the settings menu as well.
Lighting should be natural and evenly exposed. The best times to shoot are generally in the morning or right before evening when the sun is soft. Midday sun is bright and can cast harsh shadows. If you are shooting indoors, try to find a light source that isn't harsh or too yellow. Set up near a window or a desk lamp if possible.
If you're shooting lifestyle images (which can add emotion and a layer of storytelling to your feed), ensure that your props, colors, models, and locations fit your brand and the message you are trying to express. Let's bring it back to Dental Herb Company for a moment. All props are natural (bamboo toothbrushes, real plants, and herbs) and models are smiling, candid, and of the age of the target audience. All of this speaks to the tone and adds cohesion to their Instagram feed.
Lastly, we would be remiss if we wrote an article about Instagram aesthetic but didn't talk about filters. If you don't use Lightroom or Photoshop to treat your photos, filters are an easy way to enhance your images. The key here is to choose a filter that fits your – you guessed it – visual strategy. And stick to that filter! If there is one way to confuse a viewer, it's to use all the filters under the sun. The number of filters available for download, in-app, and sold by influencers is never-ending, but sampling them all is a bad idea if you want a curated feed. Pick one that mimics natural light, doesn't go overboard on the contrast, and isn't overly warm (yellow), and you should be headed in the right direction.
Hot tip: when you are shooting, know what size image you are shooting for. If you are shooting for your feed, you'll probably want to shoot for a square size or portrait, therefore keeping your subject somewhere in the middle of your grid. For Instagram Stories, always shoot vertically.
3. Post content with your visual strategy in mind
Now that you have your images ready, it's time to post! But wait, not so fast. Believe it or not, there is a strategy for posting content to your feed, too. (Are you noticing a theme yet?) You want to make sure that the awesome photos you take, or graphics you create, fit together nicely on your feed. The main goal here is to not post similar photos or graphics next to or near each other. It will give the viewer more variety while adding balance and intrigue to your feed. Plus, it just looks better.
Luckily, there is a great app called Planoly that does the hard work for you. Just upload the images you want to post, then drag and drop them in order of how you want them published. By doing that, you can preview what your feed would look like without having to publish a thing. You can continue to move your images around until you find the curation you like – then drop them into your posting calendar, and you're ready to go.
Like all things in marketing, Instagram feed curation starts with a strategy. With new Instagram users joining the platform daily – and Instagram shopping becoming more mainstream – a visually strong and curated feed is more important than ever. Hook them right away with a professional-looking, emotion-evoking, and interest piquing feed.
Want to learn more about Instagram aesthetics and how to make the most out of the platform? Talk to an Ethos Social Media Specialist today.
---
About Ethos
Ethos is a multiplatform branding agency that develops and executes integrated marketing campaigns across multiple channels for companies inside and outside of Maine.
At Ethos, we believe that the most effective way to set a company's marketing course is by finding its core truth – its ethos. We know that once we discover and communicate that core truth, we can truly make a difference for each client's unique marketing and business objectives.
With Ethos, you get more than a marketing agency. You get a long-term partner whose goals are your goals.
Learn more about the Ethos approach and the work we've done for our clients. Want to have a conversation about your brand's core truth? Contact us!