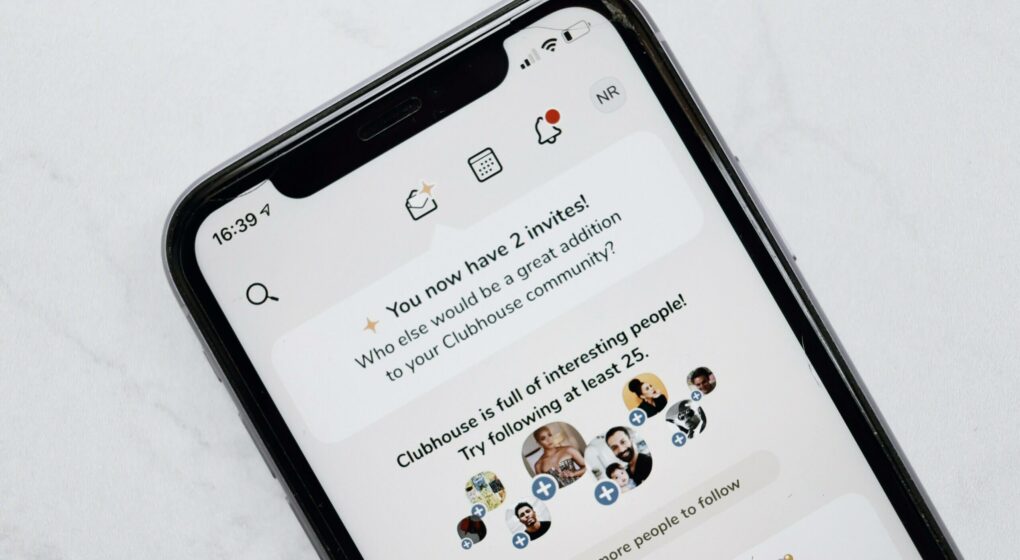 Not in on the Clubhouse app just yet? We'll give you the inside scoop.
With over 10 million global downloads since its launch last year, the Clubhouse app hit the scene in a major way, but it's far from a full house…yet. Unless you're a super VIP, invites are still harder to come by – but that all could change soon. We're breaking down everything from what the app is, to the current issues with security we're seeing in the news. Get the inside scoop so you'll be ready to decide if this app is for you when the invite comes your way.
Clubhouse App in a nutshell
Here are the nitty gritty facts:
The Clubhouse app launched in March 2020 as an exclusive invite-only app – open primarily to select venture capitalists.

Considered a unicorn start-up (along with superstars like Uber and Airbnb), Clubhouse scored a huge early valuation of $100 million in May 2020 with just 1,500 users at the time.

It's an audio-based social media app, and Clubhouse calls itself "

a new type of social product based on voice [that] allows people everywhere to talk, tell stories, develop ideas, deepen friendships, and meet interesting new people around the world."
Let's take a tour of the Clubhouse
Still not sure exactly what kind of picture that paints? We're totally with you – and we're dying to take a first-hand peek ourselves! But – we can break down the bare bones of this app which sheds more light on how this all works.
iPhone only: Clubhouse is available only as an iOS app, and rooms can't be accessed via Android devices or the Web – but an Android app version is in the works. If you're an iPhone user that wants in (before you're given the "in"), you can download the app and reserve a username now.
Invite only: Yup – you'll need to know an existing user to use the app. Every new user gets two invites (giving the app access to their entire iOS contact list to send them – please note that this is a red flag with security concerns), and they earn more as they use the app. Be wary of invite scams – they're already out there.
What it looks like: Since it's an audio app, it doesn't look like much. You'll see user profile pics in a grid-like fashion that you can tap to view the users' content.
Room options: There are a number of ways to connect with others on Clubhouse. You can start:
an "open" room for anyone to join

a "social" room that only people that follow you can join

a "closed" room for invited guests only
Clubhouse also has "clubs" that can create recurring rooms and have members. Once you're in the app, the calendar icon will show you a list of rooms (suggested or unfiltered) happening at any given time.
Room topics: Once you've received a confirmed invitation and you're officially "in," you can choose some topics of interests. The more the app gets to know what you like, the more recommendations (rooms, people) you'll get.
Room participation: You can virtually "raise a hand" if you want to talk, but it's up to the room's creator/moderator if it happens.
Clubhouse room limit: The current limit is 5,000* people. *
Note: Elon Musk's guest appearance on a nightly tech and culture show busted this cap wide open.
Following: You can follow people or clubs and see when they're moderating or participating in rooms.
Audio: Conversations should stay in the app only – no recordings and no outside sharing. Clubhouse has a policy of deleting temporary audio recordings when rooms end – but will investigate audio for reported violations and delete it after. Spoiler alert: There's already been some early clubbers that have broken the rules.
What do people think of Clubhouse so far?
Clubhouse is so exclusive there isn't even a definitive universal "experience" that's out there. But there are lots of descriptions from the select few that have access. Here's some anecdotal feedback we found:
A live, free-flowing podcast. You can simply listen or choose to throw in your thoughts. Imagine a cocktail party or clubhouse. (Mashable)

It's a bit like being on a semi public Zoom call with all the cameras turned off, occasionally struggling to keep track of who is talking. (The Washington Post)

Like conference calls, with a set group of people acting as moderators on a virtual stage. The moderators, who can speak freely, can also call on members of the audience who want to participate. (The Washington Post)

A dizzying bringing together of live podcast-style conversations, panel discussions, networking opportunities (some savvy people are already swapping 'influencer' for 'moderator') and advantageous multiple-room use (locked and private options are available so you can talk to pals too), the social-media app mimics real-life interactions. (Vogue)

What if Twitter was a podcast you lived inside of? (PC Mag)
Part talkback radio, part conference call, part Houseparty. (The Guardian)

The "style" of the conversation is flexible: one room might be a casual one-on-one between friends, while another is a more formal talk-show-style interview, a big group discussion, or even a music-sharing session. (PC Mag)
Okay, got it. Who's currently on Clubhouse?
Now that you've got the scoop on the Clubhouse building, let's talk about who is here and why.
Right now, the app is home to big-name celebrities, is considered a "status symbol" for Silicon Valley bigwigs, and is gaining interest from the general public with invites slowly going around. In particular, it's attracting BIPOC creators, bitcoin sellers, industry music professionals, Gen Z internet moguls, self-help gurus, and linguaphiles The app has also gained initial popularity in the Black entertainment community (e.g., Tiffany Haddish was the first content creator to break 1 million followers on Clubhouse). Overall, the appeal is there, and we totally understand why–the exclusivity element always adds a layer of interest, and this app truly does grant one-of-a-kind access to the "inner circle" of some pretty influential people, giving you the chance to participate in their conversation.
Cool. I'm paying attention. Now, what does this app have to do with my brand?
Truthfully, not a whole lot just yet. But that could change soon. Here's where things stand.
In the very early days (ahem, not that long ago – just in March 2020), there were some brands already on Clubhouse and most of them put their executives or partnered influencers on center stage. Just recently, Restaurant Brands International, the parent company of Burger King, Popeyes, and Tim Hortons, had an open forum room for its executives to discuss its post-earnings call. Hosting this meeting on Clubhouse opened up a closed door meeting and invited in a bigger audience that facilitated deeper engagement with key stakeholders.
Open access to brands on a live stage is super interesting and cool, but it's also a huge step. We immediately envisioned an initial checklist we'd advise brands to have before stepping up to the Clubhouse mic:
Master the tone audiences demand (e.g., authenticity, approachability, transparency)

Map out the user engagement strategy– do you want to do a Q&A or have the conversation free flowing?

Lead with your best topics (e.g., the ones you and your consumers are most passionate about)

Pick the right faces (from executives to influencers and make sure they reflect your brand) and then media train them! A live platform can be a make or break for a brand, and it's important to never say anything you don't want as a public record.
Concerns and questions about Clubhouse
Although things are changing really fast with this app, we'll share some questions and concerns that are making headlines:
Spontaneous content is big for anyone on this app – especially brands. What if the wrong thing is said? What actually truly "disappears" in this new online age, especially if people break the policy of distributing conversations outside the app?

Moderating content is also a big current sticking point. Designed to spark revealing conversations, Clubhouse is live and unscripted – meaning there's a whole lot of unknown. There's been some rumblings that hate speech and harassment is already happening on the app. While Clubhouse says that any hate speech and bullying are against its Community Guidelines – they've still been criticized for their lack of a strong moderation policy.

There's also privacy and

security

concerns. Some people may be wary of giving the app access to their personal entire iOS contact list (to enable invites) – but as of right now it's a Clubhouse requirement. Clubhouse has already suffered its first data breach (a third-party developer in China tried to create an Android version of Clubhouse that wouldn't require an invite) – a reality for many apps in today's world.

One issue they

have

already addressed is leaving Clubhouse. While you previously had to email them to leave, they now have deactivation functionality as of March 2021.
What Clubhouse Could Do for Brands
It's still pretty early, but we'll give you our take on what this could mean for companies looking to utilize the app for earnings.
Clubhouse has a big goal for 2021 of making the app available to the whole world…and when this happens there's some real potential for brands. As this evolves (and believe us, we're super curious about what comes next), there's some talk about Clubhouse:
opening its API to link recorded conversations to articles and other digital formats

And potentially following in TikTok's footsteps to pay some creators for content (cough *partnerships and influencers might have some major return on this app as it grows* cough).
With a lot of looming questions on the horizon, we'll be sure to keep you up to date on this new app phenomen. So, you tell us. When that velvet rope is lifted on the Clubhouse opening night, will you be in line?
References:
---
About Ethos Marketing & Design
Ethos is a multiplatform branding agency that develops and executes integrated marketing campaigns across multiple channels for companies inside and outside of Maine. At Ethos, we believe that the most effective way to set a company's marketing course is by finding its core truth – its ethos. We know that once we discover and communicate that core truth, we can truly make a difference for each client's unique marketing and business objectives. With Ethos, you get more than a marketing agency. You get a long-term partner whose goals are your goals. Learn more about the Ethos approach and the work we've done for our clients. Want to have a conversation about your brand's core truth? Contact us!