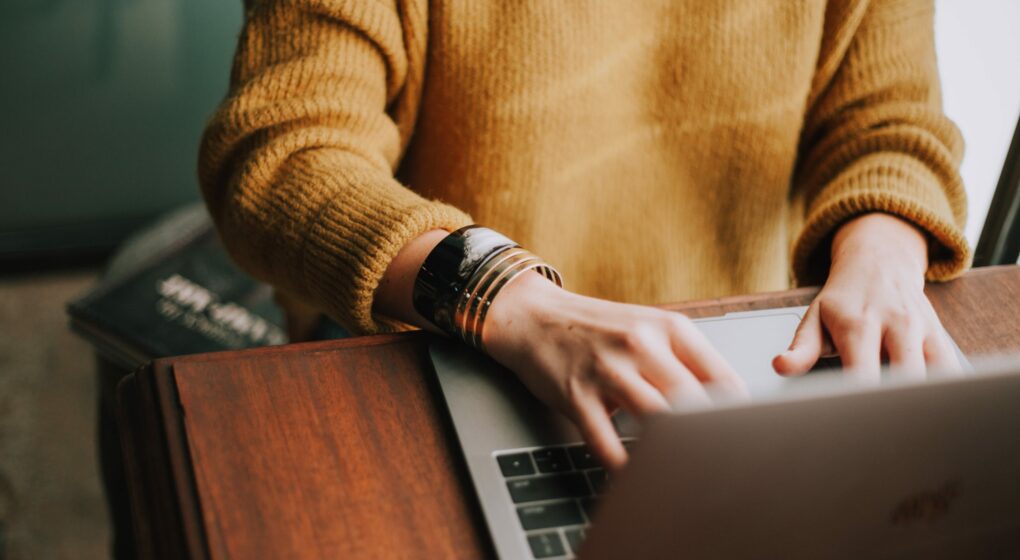 Agency life means juggling multiple clients at once–that's the name of the game. And if you work for an agency like Ethos, chances are you're doing many different things for your clients and creating materials soup to nuts. If this is the case, then we're also willing to bet big bucks that strong copywriting and content creation are a priority for your client-base. 
To everyone who said my English Major wouldn't pay off…look at me now!
We're all taught the physical act of how to write in school. In fact, it's at the core of the fundamentals we're taught from Kindergarten through high school graduation (sometimes early college). But for many, that's where the writing lessons end. I specifically remember multiple people in college asking why I was an English major? Or what I planned to do with that as a career? At the time, I had no idea what I wanted to be when I grew up, but I had this feeling that the writing skills would serve me well in whatever I ended up doing, so I stuck with it. Eight years later, I use my writing skills daily in my marketing career. From website copy, to blog writing, social media posts, and more, client writing projects are plentiful in an agency setting–and therefore the need to know
how
to write for your clients is a fundamental skill for anyone who touches your projects. 
But, at the end of the day, it's not just having the skill of writing–although that's the very important first step–but knowing how to bring it to the next level to differentiate your writing style client-to-client. Here's how we approach that at Ethos.
One person, eight gazillion different voices to write in.
As an agency team member, you're often scheduled to tackle a number of different projects for various clients within one day. It's a constant juggling act that requires being able to switch your brain from one client to another at the flick of a switch. At 10:30am, I could be writing social posts for Gifford's Ice Cream. At noon, I could switch to writing a guest blog post for the Finance Authority of Maine. At 2:30pm, I could be off to write a press release for the Maine Motor Transport Association–and on and on it goes. 
In order to ensure you're able to switch your voice and do solid work for the client on hand, we recommend three key things:
1. Immerse yourself in the brand wholly. 
A wise proverb once said, "To know a client well is to be able to write as that client." Kidding–we just made that up, but it's true and it should be a proverb. If you fully immerse yourself in the brand you're writing for, you'll be able to pick up the voice of that brand quicker and start writing more effective marketing messaging for them right off the bat. How do you do this? We're so glad you asked. At Ethos, we hold a brand immersion when we first onboard our clients so we can
a)
get to know them on a personal level, but also
b)
meet them where they are and come along for the ride. The immersion covers everything from a company's mission statement, to their vision and what they want to see in their marketing campaigns with us. The immersions last anywhere from three-to-eight hours and serve as intensive time getting to know the brand at its core from the mouths of the people that run it. By doing this, we can start to craft campaigns that fit their needs and develop materials that match the voice of the campaign we're creating on their behalf, while still being true to the brand's core promise.
2. Look at past work the company has done to help inform future work. 
After you get to know the brand mission, vision, and promise, it's incredibly helpful to get well acquainted with the work they've done before your agency came along. From marketing materials (think brochures, pamphlets, website copy, social media copy, etc.) to the press the company has gotten, knowing how they've written about themselves and seeing how others have written about them will help you get a feel for what you need to incorporate into your writing projects. From there, it's your job to take what was done and make it better. That's why they hired you after all! We'll give a tangible example of how reviewing these materials will come to life when looking at the voice for a client. With Gifford's Ice Cream, we like to incorporate New England phrases, approachable/fun language, and appropriate jokes into the copy wherever possible. Why? Because ice cream is meant to be joyous, and we want to celebrate where that ice cream is made. Compare this to some of our banking clients whose voice should be approachable, but knowledgeable, showing customers that the brand is there to support them with their financial needs and guide them along the way. By reviewing older marketing materials, you can start to see where and how this voice comes through and where there is room for brand messaging growth. At the end of the day, it's important to remember that it's not one size fits all when it comes to writing. Doing this work upfront will help you dive into your first assignment more seamlessly.
3. Be prepared for constructive criticism and editing. 
Last, but certainly not least, when you're first getting started with your client, ask for feedback and take it in stride. The truth is that you could be a New York Times best selling author and still hit some bumps in the road when it comes to writing in the voice of another person. This is equally true when tackling a new client's writing needs. The constructive criticism will help you hone your craft and get better over time so the edits become less frequent. Remember how we talked about writing lessons ending after college? Well, at an agency, the writing lessons will never stop…and we think that's pretty awesome.
Okay–I'm ready to jump *write* in. 
Can't help it–we love a pun. Now that you have these tips under your belt, you're ready to start writing for your clients. Need some assistance with your marketing writing projects? It's
kind of
our job, so we're happy to help you in any way you need.
Get in touch
. 
---
About Ethos
Ethos is a
multiplatform branding agency
that develops and executes integrated marketing campaigns across multiple channels for companies throughout the Northeast and beyond. At Ethos, we believe that the most effective way to set a company's marketing course is by finding its core truth – it's ethos. We know that once we discover and communicate that core truth, we can truly make a difference to each client's unique marketing and business objectives. With Ethos, you get more than a Maine branding agency. You get a long-term partner whose goals are your goals.
Learn more about the
Ethos approach
and
the work
we've done for our clients. Want to have a conversation about your brand's core truth?
Contact us!