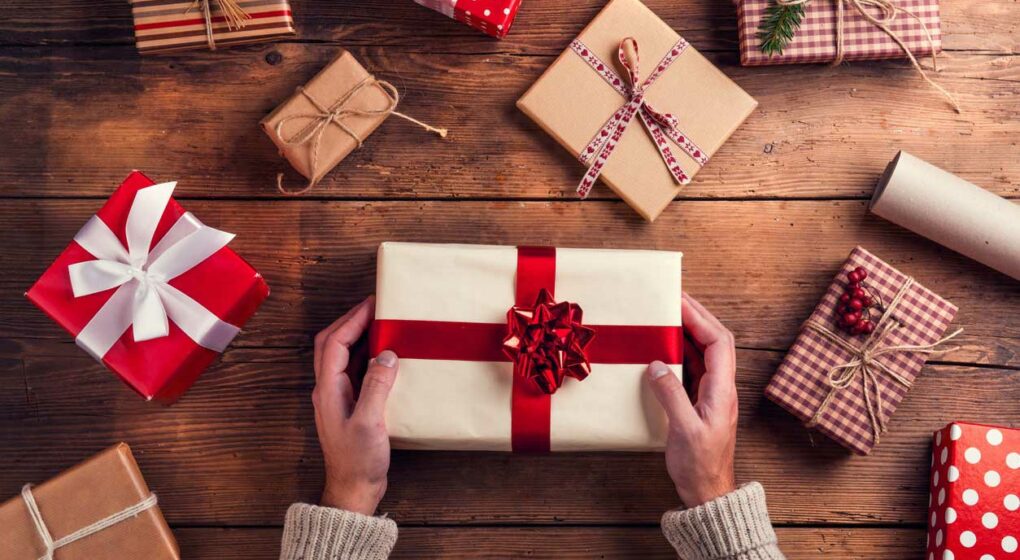 Thanksgiving has come and gone which means the holidays are officially here (although, lets be real, the holidays have been unofficially here since 3 minutes after the trick-or-treaters went to bed on Halloween). All joking aside, though, this is a critical time for brands and retailers, with more than $900 per person up for grabs in holiday spending, according to the National Retail Federation.
So how can brands and retailers ensure their fair share (or more) of the holiday cash? A gift guide is a great place to start, and these 8 tips will help you pull it off to perfection.
8 Tips for Creating Conversion-Oriented Holiday Gift Guides
Create a Microsite, not a PDF
More than 50% of holiday shoppers say they plan to shop online this year, (93% plan to take advantage of free shipping, so take the hint and ax the postage, at least during the holidays). Instead of uploading a pretty PDF to your website, make your gift guide immersive and interactive. The gift guide should really be it's own microsite – a condensed navigation of your existing website that helps users to explore items based on gift giving criteria such as age, gender, and interests.
A Picture is Worth 1000 Words
You already know the saying – a picture is worth 1000 words – but in this case it could be worth thousands of dollars, too. Don't rely on stock images of your product for your gift guide. In order to elicit sales, you need to excite and inspire your audience. Combine close up stock images with lifestyle photography (ideally holiday themed) for the best ROI. Adding customer images to the mix can be great, too, to provide real world context to the products.
Be Personable
Nobody likes to be pitched when it comes to holiday gifts, so keep your gift guide copy personable. Instead of "selling" a product, talk about why you love it so much, whom you would buy it for, and why. Keep the tone conversational vs. corporate, ideally in the first person.
For example, instead of:
"This fabulous widget solves all problems instantly – guaranteed!"
try:
"We absolutely love this fabulous widget. It solved all our problems last year, freeing up an entire summer to spend at our favorite beach. This is the perfect widget for that tech-obsessed aunt or uncle who's otherwise tough to buy for!"
Segment Before Sending
Email is an incredibly powerful holiday selling tool, but because you and everyone else are planning to use it, you've got to grab your audience's attention immediately, or risk the dreaded delete (or worse – "move to spam") button. To stand out from the crowd, make sure your emails are segmented. Create separate emails for each segment, highlighting the portions of the gift guide that are likely to appeal to them. For example, a clothing retailer might highlight kids clothing in an email to parents, and hiking gear in an email to outdoor enthusiasts. The better segmented your emails are, the better your conversion rate will be.
Repurpose
For every piece of content you invest in, consider all the different ways you can repurpose it to maximize ROI. Once your gift guide is complete, make sure to adapt it for all of your social and digital platforms. For example, gift guides make for great blog posts (create a separate post for each section of the gift guide). You can also repurpose gift guides into Pinterest boards, Facebook photo albums and even Instagram flatlays.
Collaborate
To maximize the reach (and authenticity) of your gift guide, consider including other brands as well. Not competitors, of course, but if your product pairs well with another brand (think: peanut butter with jelly) be sure to include it and let the other brand or retailer know. Hopefully, they will share your gift guide with their audiences as well.
Coordinate
To maximize the selling power of your gift guide, be sure to coordinate all of your other content, paid advertising and marketing tactics as well. Search, banner, and remarketing ads can all be easily tweaked to point to the gift guide, as well as links in your social media accounts.
Think Outside the Gift Guide
Your gift guide is a great marketing tool in and of itself, but make sure you also reach out to other retailers, bloggers, and news organizations that are creating their own gift guides, and ask to be included. Gift guides are unique in the advertising world in that consumers actually seek them out, so be sure to follow through on your outreach to others. A mention in just one gift guide could be worth hundreds or thousands in sales.
---
About Ethos
Ethos is a multiplatform branding agency that develops and executes integrated marketing campaigns across multiple channels for companies inside and outside Maine.
At Ethos, we believe that the most effective way to set a company's marketing course is by finding its core truth – it's ethos. We know that once we discover and communicate that core truth, we can truly make a difference to each client's unique marketing and business objectives.
With Ethos, you get more than a Maine advertising agency. You get a long-term partner whose goals are your goals.
Learn more about the Ethos approach and the work we've done for our clients. Want to have a conversation about your brand's core truth? Contact us!