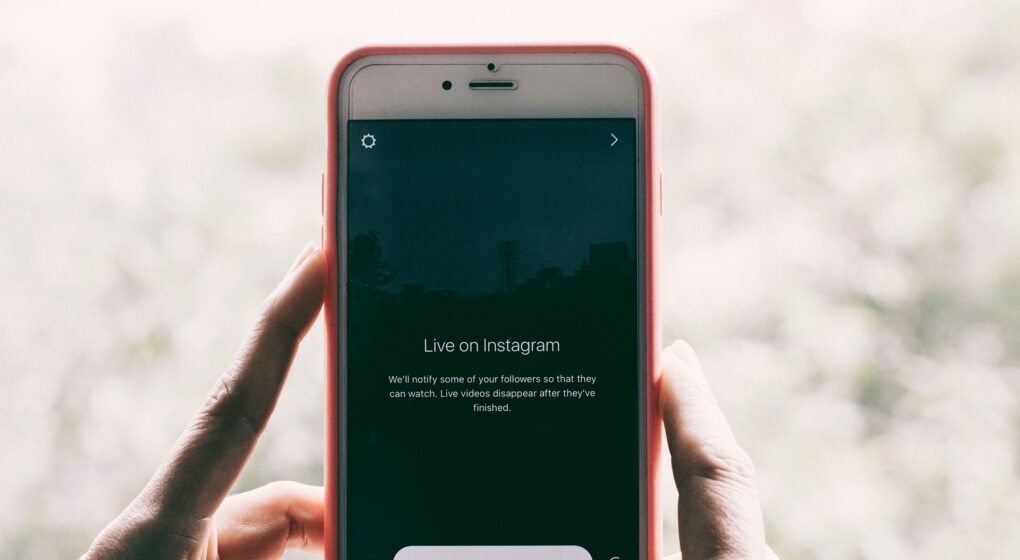 What is Instagram LIVE and Why Should I Use It for my Brand?
We're so glad you asked. Instagram LIVE is an easy way to jump to the front of your audience's algorithm to share important news. From company announcements to new product updates, Instagram LIVE allows brands to authentically (and instantaneously) connect with their audience and spread awareness of new information at the same time. This feature is something you utilize within Instagram Stories and allows you to LIVE broadcast video content to all of your followers.
How do I know when an Instagram profile is LIVE?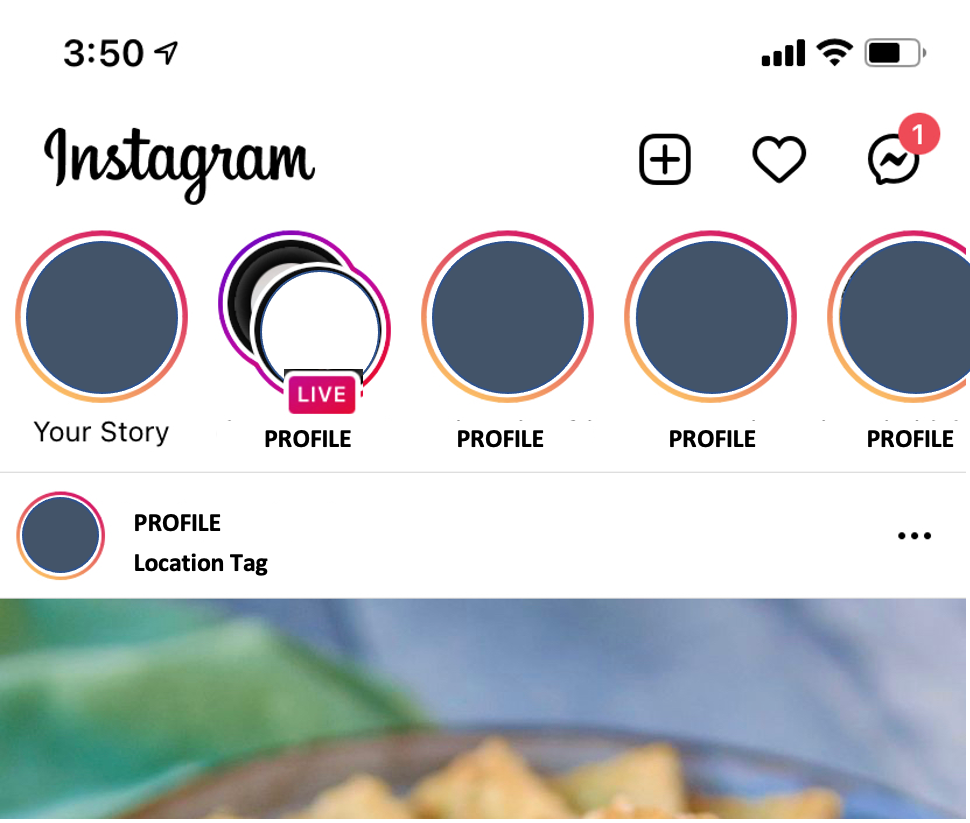 When an Instagram profile is LIVE, it will show up at the top as one of the first stories on your profile with a small, pink "LIVE" marker below the picture (shown below). This can be done by either one Instagram profile, or can be done between two Instagram profiles conversation-style. Instagram followers can then click into the Instagram LIVE story and interact in real-time with your brand. Comments and reactions show up in a timeline fashion and the Instagram LIVE participants can respond to comments and questions as they see them.
So, now that we've covered what Instagram LIVE is and a brief overview of how to access Instagram LIVE stories, I'm sure your mind is buzzing and wanting to give it a go. But before we dive into the actual doing, let's take a look at the planning.
A Brand with an Instagram LIVE Plan
Instagram LIVE is not something we recommend doing all the time and certainly isn't easy to do without a plan and set goals. This means that we don't recommend hopping onto Instagram LIVE every time your company has an announcement to share. If you overuse Instagram LIVE with content your audience doesn't think is interesting, you're likely to see a lot of unfollows. Instead, go into your first Instagram LIVE with a solid plan that you can use as the basis for future Instagram LIVEs.
Ask yourself the following before you start your next Instagram LIVE:
What is your goal(s)?

Outline your goal(s) and make it very clear what you want to achieve with this Instagram LIVE event.

What do you want to cover?

Make a list of key messages that map to a bigger message. This will help keep you on topic and out of murky messaging waters when you're on Instagram LIVE.

Who is the best spokesperson for this announcement?

This is not always your CEO. Someone who knows the topic inside and out is often the best person to make this announcement on behalf of your company. You can tee up the conversation by introducing the person and explaining their role at your company. Alternatively, if you'd prefer someone on your leadership team to make the announcement, that content expert should spend some time bringing the spokesperson up to speed so they're ready to go. Or, maybe it's two people who are going back and forth about the topic. Overall, the announcement can be covered in many ways, but outlining who is deLIVEring the message is incredibly important for your plan.

How long do you want to speak for?

There is no hard and fast rule for Instagram LIVE announcements, but we LIVE by the rule that short, sweet, and to the point is usually better. Try to keep the announcement under 15 minutes. If it warrants a longer conversation, a bigger, more dynamic strategy will likely be needed.

How do you want this to come across visually?

A.K.A. think about your backdrop, what your spokesperson is wearing, and how whatever is behind the speaker defines what people will think about what is being said. For example, try to avoid busy patterns, messy backdrops (since we're all spending a lot of time at home these days), or signs that distract from the topic at hand. We recommend having the logo of your brand easily visible and otherwise keeping the backdrop clean and clear. As for what to wear, stick to plain colors that won't distract from what you're saying.

What topics do you want to avoid?

There are some trigger topics for any brand–and it's important to recognize and address these before you go into anything public facing. Outline the topics that you want to avoid and create messaging points to help you pivot or quickly address the topic and move on to the next.

How do you plan to address comments, questions, and negative remarks?

Nine times out of 10 your Instagram LIVE will go incredibly smoothly with no issues–but it's always important to prepare for that one outlier moment where something goes awry. A crisis communications plan is important to have in place with key messages, contacts, and bridging strategies. To learn more about crisis communications, check out this

blog post

.

How will you promote your LIVE event?

Most people don't just go LIVE and hope that people will tune in – instead, there's typically more than a week of promotions leading up to the Instagram LIVE event so people are prepared to tune in. Promoting it ahead of time will make you stick to a schedule and be thoughtful about choosing a time that works best for your company and your audience. We recommend sharing the news on social media and giving a specific date and time so people can add it to their calendars to attend. After all, if you're online speaking about something important, but you're only talking to an empty room, you're not using your Instagram LIVE very effectively.

Lastly, this isn't a question, but a recommendation…practice until you're blue in the face.

My sixth grade teacher once told me that "Practice makes permanent" and that has stuck with me every day since. Sitting down to practice what you're going to say and how you're going to say it will never be labeled as wasted time. Practice many times leading up to the event and ask for feedback from others in your organization so you can improve. We promise it will be worth it.
What a time to be a-LIVE!
Now that we've covered what you should be paying attention to and strategizing about before going on Instagram LIVE, let's talk about actually doing the darn thing and what you can do with that content once it's done:
The day-of your Instagram LIVE, make sure all of the above information is prepped and ensure you're ready to go.

Check your technology needs (most likely your phone) and make sure it's charged or plugged in so you're ready for the event.

Then…go LIVE! Simply swipe left from the home screen to your stories, and toggle right until you get to the "LIVE" feature. From there, you just have to tap the center button and it's on (shown below). Remember–you've done a lot of preparation leading up to this point, and you're ready to go.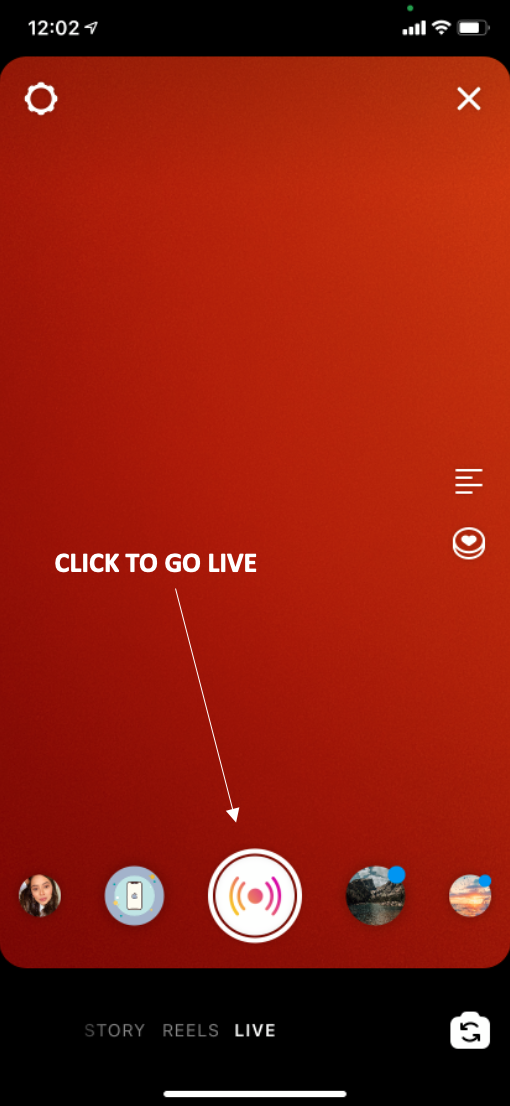 Once the Instagram LIVE event is over, you'll be given the choice to save that story to a Highlight or make it a static post on your profile. If you want the Instagram LIVE to LIVE on beyond that moment, save that puppy and get to posting in a place that feels the most appropriate for your brand. We typically recommend that Highlights is the best place for this type of content, but we'll leave that up to you and your content team.
If this all seems incredibly daunting to you, and you're not sure where to start, get in touch with us! We're happy to help and have plenty of experience going Instagram LIVE.
---
About Ethos
Ethos is a multiplatform branding agency that develops and executes integrated marketing campaigns across multiple channels for companies throughout the Northeast and beyond. At Ethos, we believe that the most effective way to set a company's marketing course is by finding its core truth – it's ethos. We know that once we discover and communicate that core truth, we can truly make a difference to each client's unique marketing and business objectives. With Ethos, you get more than a Maine branding agency. You get a long-term partner whose goals are your goals.
Learn more about the Ethos approach and the work we've done for our clients. Want to have a conversation about your brand's core truth? Contact us!