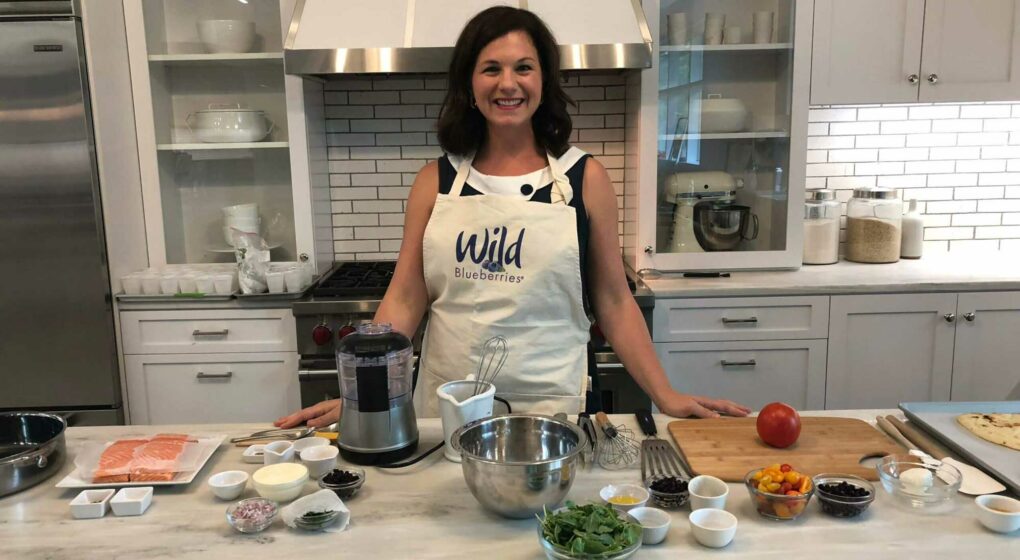 Pitching a specialty food brand to top national editors is a huge opportunity – but it can also be an intimidating task. As the branding and marketing agency for the Wild Blueberry Association of North America (WBANA), we recently had the opportunity to pitch wild blueberries to 30 nutrition, health, and food editors at Time Inc.'s state-of-the art test kitchen in Birmingham, Alabama. Yes, this charming little southern city is home to a mecca of food journalists (and some really tasty places to dine).
A majority of the specialty food content for outlets including Cooking Light, Food & Wine, MyRecipe.com, Real Simple (the list goes on) is created in the test kitchen. We went in armed with a presentation and cooking demonstration that we hoped would wildly excite these food connoisseurs and storytellers about the taste, nutrition, unique heritage, and sustainability benefits of the wild blueberry. We also wanted them to experience first-hand how this indigenous North American – locally grown – tiny, potent berry fits perfectly into the real foods movement and is a frozen fruit that health-conscious consumers care about.
"Planning the event took seven months, but it was worth every second to be able to showcase the exceptional taste and nutrition of wild blueberries and convey how different they are from regular cultivated blueberries," said Belinda Donovan, PR Director at Ethos. "To be able to meet in person with such a large group of national health and nutrition editors, as well as recipe developers, was a huge opportunity. These are the people creating crave-worthy content for a truly elite list of outlets."
So how did we manage to get face time with such an elite group? Here are 6 tips that got us there and will help you make a powerful pitch and lasting impression at any editorial visit.
Work with an Influencer

Working with influencers – in this case a health and nutrition expert – is a great way to get in front of national editors. They bring a level of authenticity and credibility, and in some cases are already known by the outlets and can help open doors. If you don't have an influencer marketing program in place, it's something to consider. You can scale it big or small, the trick is to pick the right folks. In this case, we had an established relationship with a prominent influencer and decided to jointly pitch the Time Inc. Test Kitchen, which hosts only one editorial visit per month.

Tell a Compelling Story with Narrative, Video, and Taste

For this presentation, we asked our influencer, a registered dietitian, to deliver the Wild Blueberry story for us. She was the perfect fit for the specialty food audience. She had recently visited the wild blueberry barrens and could speak about her experience and her excitement learning about the Wild Blueberry. To set the stage, we wanted to share with the editors a sense of place – miles of wild blueberry fields as far as the eye can see as well as show them how differently wild blueberries grow – low to the ground with thousands of varieties in each field. We couldn't bring them to the wild blueberry barrens in person, so we brought it to them through a short video that included breathtaking footage and interviews with thought leaders in the real food movement. We also brought along a few props like a hand rake so that they could see and experience what is required to harvest wild blueberry fields by hand.

Make it a Foodie Experience

The taste differentiation of wild blueberries is an important specialty food marketing message, so we wanted the editorial team to experience how delicious they really are – and that they work well in recipes beyond the traditional smoothies, muffins and pancakes. WBANA has an extensive recipe library, most of which have been created by our influencer network. We selected some of the more interesting recipes like Poached Salmon with Wild Blueberry Crème Fraiche, Wild Blueberry and Tomato Naan Pizza, and a Wild Blueberry Green Tea Mojito for this particular presentation. We wanted the editors' minds percolating on how they could use wild blues in upcoming recipes and food content. Since we were traveling, and we wanted our influencer to concentrate on sharing our story, we hired an incredibly talented food stylist (referred to us by our Time Inc. contact) to shop and execute the recipes to serve on the day of the visit. While our influencer talked taste, nutrition, and the sustainability of the fruit, she also walked them through a real-time recipe demonstration orchestrated by our stylist. We even gave each editor a shot of thawed frozen wild blueberries to help them understand our taste message – that each wild blueberry field has thousands of varieties of berries, creating a multifaceted flavor in one mouthful.

Make the Leave-Behind Memorable

In addition to a memorable event, you also want to leave something behind that will keep your event top-of-mind. What better way to do that than with an exceptionally well-curated swag bag? To make our swag bag special, we spoke to our trade representative and selected several innovative products in trending categories like seltzer water, energy bars, snacks, and beef jerky, plus a few traditional items like a sweet and savory jam. In our short write up about each product, we also invited these writers to visit us in Maine so they could experience the world of wild blueberries in person. We packaged up the contents along with our press kit and a fun video card in a wild blueberry canvas bag along with a few other fun items. Before we finished the event, we took a minute to explain what was in the bag to peak people's interest and to encourage them to dive in when they got back to their desks. Our Time Inc. contact sent this note once she had a chance to look through the swag bag: "I just wanted to tell you that everyone has been raving about their swag bag and now I know why. Thanks for the incredible treats! Also, the card with the video screen has completely blown my mind. How cool?! Anyway, I just wanted to drop you a line to say that these bags are probably the best we've ever gotten, and we really appreciate it."

Say Thank You Promptly and Give 'Em A little Something More

Our event was on a Monday and by Thursday, we had crafted a thoughtful thank you that included responses to some specific questions we didn't have answers to during the presentation and offered to put them in touch with plant experts, nutrition experts, and leading health researchers if they needed additional information. Make sure you don't leave any questions or inquiries unanswered – every question is another opportunity to reinforce your key messaging!

Keep Surprising and Delighting Them

In a month or so we plan to follow up with everyone that we met with, and send them a little something wildly special. We want to keep breaking through the clutter and reminding them of how special and delicious the wild blueberry is.
We are still waiting to see what the long-term fruits of this specialty food marketing effort will be. However, one quick outcome that we can report on today, just six weeks after our presentation, is that we had an Oxmoor House editor connect us to an author working on a health-related cookbook set to release in early 2019. The author was so excited about all the research and information about wild blueberries that she is in the process of adding call out copy boxes detailing what makes wild blueberries so good for you and is adding the word "wild" in front of blueberries in many of her recipes. We may even collaborate when the cookbook launches. How fun is that?!
---
About Ethos
Ethos is a multiplatform branding agency that develops and executes integrated marketing campaigns across multiple channels for companies inside and outside of Maine.
At Ethos, we believe that the most effective way to set a company's marketing course is by finding its core truth – its ethos. We know that once we discover and communicate that core truth, we can truly make a difference for each client's unique marketing and business objectives.
With Ethos, you get more than a marketing agency. You get a long-term partner whose goals are your goals.
Learn more about the Ethos approach and the work we've done for our clients. Want to have a conversation about your brand's core truth? Contact us!